Sponsored content
Environmental credentials
OOSC appreciate that blazing a trail in fun and colourful ski outerwear isn't enough. Clothing brands have an ethical responsibility to help protect the environment and encourage sustainable choices, and as such, all of OOSC's outerwear and soft goods contain recycled or organic materials. Each jacket in the range is made from at least 25 plastic bottles, and they use zero carbon DWR treatments on their range topping outerwear.
New jackets and pants
All key jackets and pants from OOSC have been updated and redesigned for the 22/23 season. A focus on colour block design and mix and match jackets and ski pants is standard but as well as the bright, vibrant pieces OOSC have options with a more laid back colour scheme.
With something for everyone from freestyle addicts to piste cruisers, take a look at some of the new models hitting the shelves this season...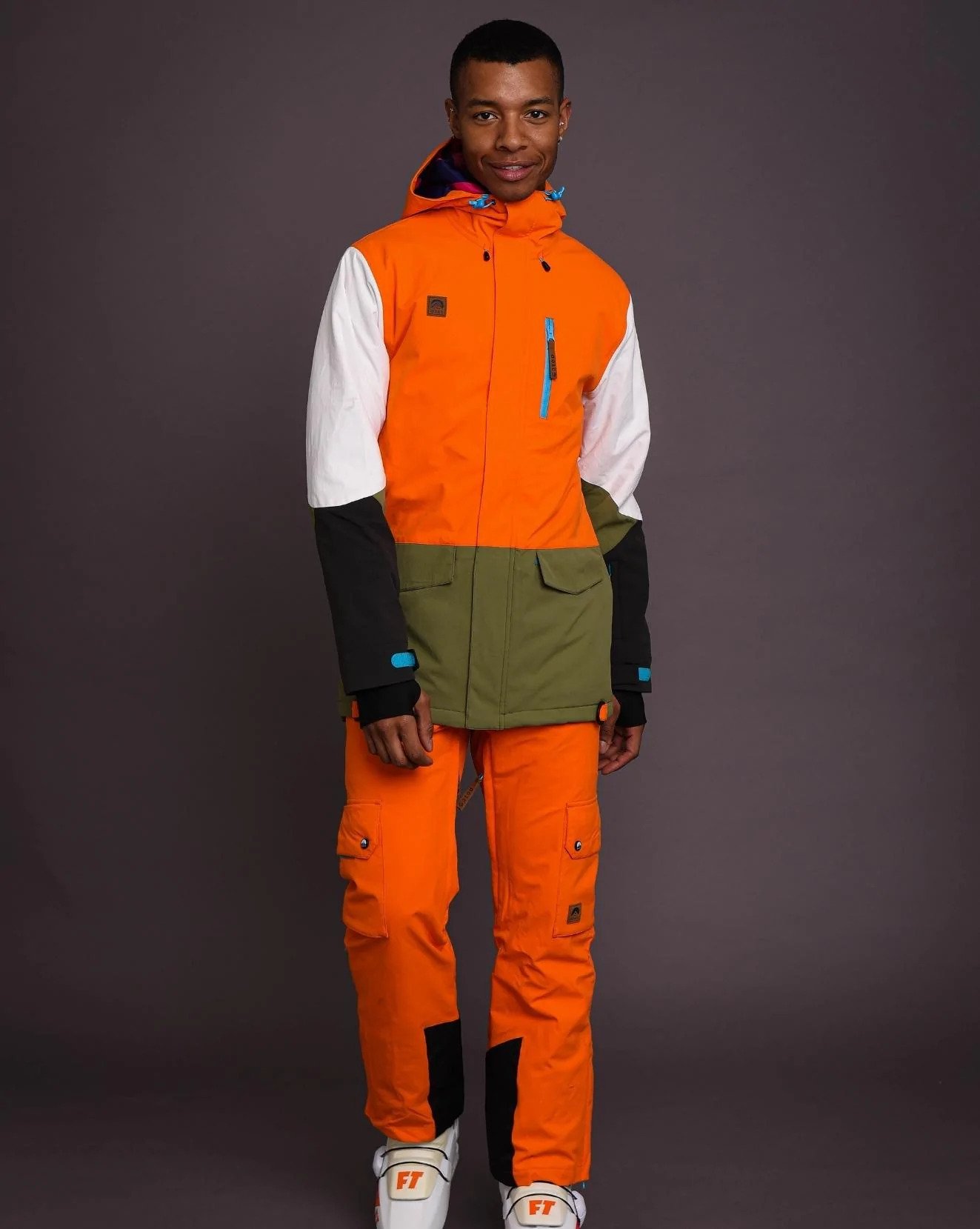 Men's Yeh Man Jacket - £295
For the 22/23 season, the Yeh Man Jacket might just be the best value ski jacket available to buy. With a style driven aesthetic and rider focused details, the Yeh Man jacket is perfect for long days on the slopes, and even longer evenings in the après bar. Environmental credentials are seriously strong, with the Yeh Man built from 100% recycled durable nylon sourced from sea waste. Although sustainability is key, the jacket still has top-of-the-line waterproofing and breathability at 20K/20K.
This is topped off with a zero-carbon durable water repellent treatment to help you stay dry. 80g of synthetic insulation keeps you toastie on the slopes (and terraces), and the removable powder skirt and lycra wrist gaiters make sure the jacket protects you in the worst storms. A magnetic snap storm flap covers the chunky YKK zip for maximum protection and any overheating is quickly banished by the mesh lined armpit vents. This fully featured ski and snowboard jacket not only looks great and performs, but it's also practical. With a lift pass pocket, goggle pocket, headphone loop, and helmet adaptable hood, the Yeh Man is fully ready for the slopes.
Take a look at OOSC's full range of men's jackets here: oosc-clothing.com
Men's Yeh Man Bib Pants - £220
These bib pants are as practical as they are and are good looking, with a range of colours available to match the Yeh Man jacket. Bib pants are all the rage and for good reason. Adjustable suspender straps make sure the pants stay exactly where you want them, and maximum protection from snow is afforded by the high bib.
The Yeh Man range is the flagship and as such affords top-notch materials that are 100% recycled and offer 20K waterproofing and 20K breathability, both top of the range stats. On top of that, just like the Yeh Man jacket, you get a zero-carbon DWR treatment which helps moisture bead up and roll off the surface of the pants. Ankle gaiters help keep the pants over your boots and on top of 80g of synthetic insulation there's a comfy fleece-lined bum. Yeh Man Pants have no less than seven pockets including two large cargo pockets and a Kangaroo pouch pocket on the chest and side zip for easy access.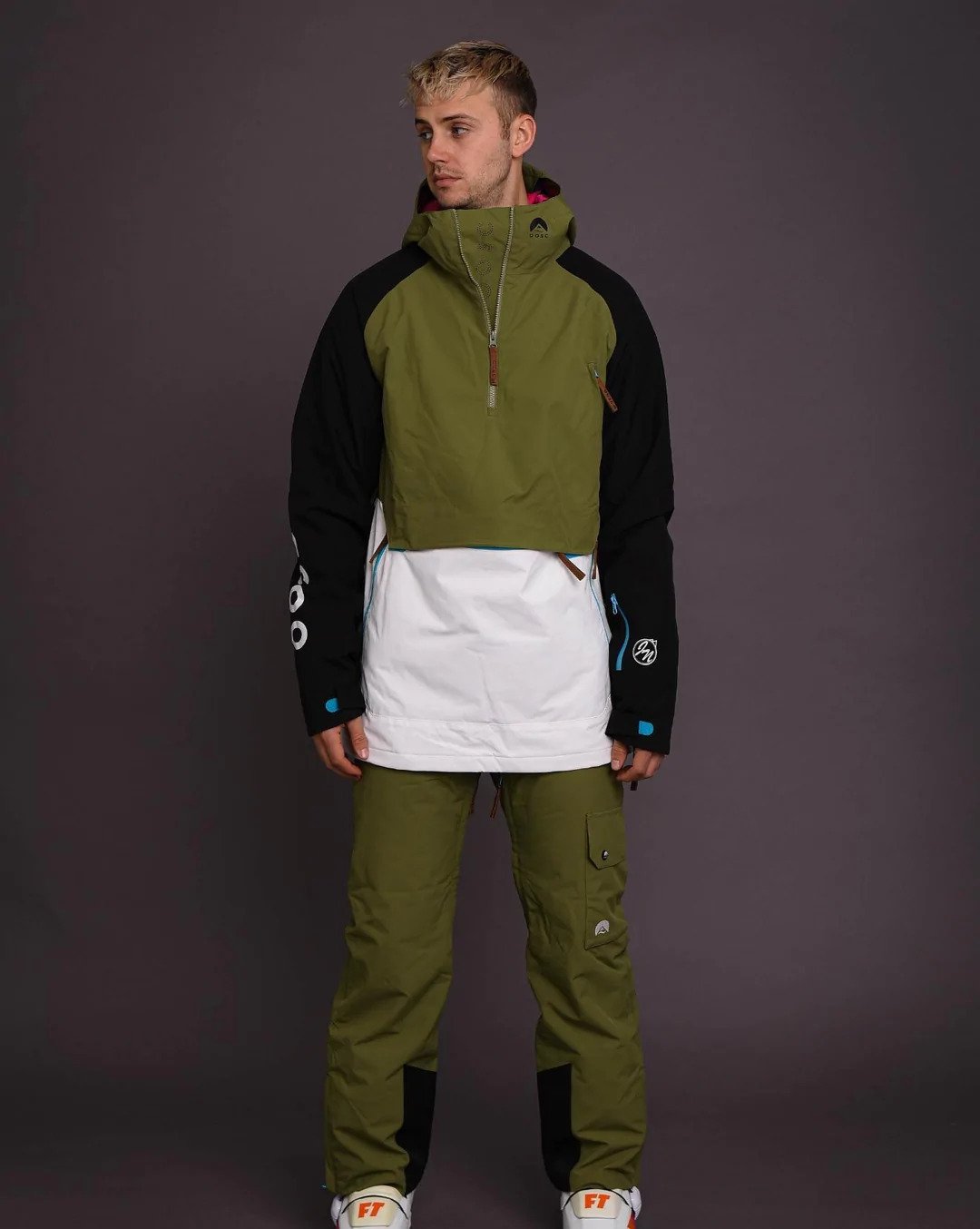 Men's Snow Park Overhead - £199
This classic overhead ski jacket Is a real looker. It's available in three different colour block options with suitable matching pants to give you that full OOSC look. As with all OOSC jackets the Snow Park Overhead is built from the finest recycled polyester. it also features a warming layer of synthetic insulation, is waterproof and breathable to 10K/10K and has mesh lined vents for a cooling cross flow of air.
All of the exposed zips are waterproof and the kangaroo pocket has a protective storm flap. Practical features include a lift pass pocket, goggle pocket, cuff gators with thumb holes, a headphone loop, and of course a snow skirt. What's really surprising about the snow park overhead is the low low price, with a retail of just £199 making this one of the most accessible fully-fledged ski and snowboard jackets out there.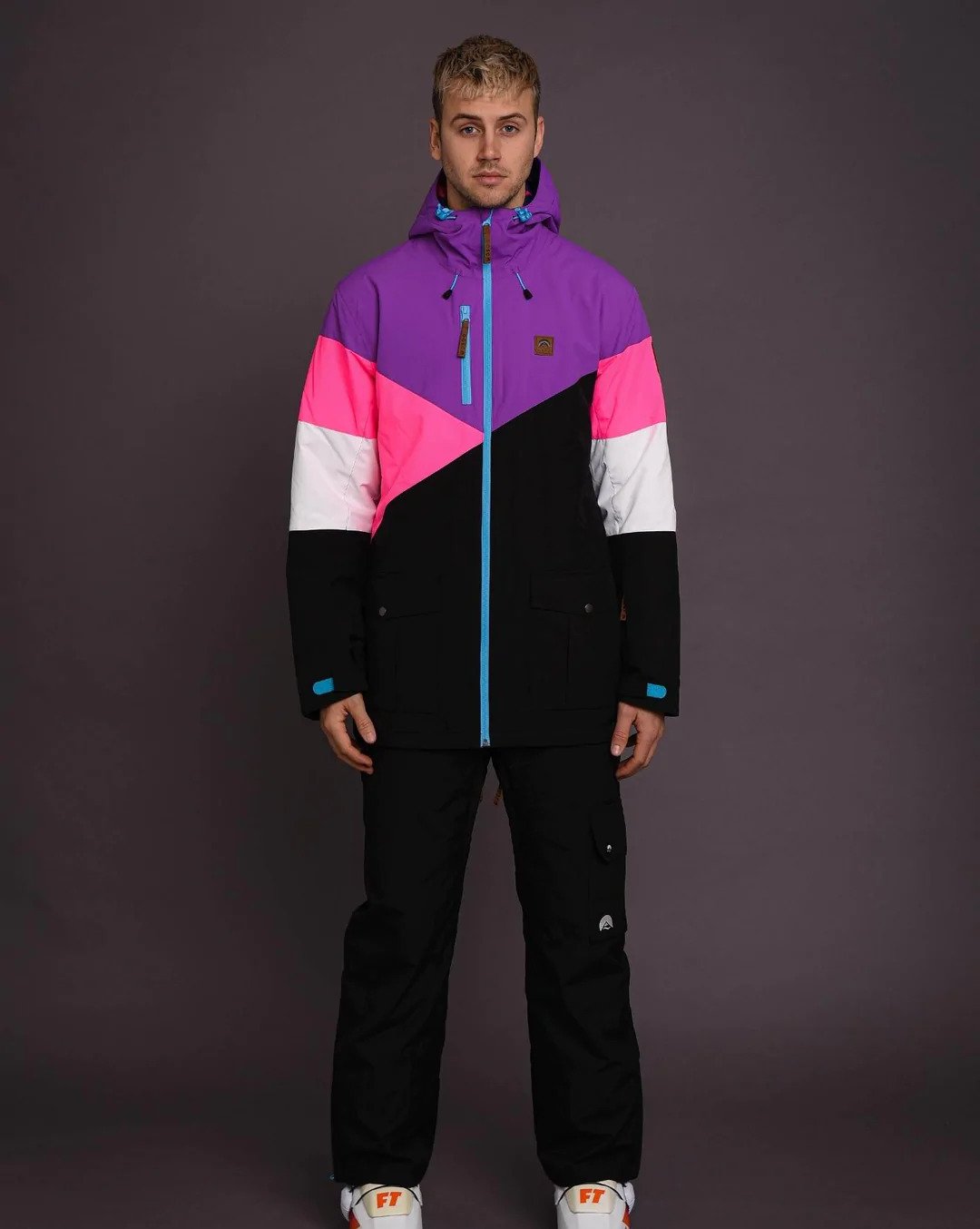 Men's Fresh Pow Jacket - £249
The fresh Pow Jacket definitely has the original OOSC look with slashes and dashes of colour blocks in a retro manner. This makes for a refreshing break from the norm of dour ski and snowboard clothing. The big main zip at the front has a chunky puller and waterproof coating to keep the weather out. The helmet compatible hood has a full range of adjustment and a high chin for maximum protection. Paired with the snow skirt and thumb loop cuffs, this jacket is built to weather a storm. Biting winds and frigid temperatures are fended off with 80g of plump synthetic insulation and the membrane features 10k waterproofing and 10k breathability. 
Men's Fresh Pow Ski Pants - £175
Reimagined for 22/23 the Fresh Pow Pants feature a single block of colour that can be paired with any of the jackets in the range. Fully practical, the Fresh Pow Pants have YKK waterproof zippers, reinforced ankles, snow gaiters, and adjustable ankle width. Most of OOSC's jackets and pants are insulated, and the Fresh Pow is no exception with not only 80g of synthetic insulation but a fleece taffeta lining from the bum to the thighs which sounds mega cosy.
Sewn-in articulation at the knees and a medium fit make sure that there's plenty of room for manoeuvre within the pants too. A large cargo pocket, two hand pockets, and two rear pockets keep all your kit in place and the leg vents make sure that you can stay cool when the going gets tough.
Check out OOSC's full range of men's pants here: oosc-clothing.com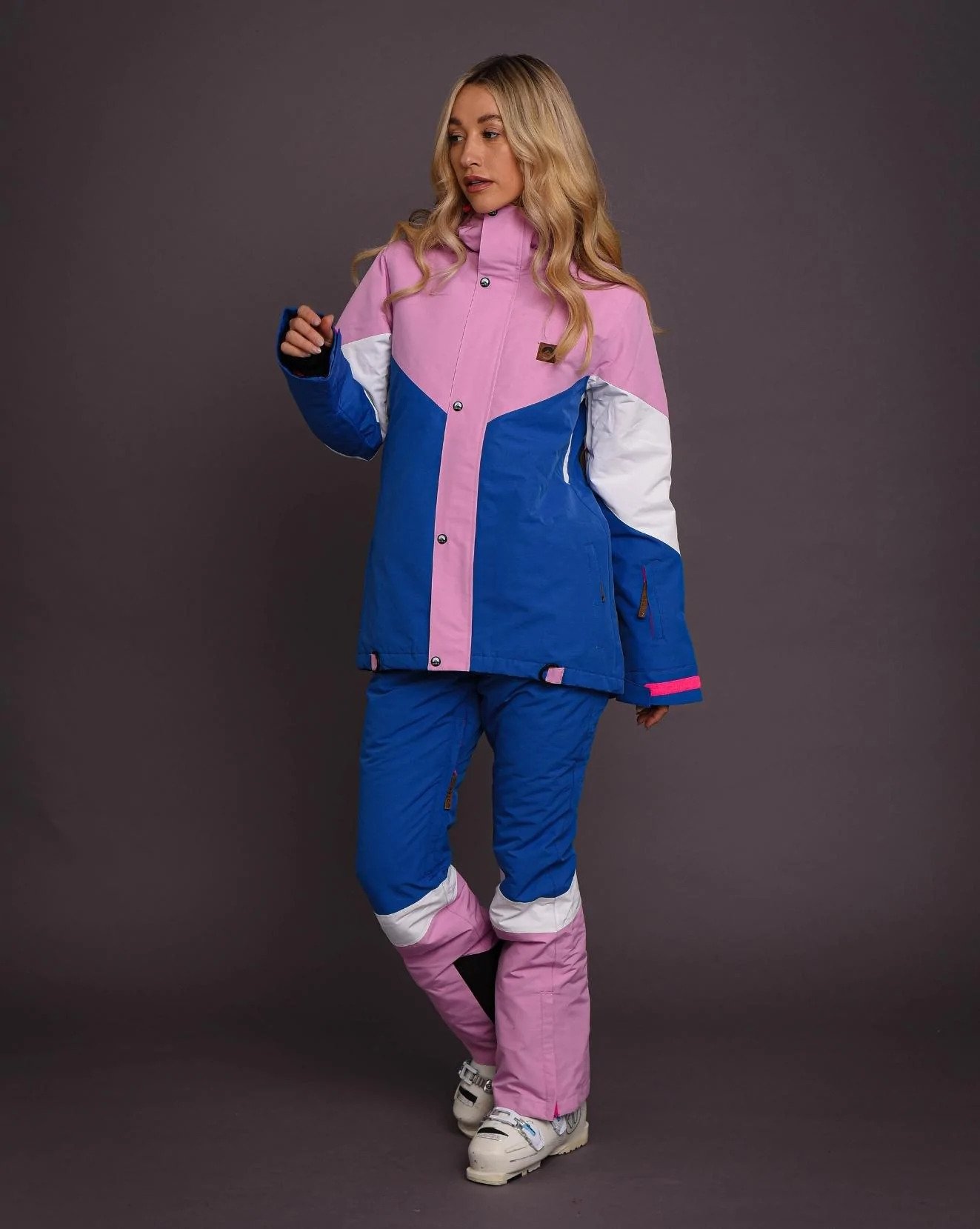 Women's 1080 Jacket - £249
Made for demanding female riders with a penchant for retro styling, the women's 1080 Ski Jacket is packed with handy features and an on-point tailored fit. Chunky poppers seal down the front storm flap, adding to the strong aesthetic of this jacket. Four different colour combos are available with a range of pastel shades in colour blocked arrangements.
This is classically OOSC and definitely brings the fun back to ski jacket styling. Comfort is all but guaranteed from 80g of synthetic insulation keeping you warm in frigid temperatures, and YKK waterproof zips, snow skirt, and helmet compatible hood keep the worst of the weather out. All of your kit is close to hand, with a lift pass pocket, goggle pocket, and additional hand pockets as well as a headphone loop for slopeside tunes. 
Find OOSC's full range of women's jackets here: oosc-clothing.com
Women's 1080 Pants - £175
22/23 brings a new mix of colours to the 1080 Ski and Snowboard pants creating the perfect base for an all OOSC outfit. The heavy-wearing recycled polyester is built-in a slim-fitting chic silhouette, with a flare over your boots. This is deliberately retro but feels very modern. Warmness is guaranteed from a generous layer of synthetic insulation and a comfy fleece-lined bum area, but when you're hitting the slopes hard the leg vents will come in super handy for a good crossflow of air.
All the exposed zips are waterproof and 10K/10K waterproofing and breathability in the main material make these decent performers you can rely on in all weather. Ankle reinforcement keeps the pants safe from sharp ski edges and the adjustable gusset makes sure they stay firmly in place. 
Take a look at OOSC's full range of women's pants here: oosc-clothing.com