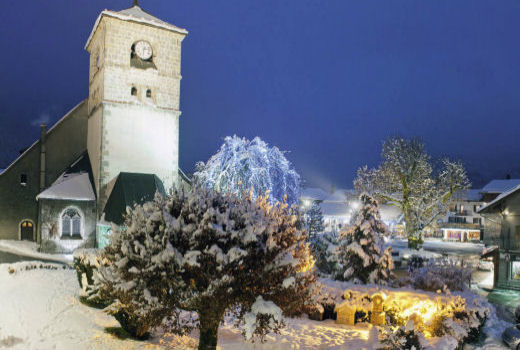 It's the history that catches your imagination in Samoëns. Centuries of it. A working village nestled towards the top end of the River Giffre valley in Haute-Savoie, it's been going about its business for many hundreds of years, and quite likely would have continued that way, relatively unnoticed, for a few more hundred, but for the arrival of the ski industry.
Or, to be more precise, one long, slender finger of the ski industry. It's amazing what a difference a gondola makes…especially a quick one.
Until quite recently, Samoëns was a marginal resort on the edge of the Grand Massif ski area. Despite giving its name to one of the five linked domains that make up this 4th largest French ski area, you couldn't actually get onto the mountain directly from the village itself. To access the slopes, you had to drive or get the bus to nearby Vercland and catch an older gondola up to the 1,600m point, from where the rest of the ski area opens out.
With the opening of the Grand Massif Express gondola in 2003, all that changed, and this quaint, medieval stone village, camped on a wide, flat, sunny plain, became a truly viable alternative to the big-budget, purpose-built Alpine resort centres.
The name Samoëns dates from 1167, and is said to derive from a medieval word meaning 'the seven mountains', a reference to the peaks that embrace the village on three sides. The locals here are known as 'septimontain(e)s'.
Forget chocolate-box images of cute wooden chalets, however. Samoëns has a heart (and body) of stone! All over the village there are carved reminders of the skills of the stonemasons for which it was famous. So great was the reputation of Samoëns' masons during the 17th century, that they were commissioned to travel all over Europe and as far as America to undertake major building works.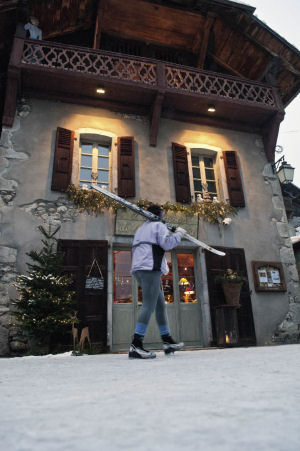 Its village square has been pretty much unchanged for centuries also (apart from being paved over in the 1950s!). Even the massive lime tree – Le Gros Tilleul – that clings to life in the centre is ancient, planted in 1438 to mark the the granting of 'self-determination' status to the village by the Duc de Savoie. You don't get that kind of history in Val d'Isere!
Such is the pressure on the big ski resorts to maximise tourism income that many skiers, despite craving the slopes and facilities the big boys can offer, are constantly searching for little pockets of unspoilt 'real' France. Samoëns is about as unspoilt as you can get – which makes it less than ideal for party animals, perhaps, but perfect for young families and the 'grey euro'.
It's worth a morning out of your stay to take one of several village walking tours with an English-speaking guide. When the snow melts, you might even want to come back to visit the world famous Alpine botanical gardens.
While it has benefited financially from the development of tourism, Samoëns has lost none of its 'real' character. Village life is alive and well thanks to its permanent population of 2,300 and the year-round appeal of its Wednesday market (one of the largest in Haute-Savoie), shops, bars and restaurants.
The centre of Samoëns is traffic-free, and for the self-caterer or nibbler, the main street is a delight, full of gourmet shops offering local ham, sausages, cheese and waistline-hostile pâtisserie. For souvenir hunters, or potential residents, there are also several delightful Savoyard interior design shops offering Alpine bric-a-brac, such as old skis, retro photos, lamps, rugs, and pretty china decorated with Samoëns' twin hearts, which form a symbolic umlaut.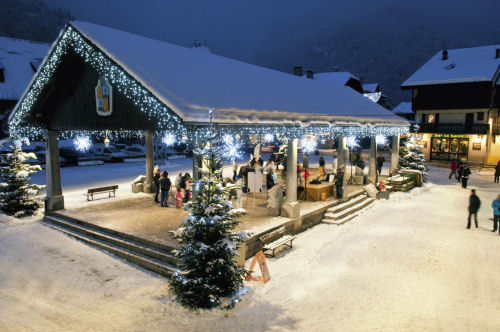 Stonemasons may have built this village, but barely three keep the craft going today. One of them, Guillaume, doubles as an ESF ski guide and instructor and is the perfect host for a tour of the slopes.
It takes just eight minutes for the Grand Massif Express to get up the hill from the valley floor. At Samoëns 1600, where I met up with Guillaume, beginners can access the nursery slopes, while the rest of us can catch the two-year-old Chariande Express chair, which will speed you from the plateau to the Tête des Saix in another nine minutes. From there the snowsure north-facing runs above Samoëns and others down to Morillon and Les Carroz open up, as does the way across to the diabolically-named runs, such as Belzebuth, Lucifer and Faust, in the wide bowl above the concrete boxes of Flaine.
It's worth noting that you cannot ski back to Samoëns village from Samoëns 1600 but you can ski down to Vercland where the old Saix gondola goes from, using the Velarge red run or Grand Cret black run. From Vercland there is a free shuttle bus back to Samoëns village just down the road. You can also ski back down to Morillon village on the Diona red run, and again catch the shuttle bus back to Samoëns.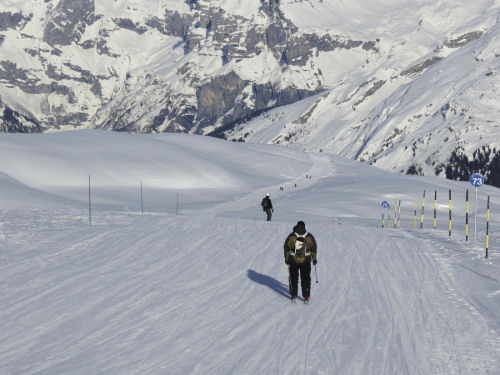 From the high point of Les Grand Platieres (2,480m) with its stunning views of Mont Blanc, you can also ski Europe's longest blue run, the 14km Piste des Cascades. It sounds idyllic: a long run that stretches your legs along the border of the ski area in almost total silence, as it winds down 1,700 metres to the icy outpost of Sixt, but be warned, while the middle section, past the lac de Gers, is as good as it gets here – good snow, deserted – the top section is gently undulating, which means a lot of crabby walking, and the lower section, especially later in the day, gets very icy and includes some tricky steep narrows. Not pleasant. At the bottom, treat yourself to a beer or vin chaud (€2.60) at the Bar Cascades while you wait for what is inevitably a very crowded bus back to Samoëns (a free service runs every 20mins).
Samoëns looks after adrenalin junkies with the free-ride area of the Espace de Veret – reached via the Tete de Veret T-bar – the forest runs off the Combe de Vernant and the splendid Onyx black run in Gers, but really this is an intermediate's paradise with the overwhelming majority of the 80 or so runs red and blue.
Non-ski activities in Samoëns village include dog-sledding, indoor climbing and skating but also some more unusual activities such as archery in the forest, caving, ice climbing or diving under ice!

When I visited, in January, my stay coincided with the annual Winegrower's Week festival, which meant lots of tastings, cookery demos, and all-stops-pulled-out meals in local restaurants. Pick of the restaurants, though, are Le Bois de Lune – good traditional cuisine – and on the slopes La Luge a Teran, tucked away off the Dahu blue run off the Tête des Saix, which specialises in Savoyard dishes.
I also recommend the tartiflette at the Hotel Neige y Roc, a comfortable hotel/apartments, an easy stroll from the centre: €19.50, including salad and charcuterie. The hotel also has its own pâtissier, making melting macaroons.
The Grand Massif opens for skiers on 22 December and the season runs till 21 April.
Snow How


LOCATION
Samoëns is in the Haute-Savoie, France, on the edge of the Grand Massif ski area.
GETTING THERE
By air nearest airport Geneva
(35 miles).
By car about nine hours from Calais (511 miles).
By rail nearest rail station is Cluses (12 miles).
Transfers One Step Beyond (+33 450 341 555,
www.one-step-beyond.fr
) a reliable English-owned firm.
WHERE TO STAY
Snow travelled to Samoëns with award-winning UK tour operator Peak Retreats  (
www.peakretreats.co.uk
) and stayed at Hotel Neige y Roc, from £718 pp half-board, including Eurotunnel.
IN RESORT
Piste area 265km (Grand Massif)
Number of lifts 69
Runs 144
Beginners 15%, intermediate 76%, advanced 9%
Highest point of ski area Les Grandes Platieres, 2480m
Vertical drop 1,700m
Snowpark Jampark, Flaine
Cost of an adult lift pass for a week £194 (Grand Massif)
MUST DO'S Ski the Piste des Cascades, the 14km 'longest' blue in Europe – just so you can say you've done it; try Tartiflette, one of Savoyard specialities; take a walking tour of Samoëns – Mondays, 10am, €4.
TOP TIPS The free shuttle bus runs every 20minutes – ensure you know which colour code serves your part of the village.
BEST FOR Intermediates, families and older skiers.
USEFUL CONTACTS Tour operator Peak Retreats 0844 576 0170
www.peakretreats.co.uk
Tourist board
www.Samoëns.com