I'm not alone in wanting to pass on my passion for skiing/snowboarding to my children; many parents do, but when trying to choose the ideal ski holiday for them – and, of course, for you – there are so many variants to consider, it can often feel like a bit of a gamble, almost as if you may as well just stick a pin in a map of the Alps, and then head off there with whoever offers you the cheapest deal. Whilst this article won't give you all the answers, its aim is to give you a lot of the questions you should be asking.
Where to Start

Proper preparation prevents poor performance – so the mantra goes. So good research is all-important. One great place to start is at one of the three main UK ski shows: Glasgow's Ski & Snowboard Show (20-21 October), the Ski+Board show at the NEC, Birmingham (26-28 October) or the Metro Ski and Snowboard show at London's Earls Court (31 October-4 November). All three shows are great, as a valuable source of information, bargain kit – and inspiration. There's nothing better guaranteed to generate excitement in your kids than watching the action displays from some of the UK's best freestyle skiers and snowboarders.
But if you're reading this in November or later, realistically, from here there is only one place to go – the internet. There is just so much information online, and your search engine will quickly guide you to all the specialist family ski operators. It's also well worth investing in a copy of the excellent Where to Ski and Snowboard 2013 by Chris Gill and Dave Watts. (Norton Wood, £18.99) This annual guidebook (now in its 17th edition) is the best reference book around and can help you plan your ski holiday long after you've left the nursery slopes.
Going it alone or with a tour operator?
The main thing here is: how much skiing do you actually want to get out of the holiday? This is often dependent on how old your kids are, and if they've skied before. If you can all ski well then great, you can spend all day together and everyone gets their ski fix. But if your kids are young and need to go into ski school, a nursery, or you just simply want some time to yourself to search out that magical powder stash, then you'll need help. Here's where the specialist tour operators who supply nannies or kids clubs come in, as they will look after and feed your children all day long – giving you as much, or as little, time as you want on the slopes. Also, with a tour operator, if there are any problems, such as bad weather in the resort, you know you have the safety net of some back up.
Get some brochures, and really read them, comparing what each offers for the age groups in your family. Compare prices and check out the special offers – from 2 for 1 lift passes, to half-price travel, to 'kids go free' there are usually plenty of ways to make your money go further. Do note, invariably places in the nurseries, crèches and kids clubs are limited, so it pays to book early.
One way going it alone can work is to go it not-quite-alone: holidaying with grandparents or with another family can share the load (though, of course, it can also double the strain!). If you prefer to do it yourself, you do still have options available to you. Most resorts offer drop-in crèches of some description. Those in North America are generally good and relatively inexpensive. The European ones, whilst also good, do have the drawback of language. Val Cenis, a very family-friendly resort in France, has a crèche at €42 per day/ €197 for 6 days, whereas in British Colombia Red is $55 per day and Big White $72 per day/$300 for 6 days.
There are now some independent resort-based nannies in resorts popular with Brit families, offering you a flexible service from £12 an hour, such as Meri Nannies. Another option, if renting or borrowing an apartment, is to take a holiday nanny with you. A 45-hour week with 14 hours evening babysitting will cost £465 from Holiday Nanny, though you will also have to pay all travel and accommodation costs.
All inclusive childcare tour operators give you as much or as little help as you want for around £280 per child a week, plus holiday cost. Some specialist family operators, such as Ski Famille, include childcare in the holiday cost. You should always read the small print with regards to timings of childcare.
Choosing a resort

Most people will opt for Europe, short flights and holiday cost being the main reasons, but if you can handle the long flights there are a lot of advantages to holidaying in North America – language for one. Most North American resorts are fully set up for kids, with drop-in crèches, often at a fraction of the price of European ones, and great ski schools. Aspen in Colorado, for example, has just built a huge kids centre, called the 'Tree House', Whistler has a wonderful Teen Camp, and Panorama and Big White, also in British Columbia, run nightly post-ski kids clubs: from craft nights and hot chocolate round the camp fire, to free movie nights and climbing lessons. The lift queues and slopes are never as busy in North America, nor as aggressive, but the lift passes are a lot more expensive, sometime double that of European resorts.
Big isn't always best. It's far more important to look for a resort with a good children's beginner area – some now have magic carpet conveyor belts which are easier than button lifts for smaller children just starting out.
When choosing a resort, always check on the transfer time from the destination airport. Operators often put all their clients on the same charter flight, for example to Geneva. Fine if you're going to La Clusaz, an hour away – not so great for Les Deux Alpes, 2hrs 45min on a good run, especially as you drive past Grenoble and Chambery airports on the way. Also, transfer times during peak season can easily double due to the quantity of traffic on the mountain roads. Starting your holiday on a Sunday can often help with traffic and transfer times. Also, check your flight times before you book: a 10am flight home might sound very civilised, but if you have a four-hour transfer and they want to get you there two hours before the flight, you're looking at a 4am departure time. Many of the Austrian resorts, such as Mayrhofen and Solden, have short transfers from Innsbruck – and eating
and drinking is far cheaper, and
often better, than in France.
The mountain itself is obviously a huge factor and what to look for is dependent on the family's ability. It is pointless going to a huge area with an expensive lift pass if you're all beginners and will only be skiing on a tiny part of it, although some interlinked areas will sell a local pass. For total beginners, stay away from resorts with lots of surface drag lifts, as they're tiring and uncomfortable, especially for novice snowboarders. Resorts such as Les Deux Alpes (France) and Mürren (Switzerland)are great for giving beginners a big mountain experience, as both have accessible green and blue pistes high up on the mountain, so beginners don't have to spend all week at the resort's base, skiing amongst a bunch of concrete hotels. The car-free resorts of Saas-Fee, in Switzerland, and Serfaus, in Austria, are also both great resorts for young children.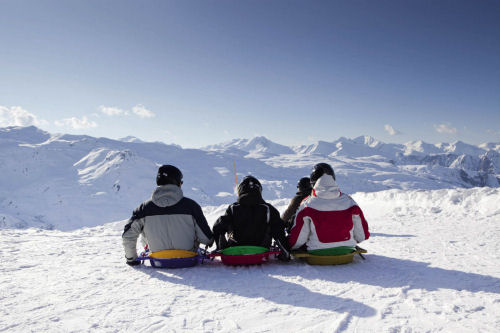 These days, especially when holidaying with children, it pays to look for resorts that offer more than just skiing. It can be physically and mentally draining trying to get the hang of sliding downhill on one or two planks of wood, so taking a fun break from the learning can significantly add to the all-round winter experience.
More and more resorts offer down-time activities – these can range from dog-sledding or horse-drawn sleigh rides, to tobogganing and aqua-centres with slides and pools, and even adults can get a huge kick from ziplining, ice-diving or driving a Porsche on a frozen lake. They can also make for popular alternatives if the weather is bad.
Teenage kicks

Without wishing to state the obvious, this is a whole different ball game to holidaying with toddlers or babies, and choosing wisely here can make all the difference between having a sulky or fulfilled teen on your hands. While many teenagers are happy with speeding slightly out of control down the piste, some aren't happy unless there's a great terrain park. Most resorts now have some sort of park, an area of jumps and man-made features. It's best to research exactly what's on offer, as, if your child is starting to learn freestyle, you don't want a resort with only expert lines. Look online at the resort's own website to see if they have a series of parks or areas which allow for a progression from small (green/blue) jumps/lines to the expert ones (black). If holidaying in America, undoubtedly one of the best places for your crazy, fearless teenager to learn to fly through the air upside-down is the Woodward centre at Copper Mountain, Colorado. The Woodward is a barn full of crash mats and foam filled pits for soft landings, ideal to practice big airs before hitting the snow proper. Also a great idea is to find a resort that has a ski or board school that offers freestyle courses, such as the Freestyle Parkrider run by RTM snowboard school in Courchevel and Meribel, France, or the five-day 'Too Cool for School' teen course at Aspen Snowmass.
Visiting a resort while an event is on, such as the Freeride World Tour (held in multiple resorts, varies each year) or The British Snowboard Championships, in Tignes, France (23-30 March 2013) is always fantastic, not only to watch the event but for the general buzz in resort and after event parties. For the older teenager who likes music, events such as Snowbombing in Mayrhofen (1-6 April 2013) or 'Rave on the Snow', Saalbach, Austria (13-16 December), aren't to be missed. Again for the older teenager, the Altitude Comedy Festival in Mayrhofen, Austria (18-23 March 2013), is another great option to keep them – and you, too –entertained in the evenings.
Off the slopes the self-contained resorts and draconian drinking laws of North America are fantastic for allowing younger teenagers freedom to roam while allowing you to relax in the knowledge that your 14-year-old isn't in the local bar downing strange cocktails. Ice skating and cinemas are always good options for post slope time and for the die-hard skier, many resorts offer night skiing too.
Ski School or not?

Ski School is not for all children, but most love it, and after the initial slow progress they'll quickly be touring the resort. It's also a great way for your children to make new friends, and, importantly, it gives you the time to ski hard. Many of the North American crèches are linked with the resort's ski school, and offer combined care/lesson packages. If you want to teach them yourself, or if any of your children are too young to ski, then travelling with a specialist tour operator or to a resort with a crèche is essential, or you'll never get any time to yourself on the slopes. Earliest recommended ages for skiing is four, with snowboarding at seven.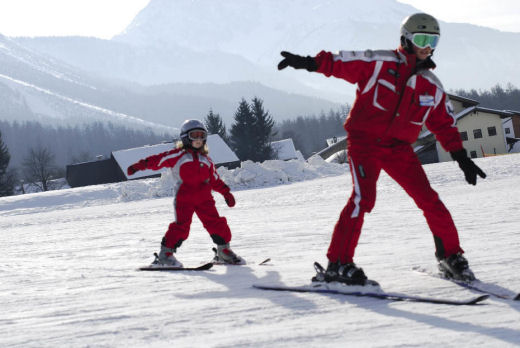 In resort, many learners will plump for the national ski school – such as the ESF in France – where you'll almost certainly find your instructor will speak English. Many Brits, though, prefer the services of British ski schools such as New Generation, which operates in nine resorts in France and Switzerland or the British Alpine Ski & Snowboard School, which is in 11 French resorts.
A good option is to take the kids to one of the UK's indoor ski centres before you go away. This can save time in resort on learning the real basics, and give yourself and your children more of the mountain to play on! Today's indoor ski centres are a far cry from the old dry ski slopes many of us remember from our early days, and all offer lessons, courses and opportunities to brush up your skills.
When and how to go?

If you have school-age children, the odds are you'll be tied to school holidays which will be the most expensive and busiest times, making early booking all the more important. If you can go outside school holidays, it's far cheaper and less crowded. Early season (December/January) can often be very cold for young children, who will probably spend a lot of time standing around if in a group at ski school. March/April is a great time for children, the days are a little longer and there's a higher chance of sunshine and milder temperatures.
Travel options are simple: fly, drive or train. Flying has the benefit of speed, as long as it's not too far at the other end, whereas driving gives you the benefit of stopping where and when you like. If flying and then renting a car, most airlines allow you to carry a child seat free of charge, even easyJet. The train can be the most civilised mode and is often almost as quick as flying, door to door. Many French resorts, such as Courchevel and Val d'Isere, are easily accessed by train from the UK and direct trains from Geneva airport link with the postal bus for Saas-Fee amongst others (www.snowcarbon.co.uk is a great place to look).
Before you go

As if a ski holiday isn't pricey enough, you'll also have to get everyone kitted out for the slopes. When it comes to the big kit – boots and skis or snowboard – this is a no-brainer as far as kids as concerned. While they and their feet are still growing it makes no economic sense to buy them skis and boots unless you're a lottery winner or planning to move to the mountains for the entire winter season.
For adults, it still makes sense to rent at first, especially skis, as your need changes as your skills grow, and you may get more use out of skis you buy if you wait a bit. Boots are trickier. Undoubtedly they are the first big bit of kit you should buy, as a specially fitted and customised boot will always be more comfortable and help you ski longer than a rental pair. UK retailers such as Snow & Rock, Ellis Brigham and Two Seasons can help you find the right pair. But until you've skied a bit you're not always sure how boots should feel. Renting helps you get used to them, and you can almost always swap your pair if they are too loose or too tight. Also, if you're only going once a year, renting might be a more economical option in the short-term – certainly until you're sure you actually like skiing!
When it comes to skiwear, everyone will need the following: socks, thermals, base layers, ski trousers or salopettes, gloves, hat, goggles and a good ski jacket. Buying last year's stock in end of season sales or at stores such as T K Maxx can help you cut costs, but ultimately you will want the best you can afford. We recommend buying as much as you can in the UK – prices will invariably be cheaper than in resorts.
Happy skiing!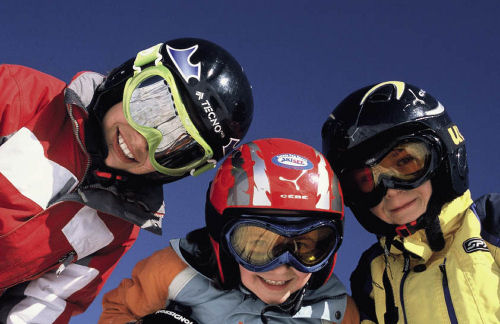 Snow How
In Snow's opinion there are five priorities that should guide you when planning a family ski trip
:
1
Find a specialist family ski specialist
Certainly, you can put all the ingredients together yourself and go it alone, but the best family ski operators such as Ski Famille, Esprit, Mark Warner, Neilson and Crystal have built up years of experience and know exactly what it takes to ensure you and your family have a great skiing holiday.
2
Pick a family-friendly ski resort
That might mean looking for a great ski school, or proper nursery/beginner slopes. But it also includes resorts with plenty of non-skiing activities aimed
at families.
3
Choose accommodation which specifically caters to the needs of guests with young children
If that's self-catering, do you want to trail up flights of stairs to your apartment because the lift is broken? If it's a hotel or chalet, does it provide children's meals or menus, a crèche or babysitting?
4
Look for a resort that's easy to get to
Travelling with young children can be stressful, so think about whether you want to fly, drive, or even go by train? Should you only consider Europe? North America has some of the world's best skiing, some great child-friendly offerings – and there's no language barrier.
5
Consider all the family's needs
Yes, ensuring your kids are safe and have the right balance of slope time and other activities is important, but if this is your only ski holiday of the winter, you'll be building up disappointment if you never get to ski at your own level. And that comes back to good quality childcare...