We're going to search for the best powder snow out there, and if that means changing course, we'll do it." The words sound like a statement from Han Solo in the cockpit of the Millennium Falcon; serious, but with a bandit-like swagger and an enigmatic grin that assure you this isn't going to be any ordinary ski holiday. In fact, the words are Scott Belton's – a Canadian Mountain Guide who's a cross somewhere between Indiana Jones and Tarzan on skis. You aren't quite sure if you should follow this guy, although you know you want to, because it's going to be seriously fun and the skiing is going to be amazing.
This is the Storm Chaser trip – an organised, ski guide led, multi-day programme focused around adventure skiing activities such as guided backcountry ski touring, heli-skiing and cat-skiing. There's even a fully loaded food, drink and entertainment 'Big Rig' tour bus to take us around British Columbia's Powder Highway.
Flying start
On this cold winter morning, as the whirr of helicopter blades grows deep in the Columbia River valley, and before my first ever day's skiing in Canada, my thoughts turn to the feelings any skier over 40 years of age would have – wow, this is going to be incredible, but should I really be getting into that little flying car without wings? As we fly within touching distance of the jagged rocks of the Dog Tooth range near Kicking Horse Resort and drop into Belton's own high mountain, back-country winter basecamp, I rise above fear because it doesn't seem real. I haven't even hit the snow yet, but this 'storm chasing' is already incredible.
The resorts of British Columbia are known for their deep, dry, powder conditions and despite being late March, the snow is still in good shape. I've been thrown together with a group of skiers including two freeride professionals from Whistler, three photographers, a ski patroller from Kicking Horse Resort and a couple of other ski writers.
Despite this heady mix of expert riders, the idea of the Storm Chaser trip is to make great snow accessible to recreational skiers in search of some adventure. Richard Barker, a Brit who set up Kicking Horse Powder Tours, the company that operates the Storm Chaser concept with Scott's Adrenalin Descents, eloquently states his slant on the situation. "You don't have to be a rock star skier to handle this trip – just be confident in powder and have a glint in your eye."
The trip is six days of skiing on the Eastern side of British Columbia, brushing up against and occasionally embracing resorts such as Kicking Horse, Revelstoke and Fernie. Although this is storm chasing and that means adapting itineraries and occasionally heading off into the sunset top find the best snow.
While flying around is exhilarating, landing still feels like a relief. We're dropped off in heavily forested backcountry with chutes and 'cut downs', where they de-forest an area leaving perfectly spaced little Christmas trees popping out, like friendly guide posts marking the way. It's also home to Scott's winter wilderness camp that consists of two large Artic style tents heated with wood burning stoves.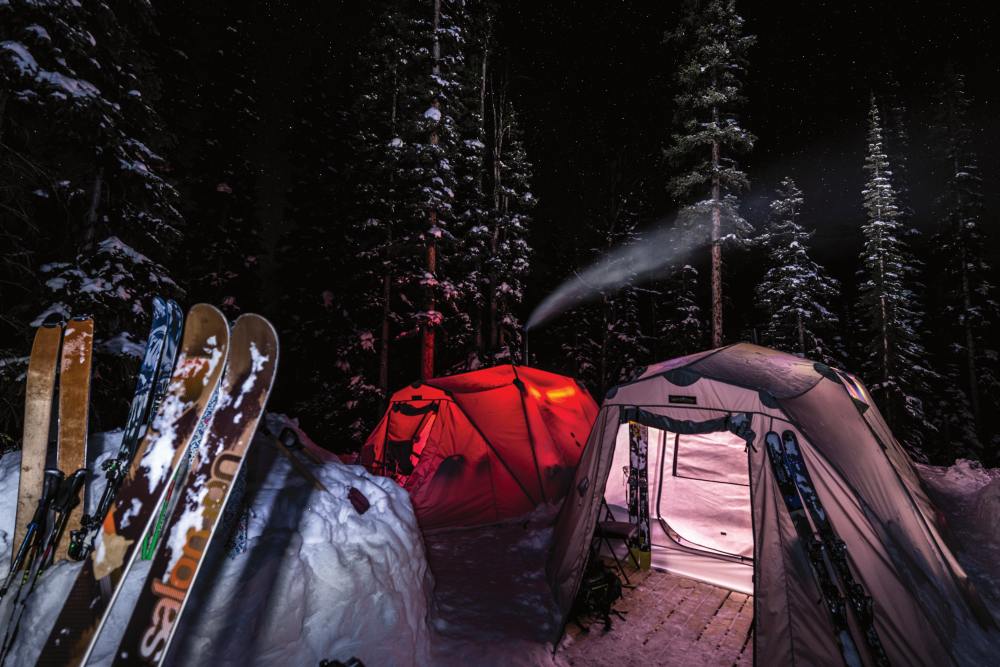 Food has been brought up and there are beds for ten people, with the plan to spend one night here to maximise the powder before moving on.
The enchanted forest
We drop off our excess gear and leap into our personal enchanted forest, following Scott through the compact spruce until it opens up to a huge cut down area, un-tracked and waiting just for us – waiting for me – I'm visualising my line even before I've seen it.
And then that sense of freedom, the floating feeling only powder snow can provide.
Weightlessness, the ability to soar, floating through the air like an astronaut bounding across the surface of the moon. At least this is what skiing powder snow actually feels like to me.
Part of being a storm chaser involves some ski touring when there's just no helicopter available, so it takes an hour of hiking up to camp. Thankfully a warm drink and packed lunch quickly revive the senses as there's no time to waste. We munch, swig and then descend again into the fantasy forest, ready for another dream run.
But there is one problem. Scott realises that the beer and wine has been left behind in town – but being the Jedi Knight he clearly is, decides to ensure we don't go without that night. An hour later, our heli flies in right over the camp and makes a drop. Chilled perfectly in the snow, the beer tastes even better sitting round the wood burning stove inside our tent, 'reassured' that it must be the most expensive beer in the world.
Apparently it is dumping snow further west, so plans are made to move, despite the urge to remain here for days. We ski Kicking Horse Resort before heading off though. Here the skiing is relentlessly steep – unforgivingly so in some parts, with huge, long, motorway-like glades cut through the pine forest, and runs left to their own devices. Sharp spines drop both sides into endless looking abysses that tempt you in, as if a demon is calling you to your fate. Once committed, there's no turning back, with falling the only alternative to skiing down.
The wheels on the bus…
I want more of Kicking Horse, but we're chasing storms and our magnificent bus is raring to go. This is our travelling home for the week, fully decked out with kitchen, dining area, lounge, TV and sofas to sprawl on – perfect after a day's storm chasing. We go through the town of Revelstoke and stay overnight, departing at first light with a hot breakfast on the bus and a drive deep into the Monashee's; classic British Columbia heli-ski country. The friendly Kingfisher Heli-skiing operation is our next stop, located off the main highway, in what appears to be the middle of nowhere.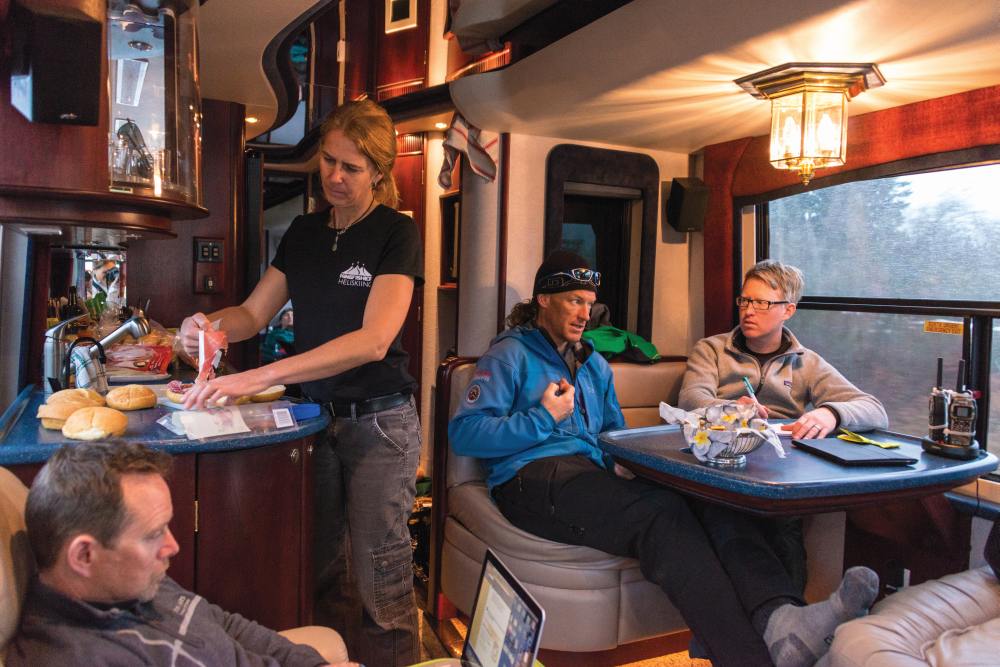 There are heli-ski operations spread right across this part of British Columbia, but Kingfisher is a brand new one with a mix of well-spaced trees and high Alpine terrain. Stefan, a British national who works with Kingfisher as a trainee Heli Guide gives me his thoughts. "It's just awesome here. There's so much space and the tree skiing is amazing. Our snow is so consistent we've been skiing deep powder right through winter. It's why I'm here!"
The forest does stretch as far as the eye can see here and as you glide through the perfectly spaced spruce you don't know what's ahead. But somehow it doesn't matter, because it appears to be perfectly designed for skiing – un-tracked and exclusively for us. There seems to be an endless supply of fresh runs here, and we mix some heli drops with a bit of ski touring to balance both the eco and wallet excesses that are easily blown in this most natural of wilderness environments.
That night we sleep in the Sparkling Hill Resort by Lake Okanagan – a cathedral of opulence and design that's perched above a prodigious glacial body of water. The contrast between nature and human creation here is extreme. Both are impressive, powerful and almost ethereal, but it feels like you're in the luxury hotel version of a space cruiser that's parked itself on an alien planet.
The spa certainly feels out of this world too, with a powerful healing element, only enhanced by the ubiquitous crystal installations that form the main feature of the hotel.
The next day we move on in the Storm Chaser bus that is becoming like our refuge; a shelter that delivers us to our next port, complete with a fully stocked fridge, TV, Wi-Fi and the stunning passing vista of British Columbia that just keeps on giving. As the Storm Chaser members get to know each other the group vibe starts to gel, with Neil Young's music adding a soundtrack that further increases the cinematic aura of the journey.
The night is spent at the locally renowned Hume Hotel in the lakeside town of Nelson, first opened in 1898 but recently renovated to bring the rooms up to a first class, modern standard. Mike's Place Pub downstairs is probably the best in town and it makes a good base for the resort of Whitewater.
Into Valhalla
Climbing out of the gun-metal grey, futuristic form of our very own snow cat, the next day finds us in Valhalla, where the gnarly old trees resemble something out of a western movie, and the clouds streak across the sky, like we're in some kind of time-lapse image.
Just down the road from Nelson, our Valhalla is not in Asgard as described in Norse mythology. It's much better: a snowy playground of epic size served by the Valhalla Cat Skiing operation.
There's plenty of trees again, but they're more open, with steep chutes slicing through the upper rocks, fanning out into huge paddocks and glades down below. It's my first 'cat ski experience and discover it provides the ultimate snowsports transport. Inside, there's a large selection of sandwiches, snacks and liquid refreshment to munch on every time we get a lift back up – which makes us look forward to both the descents and the ascents.
Valhalla has a unique atmosphere and is wonderfully isolated, with access to the base an hour's drive up a snow-covered dirt track. There's a huge amount of terrain and because the vertical isn't that big, it suits the Cat operation perfectly. There are no easy ways down though; Valhalla is not for the faint-hearted.
The next and final stop for the Storm Chaser bus is the resort of Fernie. It's late at night by the time we check into the Slopeside Inn and snow is falling before our final day.
Fernie Alpine Resort now has a famous reputation for powder snow and attracts an international audience because of it. There's a good vertical drop, and although the altitude isn't particularly high its location means storms from the south and west easily travel up a large corridor before hitting the cold air from the north. True to form, we are greeted with snow for our single day in Fernie where the white stuff has been piling up nicely for us.
We spend the day plunging into the forest, hitting kickers, ridges, and un-tracked meadows that make the area feel like a snow park for grown-ups – sophisticated, refined but natural. It's the ideal finish to a week in the eye of the perfect skiing storm.