Perfect powder
It's been a bumper year for snow in Andorra, with depths on the slopes reaching up to an awesome 250cm. While the UK has been feeling the wrath of the 'Beast from the East', here in Andorra we've been making the most of the epic snowfall. Picking somewhere snow-sure is vital when considering your options for a last-minute ski break, and right now Andorra is the perfect location!
Value for money
Andorra is the place to find some great deals when it comes to saving money on the slopes. For example, you can get a lift pass (which gives you access to 210km of pristine piste), equipment hire and lunch from just €56.50 a day. Don't worry if you already have your own gear, as you can add lunch to your lift pass for as little as €1.85 a day. Little extras like these are great if you're trying to save the pennies and squeeze in some end of season fun on a budget.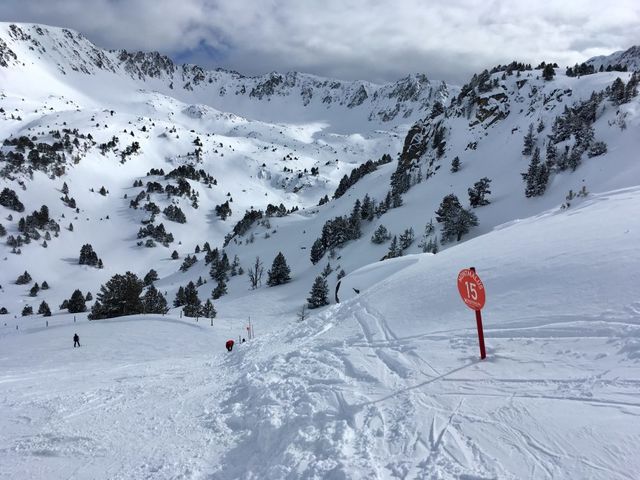 Getting here is a doddle
The easiest way to get to Andorra is to fly to the nearby cities of either Toulouse or Barcelona. With many budget airlines flying direct to these locations, flights are cheap, easy to arrange and offer great flexibility. Flights are especially good value later in the season, meaning you can get a return flight from London Stanstead to Toulouse in March, for just €28. There are also shared transfers running regularly from both airports directly to resort, 3 times a day from Toulouse and 7 times a day from Barcelona, so you'll be in Andorra before you know it.
Great range of accommodation from budget to luxury
Andorra has a wide range of accommodation to suit your needs, from large budget apartments, perfect for big groups to share, to luxury 5-star spa hotels situated slope-side. Last minute and limited budget doesn't always have to mean basic; there are often some wonderful deals to be had at the end of the season, which will see your money go a long way. With such a large selection on offer, it's simple for you to find the right base at the right price.
Longer days mean longer aprés ski
Live music around every corner and local beer for €2 means you're in for a treat if you're a fan of the more traditional forms of aprés ski. Alternatively, those looking to branch out a little will also be able to find plenty to do after a long day on the slopes. Why not mix it up by visiting Europe's largest spa, or sample some local cuisine at a Michelin starred restaurant? Plus, if you can fit it into your busy schedule, don't pass up the opportunity for some retail therapy, to make the most of the very low (4.5%) tax.
Whichever angle you look at it, Andorra adds up to the perfect location for a last-minute, end of season break. To start planning you trip head to Andorra Resorts where the Andorra experts can help you plan and book your dream ski trip.