Courchevel, France
Best for everybody, no matter the budget or skiing ability.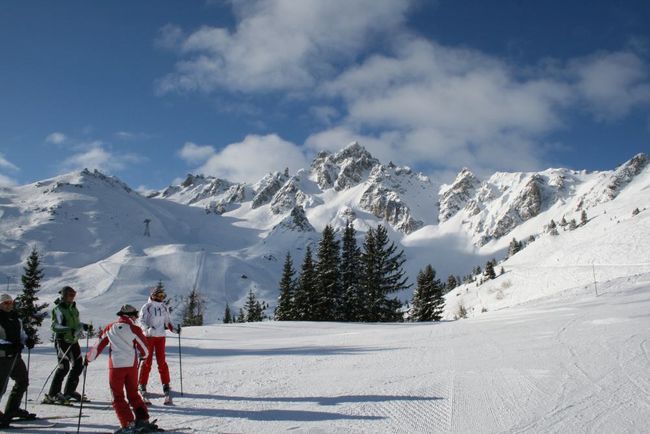 Courchevel is widely renowned as one of the most exclusive resorts in Europe, as well as one of the best in terms of the ski area on offer. Courchevel resort is made up of several separate villages sat at different elevations. La Praz sits at 1300 feet, Village at 1550, Moriond at 1650, and at 1850, it's simply known as 'Courchevel'.
The resorts go up in price and exclusivity the higher up the mountain you go, so chose your destination wisely of you have a strict budget. However, regardless of where you decide to base yourself, the extensive lifts systems and bus services make hopping between the different areas a breeze.
It's a dream for beginner skiers and boarders, as on top of the extensive ski area around the resort itself, visitors will also have easy access to one of the best linked ski areas in the world, The 3 Vallées. Resorts such as Meribel, La Tania and Val Thorens are easily reachable from a base in Courchevel. From wide sweeping pistes, to winding trails through the trees, there's a bit of everything on offer here.
Beginners can rest easy at Courchevel with its wide range of green and nursery slopes, abundance of ski schools and guides, as well as an outstanding centre for children, offering child-care and a safe environment for the little ones to take their first slide on skis.
Courchevel 1850 also boasts some world-class shopping opportunities and Michelin starred restaurants, so you won't be bored off the slopes either.
BOOK IT: Courchevel is the perfect place for a getaway in the snow, offering everything from outstanding snow conditions on the mountain to glitz and glamour in resort. It has some incredible 'Palace' and 5-star rated hotels, as well as every shape and size of chalet – we found the biggest selection of ski chalets with SNO Chalets, including everything from a 7 night chalet holiday from just £450pp at the beginning of the 2018/19 season up to a super-luxury property with its own spa and swimming pool costing over £10,000 a head!
Park City, Utah, USA
Best for a tiny transfer time and multiple beginner's zones.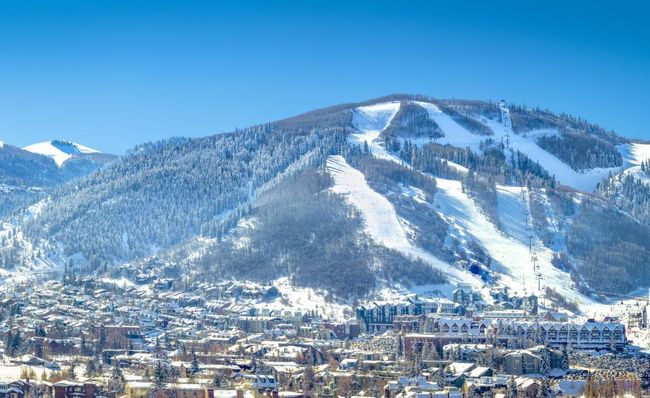 If your budget stretches to a trip a cross the pond, Park City is well worth a visit. Having gained recognition and esteem after playing a big part in the Alpine events of the 2002 Salt Lake City Olympic Games, Park City has continued to grow in size and popularity.
Beginners will be glad of the abundance of spacious greens and blues to find their snow legs on. The pistes are well know for being immaculately groomed and kept in peak condition, so no need to plunge into the powder on your first day! The beginner's area is also easily accessible from the central chairlifts in the main hub in town, and the linked resort of Canyons Village also has some easy runs accessible from the main gondolas and chairlifts, if you feel like going a bit further afield.
The neighbouring resort of Deer Valley is also worth mentioning for their dedicated beginner's zone, 'Wild West' that can be accessed directly from the centre of resort by chairlift.
The town itself is vibrant and charming, with numerous boutiques, art galleries, restaurants and bars to keep you entertained. You'll also find the free Main Street Trolley very useful for getting about, as well as a fleet of free, zero emissions electric buses to take you between hotels, the pistes and downtown Park City.
Park City is also only a 35-minute drive from the main city, and capital of Utah, Salt Lake City. Perfect for day-trips and taking a break from ski school. This also means, of course, that there is a very short transfer time to resort from the airport, which is always a good thing, but especially for your first time on the slopes.
BOOK IT: From right on the historic main street of downtown Park City, to secluded out of town spots, there's loads of places to stay in this Utah resort, and you can stay for 7 nights with Ski Independence from around £1000pp. Choose from value accommodation, right up to 5 star luxury hotels such as the Waldorf Astoria Park City which has its own gondola!
Voss, Norway
Best for An authentic Scandinavian experience and multiple activities to tackle.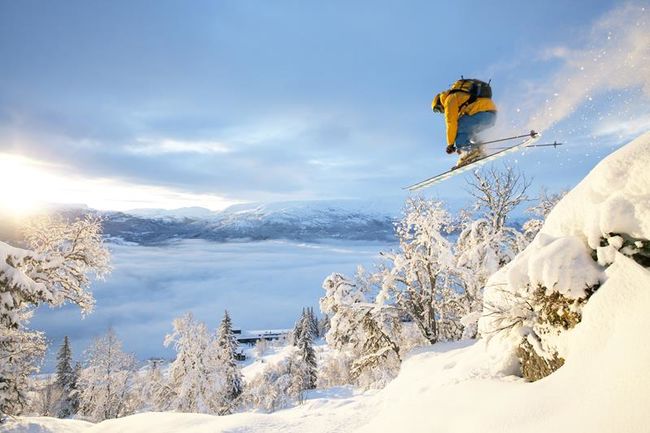 Scandinavia is a great place to choose for your first ski trip if you're interested in more than just the usual Alpine pursuits. For example, why not give Telemark skiing a go? There are 18km of groomed cross-country trails around Voss.
Voss is a resort that is perfect for families learning to ski together. There are several areas dedicated to children including gentle nursery slopes, as well as small jumps and banks to have fun once they've found their feet. Children aged 6 and under also ski free throughout the resort, so families will be able to save some pennies!
It's not all about the kids though. Voss is packed full of fun extras to make your trip a memorable one. For example, the resort is well known for it's fantastic night skiing 3 nights a week. Pistes of all difficulties are floodlit well into the night, so no matter how new to the slopes you are, you can experience the unique atmosphere of skiing after dark.
You can take the gondola directly from the centre of town to the ski area up the mountain and find yourself on the beginner's slopes without even putting on your skis. The ski school is situated here as well, so meeting up with your instructor is simple.
You won't be short of things to do off the slopes either; one highlight is taking the Flam Railway, which tours through the beautiful surrounding countryside to Sognefjord and treats riders to spectacular fjord and mountain views.
BOOK IT: Skiing in Scandinavia is well known as not being the cheapest option available, but the unique ski terrain and spectacular scenery make it a must-visit regardless. And it doesn't have to cost the Earth! Book a trip to Voss with Ski Norway from £743pp for 7 nights.
Alta Badia, Italy
Best for stress free learning with the unique backdrop of the Dolomites.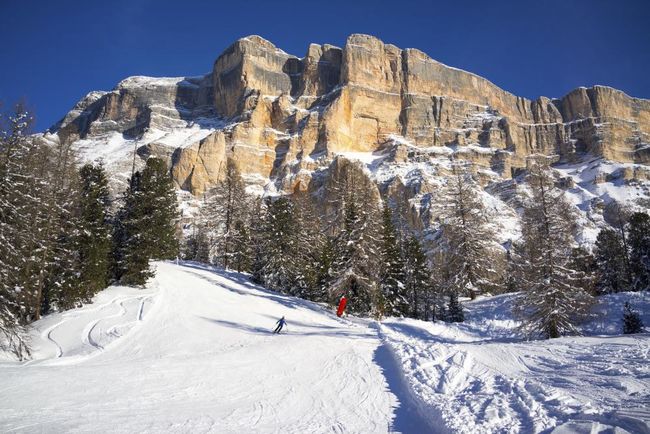 Alta Badia is located in the Dolomites, a UNESCO World Heritage site and stunningly unique mountain range in the South Tyrol region of Italy.
The resort is comprised of 6 different individual villages and has an impressive 7 different ski schools in the area. Each village has it's own ski school and beginner's area, so you can take your time to get used to your skis before you head up the mountain.
The majority of the skiable terrain in Alta Badia is on a sunny, undulating plateau, accessed by lifts from the surrounding villages. The atmosphere is relaxed and the name of the game here is to soak in the surroundings and just enjoy being in the mountains. This resort is full of wide, smooth blue pistes, so it's a great place to gain some confidence once you move on from the nursery slopes.
This area is also famous for its gastronomic prowess. There are 3 Michelin starred restaurants scattered around the area, as well as countless other local restaurants that easily living up to the region's reputation for outstanding local food. You'll have ample opportunity to give your taste buds a workout as well as your skis!
BOOK IT: There are numerous options for where to stay to ski the Alta Badia area, giving you the versatility to pick the perfect location for you. Corvara and sister village, Badia, are excellent choices. Corvara has a lively après scene and the perfect base to explore the Sella Ronda, while Badia is quiet and traditional. Stay in this tiny village for peace and quiet and wonderful scenery. Book with Neilson for just £735pp for 7 nights.
Zell am See - Kaprun, Austria
Best for a wide variety of ski terrain at a beautiful lakeside location.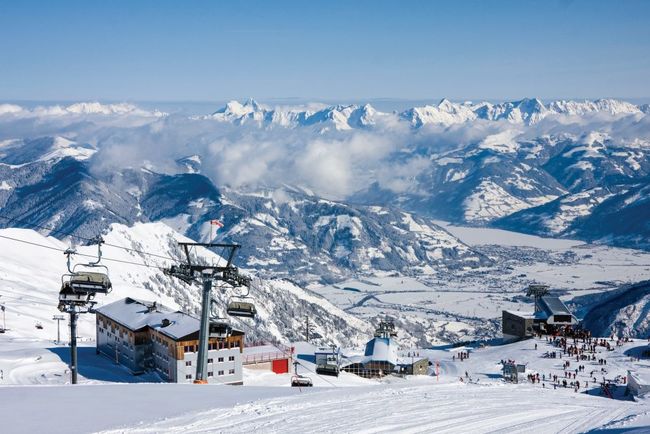 Yes, we know these are technically two resorts, but with a regular ski bus to ferry you back and forth, it's as easy as pie to stay in one and ski in the other depending on what mood strikes you.
The ski area above Zell am See, known as the Schmittenhöhe area, is great for learning, whether you're an adult or a child. There are 2 areas with draglifts and magic carpets, which deposit you at the top of extremely gentle runs to get used to before you tackle the chairlifts. There are also relatively easy blue runs back down into town for when you move on from the greens, but there's always the gondola if jelly-legs set in early. There's even a golndola here designed by Porsche!
Kaprun is most well known for its glacier skiing. The mighty Kitzsteinhorn glacier provides an amazing natural wonder, as well as snow-sure skiing from October to early summer every year. Here would be a perfect place to learn out of peak season when the slopes are quieter. There are plenty of wide, easy runs on the glacier to mooch around on before you catch the gondola back down to the bottom.
Zell am See itself is a lovely town - even non-skiers would be happy spending a week here, as the backdrop of the spectacular Lake Zell makes for a wonderful location. There are historic buildings and a charming central square, as well as ample shopping opportunities and plenty of bars to get stuck into après ski. If you're willing to splash the cash, you won't want to miss out on a stay in the historic Grand Hotel, situated lakeside.
Both resorts also put on evening ski shows. Every Monday, you can catch the 'Night Show Kaprun' at the bottom of the Lechnerberg piste, and every Wednesday sees the 'Snow Night' Zell am See at the base of the cityXpress lift. These shows are packed full of freestyle tricks, light shows, pyrotechnics and even synchronised skiing. Yep, it's as crazy as you're imagining.
BOOK IT: Take in the beautiful lakeside location of Zell am See and stay in the centre of town from £655pp for 7 nights with Neilson. Or if you feel like making your stay even more special, opt for the stunning and historic Grand Hotel from £949pp.
Telluride, Colorado, USA
Best for chilled out skiing in a stunning historic town, deep in the Colorado Rockies.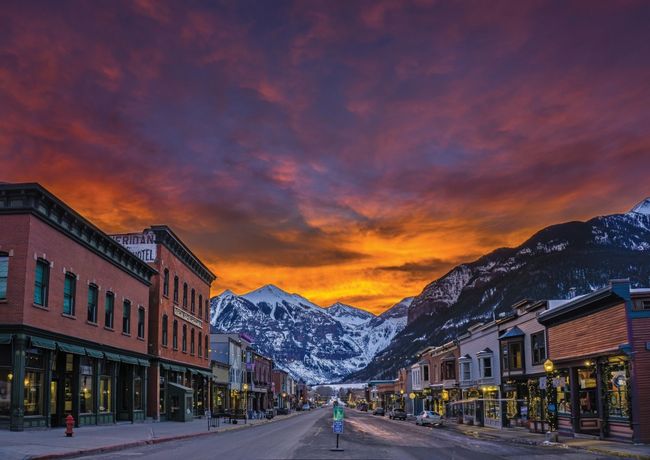 Telluride is one of those resorts that's difficult to get to, but if you make the effort, then the payoff is incredible. Situated deep in the Colorado Rockies, Telluride was a thriving hub in the heyday of gold mining in the area. The town sports some amazing Victorian-era architecture lining the historic main street, and was even the location of the first bank robbed by Butch Cassidy back in 1889!
History isn't all this town has to offer, though. The ski area is smaller than many other North American resorts, but size isn't everything. It's a wonderful resort to visit of you're just beginning to get into winter sports, because you'll get the all-around experience here.
The historic town of Telluride links to a smaller, purpose-built, settlement up the mountain called Mountain Village. From here you can ski straight onto the slopes and into the extensive beginner's zone. Once you've mastered the nursery slopes, there are numerous calm green runs through the trees running from top to bottom of Bald Mountain to get your teeth into until you're ready for the blues. A free gondola links the two areas, so getting around is a doddle.
One great thing about Telluride is that it has a lot of pistes of different difficulties which link together, making it perfect for mixed-ability groups and for when you're ready to step it up a gear. It also means that there are regular, easy bottle-out opportunities for when your mates entice you onto a red run a little too soon.
BOOK IT: Telluride is a wild and beautiful resort, but its exclusivity and remote location make it more difficult to find a conventional package holiday. It's not impossible, though, and Skiworld is one of the few who do offer ski getaways here. Get in touch now for a quote!
Ischgl, Austria
Best for great quality snow to learn on and diving headfirst into the Tyrolean culture.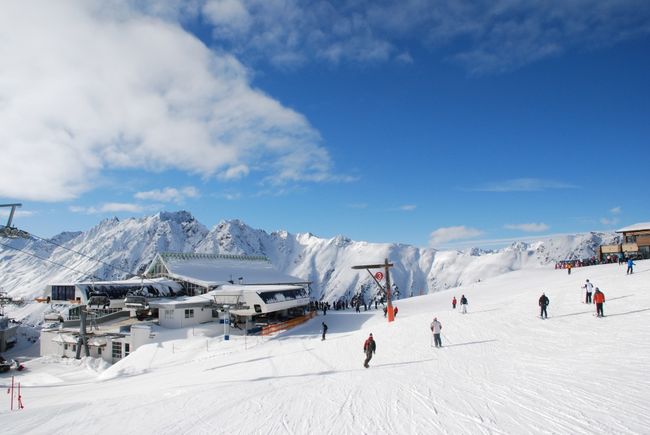 Ischgl has a reputation as a party resort, and it's true that they know how to have a good time. But the quality of skiing you can find here should not be overlooked. There's a great-sized beginner's area up the mountain at Idalp, and at over 2300 metres up, you'll be learning to ski on some amazing snow. No more slush and mashed potato nursery slopes in resort, this is a wonderful introduction to the world of snow sports. There are easy lifts to help you get the hang of them, and it is also the base of the well-renowned Ski Academy ski school. You're skiing future is in good hands here!
There is also almost 50km of cross-country ski terrain if you fancy starting on something a bit flatter, and floodlit toboggan runs which claim to be the longest in the Alps! There is no shortage of activities on offer here for when you take a break from the skis - why not try your hand at snowshoeing or ice-skating as well?
It's also a perfect place to explore the Tyrolean culture. There are numerous churches and chapels in and around resort, and several museums where you can learn about the local art, history and agriculture of the Tyrol. Plenty of opportunities to shop too, and, of course, to hit the town for some truly unique après ski in the evenings.
BOOK IT: Stay in Ischgl with Ski Total and experience everything this resort has to offer. Truly get the most out the Tyrolean experience here, as well as learning to ski in a wonderful setting. Make one of the central chalet hotels your base in resort for just £549pp for 7 nights!
Wengen, Switzerland
Best for charming Alpine villages and exploring the stunning Jungfrau region by rail.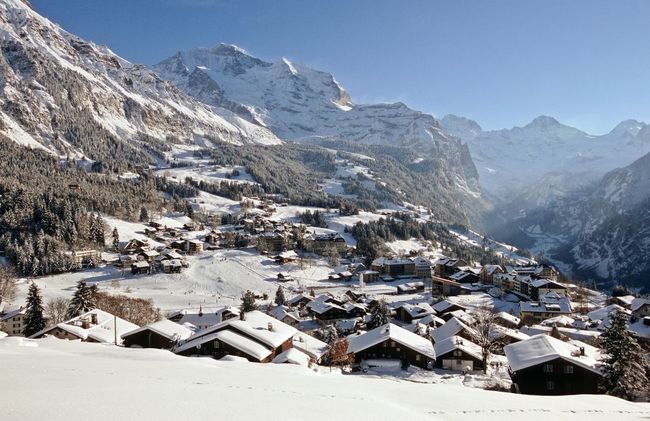 Wengen is an enchanting, car-free village in the Jungfrau region with a spectacular backdrop – the North Face of the Eiger. Trains are the name of the game here, with car's being a complete no-no in resort, other than the odd electric or emergency vehicle.
The Wengernalp cog railway connects Wengen to Lauterbrunnen, and links up with the neighbouring resort of Grindelwald via a stunning route through the mountains. You can even take a trip down the mountain to Interlaken if you fancy going a little further afield.
There are 2 beginner's ski areas in Wengen, one down in the village, and another up the mountain for when conditions in resort are in need of a boost. There is a total of 206km of pistes here, so there's plenty of skiable terrain to keep you busy, with much of it being wide, sweeping blues, to ease you into the rest of the mountain once you graduate from the nursery slopes.
This resort is a quintessential Alpine village, famous for its wooden chalets and narrow streets, so it's a great place to chill out and enjoy the beautiful mountain scenery. While you're here, also try to fit in a visit to the Sphinx Observatory. Perched precariously on the tip of Sphinx summit at 3,571 metres, the astronomical observatory is open to the public and accessed by a lift that travels up through the mountain from the Jungfraujoch railway station. The observation deck offers unparalleled views of the Jungfrau, Mönch and Eiger peaks.
BOOK IT: Wengen is a perfect resort to go to for something a little different. The relaxed atmosphere and vehicle-free resort is a recipe for a perfectly relaxing holiday. Crystal has some great packages on offer for the 208/19 season in Wengen, such as a week-long stay at the charming Hotel Bernerhof right in the middle of resort, for just £755pp with everything included.
Lake Louise, Alberta, Canada
Best for high end luxury and having a taste of the Canadian way of life.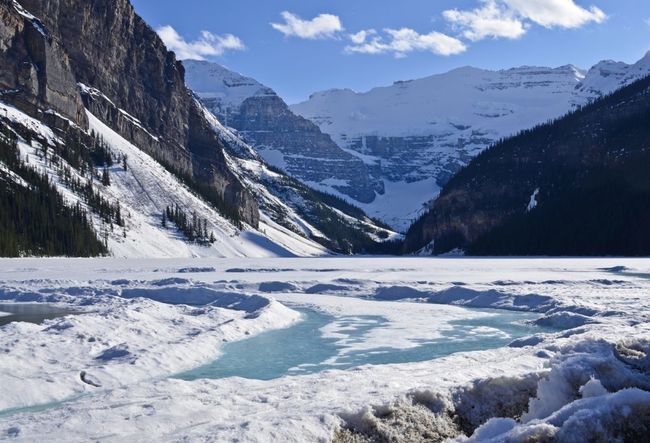 If you fancy experiencing some famous Canadian hospitality, you can't go wrong with Lake Louise. Even though the flight time is long, the transfer time to resort is only 2 hours from Calgary airport, and then you'll find yourself in one of the most stunning locations on earth.
Tucked away in the Canadian Rockies Lake Louise is surrounded by wilderness. It's located in Banff National Park, but within striking distance of Glacier, Kootenay, Yoho and even Jasper National Park if you're willing to go a little further afield. This area of the Canadian Rockies is famous for its natural beauty and crystal clear lakes. Even though most of them will be frozen over when you're hitting the slopes, it'll give you an excuse to come back in the summer to see the bright turquoise waters after the thaw.
Lake Louise itself is made up of 2 small resort villages where you will find most of the accommodation, but a great aspect of skiing Lake Louise, is the amount of variety available to you. You can stay in these resort villages, or just as easily stay down the road in the beautiful town of Banff, as there are regular (free with a lift pass) bus services to ferry you all around the area to and from Lake Louise, Mt Norquay and Sunshine Village.
There is a generous beginner's area at the base of Lake Louise's pistes, featuring plenty of easy gradients and beginner-friendly lifts while you're learning. A wonderful ski school is based here, and there is also a great facility for kids in this area with fun cut outs of the local wildlife, loads of gear to help them learn and have fun at the same time.
One unmissable aspect of this resort is taking in the famous Fairmont Chateau Lake Louise, a hotel that sits lakeside and looks like it's been plucked right out of a Disney Movie. If you can stretch to it, it's an amazing place to spend your ski trip, but be warned, it might break the bank. If your pockets aren't quite that deep, dropping in for afternoon tea or simply to visit the gift shop will still give you a taste of opulence. You could even check out its lesser-known counterpart, Fairmont Banff Springs, just on the outskirts of Banff for similar luxury, but fewer crowds.
BOOK IT: Splash the cash and book a luxury stay at Fairmont Chateau Lake Louise with Ski Independence. The prices may be north of £1000pp for a week's stay, but what better place to indulge than this breath-taking location?
Soldeu, Andorra
Best for quieter slopes and first class ski schools.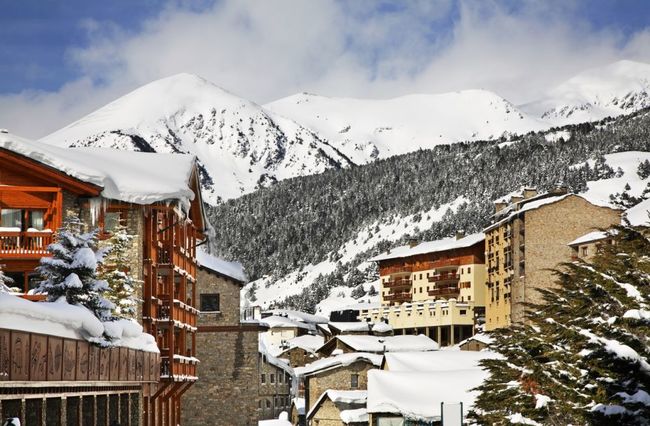 Andorra is still known as somewhat of a wildcard by many skiers and boarders and may not be the first location that springs to mind when booking a ski holiday. However, this area should not be overlooked.
Soldeu is one of 6 individual ski resorts under the Grandvalira umbrella, which are all linked together by extensive lift systems, which means you'll have over 120 runs at your ski tips once you've mastered the chairlifts. There are also snow cannons on 65% of these runs, so worrying about snow cover isn't a problem.
There are several beginner's areas all within easy distance, but ones above Soldeu, neighbouring El Tarter, and down the valley at El Peretol are the easiest to get to if based in Soldeu.
Andorra has a reputation for offering fantastic tuition in skiing and boarding. Soldeu and El Tarter are particularly well known as having many instructors originating from the UK, so the language barrier isn't something you'll need to worry about. The Soldeu ski school is located right by the top of the Soldeu gondola, so you can easily get to your lessons without even putting on your skis.
The town itself is fairy modern, so it does lack a certain charm, but it still has everything you need for some serious après ski. There are a large variety of bars and pubs for you to get your partying fix, but there is also a prime opportunity for relaxation here. The Sport Wellness Mountain Spa located in Soldeu is a modern masterpiece of calm. Head over for everything you need after a hard day on the slopes, from pools, hot tubs and water beds, to saunas, massages and spa treatments.
BOOK IT: Andorra is a wonderful place to explore by skis and Andorra Resorts offers a great selection of accommodation and ski packages to give you a holiday to remember. Stay in the centre of Soldeu for just £654pp for a seven night stay.