Salomon Gypsy | £340

BEST FOR Anyone who wants a soft and playful park board for all-mountain play.
Salomon's Gypsy is perfect for beginners who want to get into freestyle and super playful for the more advanced rider as it feels light underfoot.
In design and character, the Gypsy is a true twin, hybrid camber board
VERDICT
Great value, great looking freestyle all-mountain board that's a joy to ride on groomers as well as in the park.
Burton Deja Vu | £325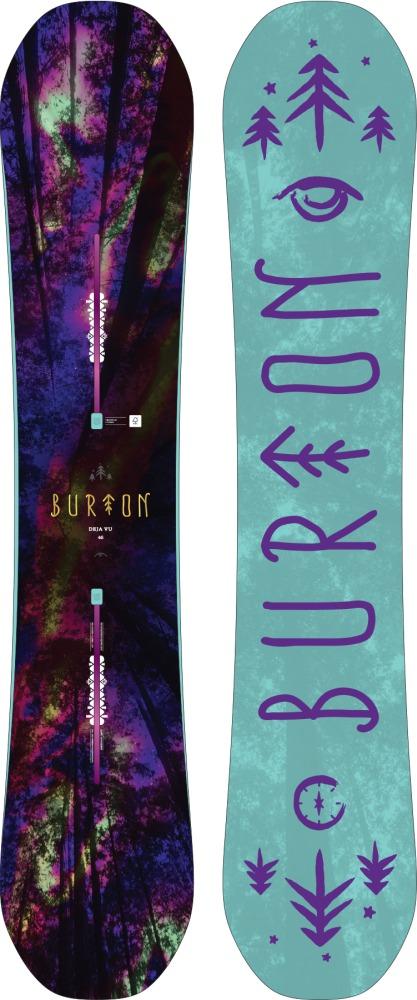 BEST FOR Riders who enjoy a relaxed, loose and fun ride.
The Burton Deja Vu is a very interesting ride with its Flying V profile, its playful rocker on the nose, tail, and in the middle, making it extremely flexible.
The board has a lively feel and is great for butters, presses and hitting natural features. Also, the Deja Vu rides well in powder as the nose naturally lifts.
The cost of this loose and playful feel is ineffective carving, feeling slightly wobbly underfoot when riding fast. Having said that, the board handles slow speed well and is forgiving in all situations. It also handles uneven terrain like a boss and is especially good in chopped up snow or crust.
VERDICT
An excellent option for riding powder and delivering ground tricks as a Freestyle jib board where stable edges are less vital.

Gnu Velvet Gnuru | £338
BEST FOR Ambitious recreational riders who want a good value all-rounder.
It is hard to pigeon-hole the Velvet Gnuru as it has both freestyle and all-mountain characteristics, but at its heart it's still a freestyle board - great for park laps and fun for jibbing. The Gnu Velvet Gnuru loves butters and presses, while the mellow camber lets you cruise the groomers with comfort.
VERDICT
A great all-rounder with both freestyle and all-mountain characteristics that's great for park laps and fun for jibbing.

Rome SDS Royal l £260
BEST FOR Aggressive, technical, piste-loving riders.
Brand new for 2016-17, the Royal is almost flat all along its length with Rocker at the top and tail as well as 'QuickRip Sidecut' technology designed to give quickness and control. Indeed, we found this was an ideal board for piste cruising at any speed.
The Royal has been included with 'Hot Rod' technology which is a single glass barrel that Rome claims adds more of a dynamic poppy flex than flat glass fibres, although we didn't find the Royal to be overly playful and jibby.
Taken slightly off-piste, the board has a reasonable float with the rocker at the top and tail, but is more at home on tracked snow.
VERDICT
Not for lazy riders but if you live and breathe for carving wide and fast then you will love the SDS Royal.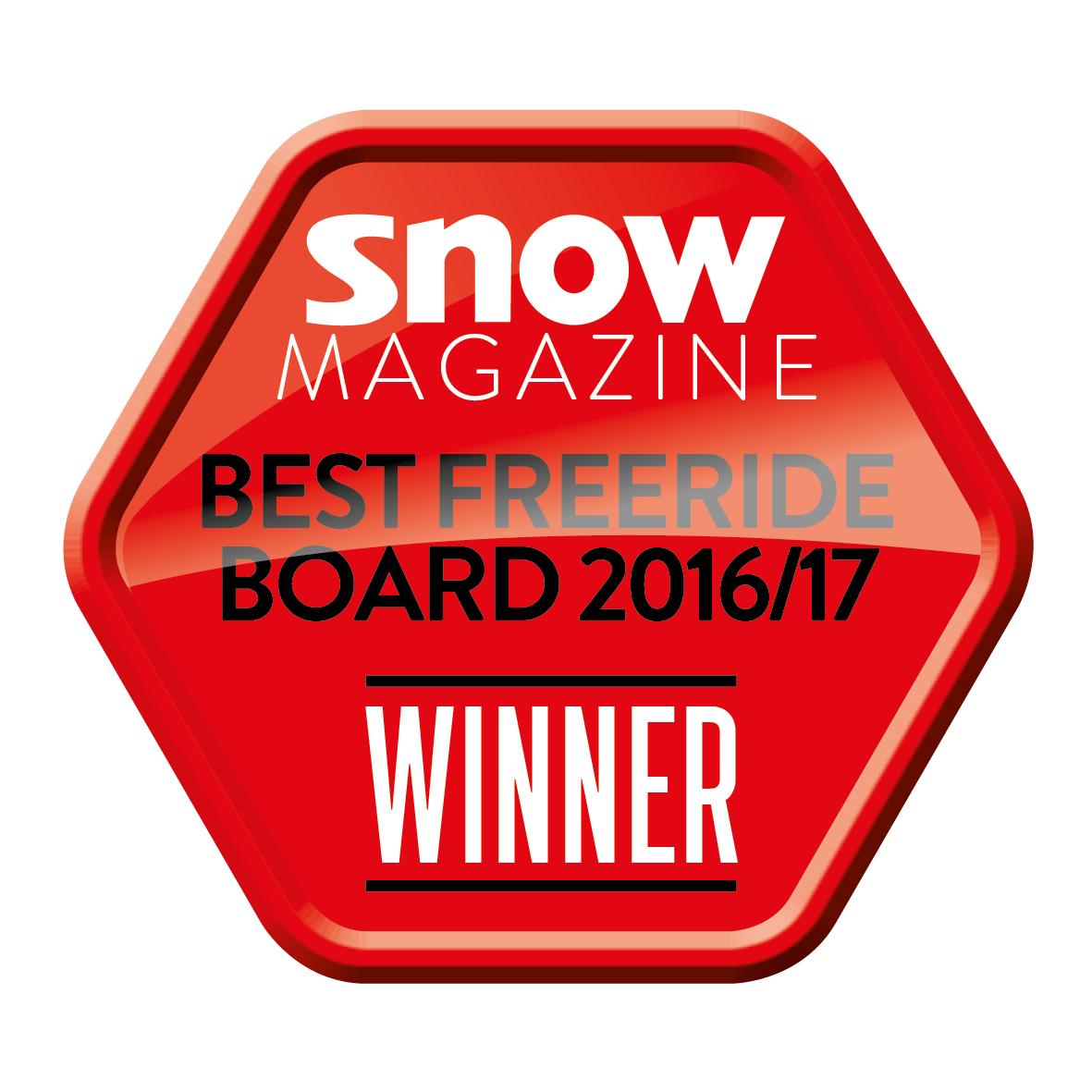 Nitro SMP l £300
BEST FOR Intermediate to advanced mountain charging powder hounds.
Brand new for 2017, The Nitro SMP is a directional cam-out camber board which rides with an old school surf feel to it. As such it floats on powder, loves to charge the mountain and is stable at speed, even on uneven terrain. It will also enjoy the odd park lap but will relish purposeful carving.
VERDICT
Performance won't suit beginners, and graphics won't suit the politically correct but this board loves fresh powder.
See the next 5 snowboards in the list
---
Burton Process Flying V | £325

BEST FOR Playful all-mountain intermediate to expert riders.
The Flying V makes for a freestyle leaning board that doubles as an awesome all-mountain board, delivering a softer, more playful ride than the Burton Custom.
So responsive edge to edge, the Flying V is easy to dial-in on intricate short radius turns. For a softer board, it holds an edge well and powered through the spring snow we found locking-in those fast sweeping carves super easy. The Process Flying V also handles speed well, even across flats, tracked out snow and crust.
Add in great pop and edge control and you get a dream ride for buttering, pressing and hitting natural piste side kickers.
VERDICT
A fantastic choice for experienced all-mountain riders that is easy and forgiving to ride but delivers when pushed hard.
Amplid GoGo | £300
BEST FOR Beginner to intermediate rider's first board.
The Amplid GoGo is a nice all-rounder without being spectacular in any way. Pigeon holed as an All-Mountain snowboard it certainly leans towards freestyle with excellent flex qualities. The GoGo is a True Twin Camber Rocker Hybrid, which makes it user friendly for all abilities with beginners appreciating the forgiveness of the rocker. The rocker also gives the GoGo a playful element, while the camber gives a good snappy pop. It is also a durable board with an Extruded 4 Base which is hard wearing and designed for low maintenance – No need for everyday waxing.
VERDICT
A very reasonably priced and enjoyable first all-mountain board for beginners and intermediate riders.
K2 Party Platter | £330

BEST FOR Experienced riders who want a fun, 'surfy' feel.
K2's Party Platter is a stubby new board designed with a surfing concept which can be 7-10cm shorter than your usual ride.
The board is flat across the mid-section with rocker tip and tail. The 'tail kick' is again surf inspired for easy switch riding and we all agree this works well.
The turn initiation and response is incredible - this board can turn on a six pence. It is a fun ride and ideal for dialling in carves and jibbing off natural side features with a good pop. The surfing concept really hits home while riding powder and it can even handle the groomers with relative stability at speed.
VERDICT
An innovative new 'surfy' freestyle design which turns on a sixpence, loves powder and is fun attacking groomers.
Capita Defenders Of Awesome | £325

BEST FOR Mountain-charging speed-obsessed aggressive riders.
The most iconic snowboard in its range, the Capita Defenders Of Awesome (AKA: DOA) is an aggressive hybrid camber board ideally suited for intermediate to advanced riders. The camber makes it super stable at speed, bulldozing through choppy terrain – it also has a fantastic pop for ollies and kickers.
On the flip side, even though the DOA has a hybrid camber, it still suffers from the traditional traits of being slightly unforgiving. We also had to work the back leg harder in powder to keep the float. All the same, the DOA does perform better in the deep stuff than a traditional camber board.
VERDICT
A twin-tipped, dream of a board for aggressive all-mountain carvers with solid performance and build.