Sponsored content
Incredible scenery, great snow, big verticals, top quality accommodation – and unforgettable memories... France's Isère region offers winter adventures to delight thrill seekers and contemplative souls alike.
Paragliding, hot-air balloon rides, ice climbing, ski touring, biathlon training, snowshoeing through silent snow-covered forests and even ice diving are all on the menu here.
From the spiritual highs of the Sarenne at Alpe d'Huez or the record-breaking vertical drop at Les 2 Alpes, to the intimacy of night skiing on floodlit slopes in Chamrousse or dog sledding across the vast plateaux and forests of Vercors, here are six memorable experiences that can shape your stay in the Isère French Alps: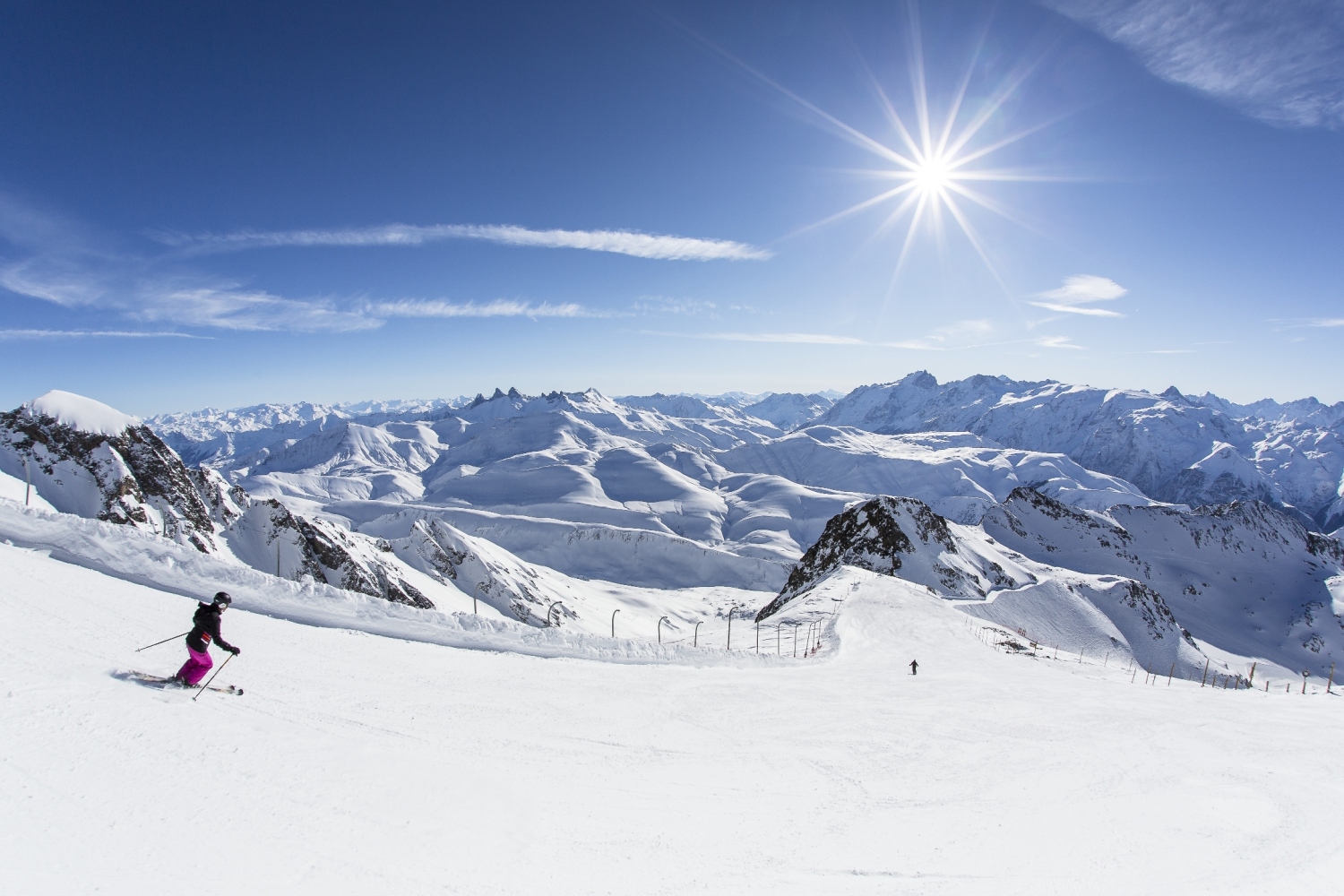 Make your own magical descent at Alpe d'Huez
At 16km, the Sarenne is the longest and most famous black run in Europe. And the 'Sarenne First Tracks' package can help you turn this challenging run into a dream descent at the beginning of the day. Every Tuesday, before the slopes open to the public, you will ride the first lift of the day up to the summit of Pic Blanc at 3,300m.
There you can enjoy a drink at the mountain refuge and marvel at the magnificent sunrise, before starting your descent. You can either choose solitude on the way down, or ski with a ski patroller and learn more about how they spend their winters in the mountains. Packages cost €25 and you must also have a valid lift pass.
With 250km of slopes, Alpe d'Huez is one of France's biggest and best-known Alpine resorts, as famous for being a classic stage climb on the Tour de France as it is for its expansive and well-managed ski area. A large and lively resort surrounded by five smaller villages, it is popular with young and fun-loving groups as well as with families.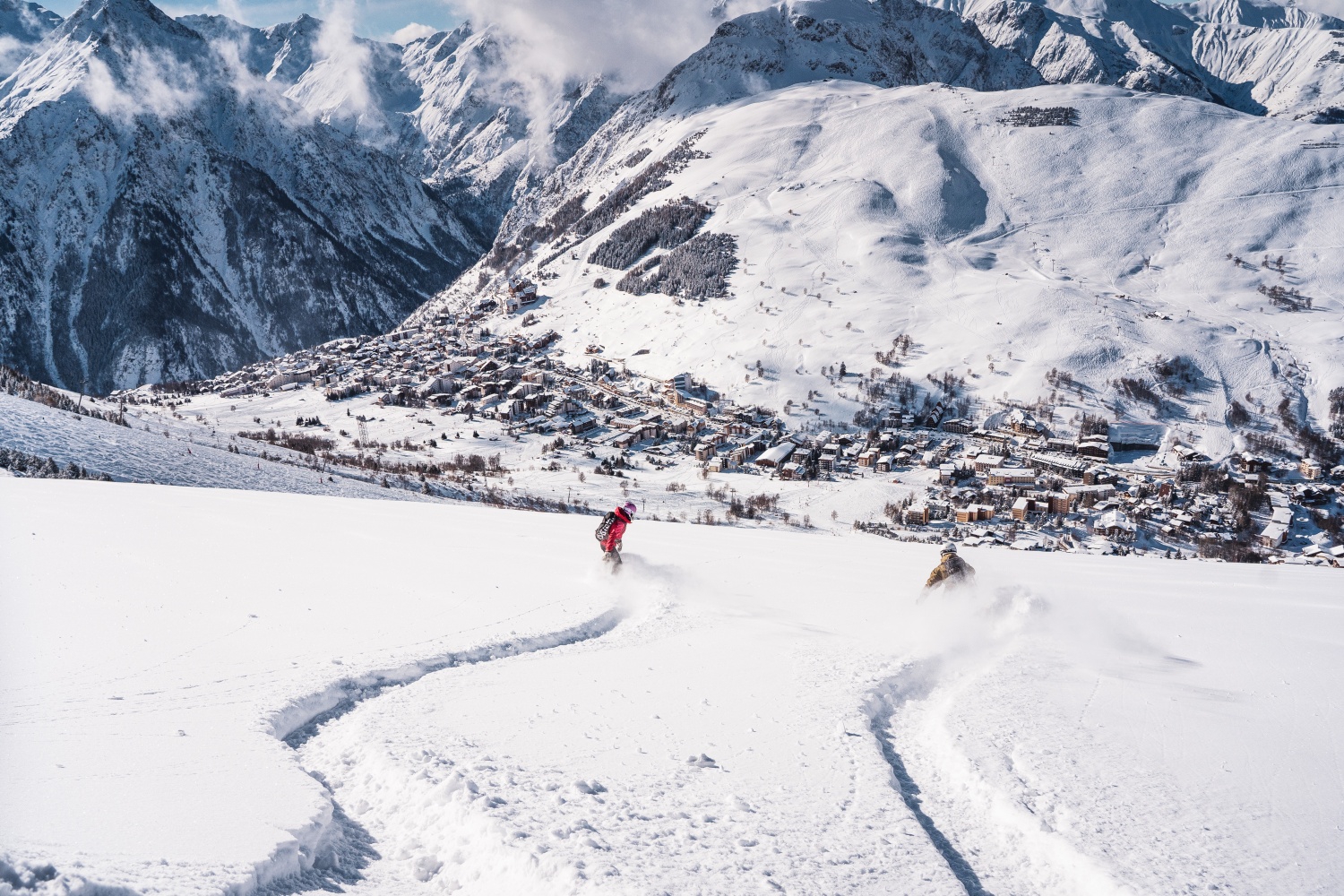 Ski the greatest vertical drop in Europe – in one run
With a high-altitude ski area rising to a peak height of 3,600m, the Isère resort of Les Deux Alpes boasts one of the world's greatest on-piste vertical drops: an exhilarating descent of 2,300m, rideable non-stop all the way, as far as the village of Mont de Lans at 1,300m. That's a record height difference, with 16km of slopes and no need to take the ski lift! What more could you want?
With 93 runs covering 225km, Les 2 Alpes is bliss for all abilities, with one of the biggest snowparks in the Alps. The iconic glacier sector covers the uppermost reaches of the ski area, yet its spacious summit slopes are just as accessible to novices. It is also the starting point for many epic off-piste itineraries, and links into La Grave.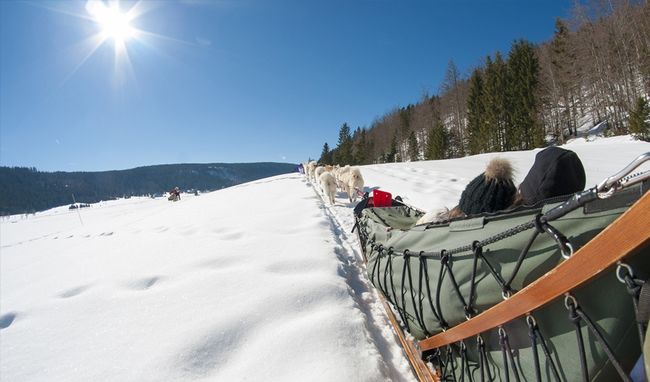 Give the family a trapper's adventure in Vercors
Many resorts offer dog-sled rides and there's no doubt they are a fantastic family winter experience. In Isère, however, they've taken this to another level with their trappers' adventures. Before you get away from it all with your family across the vast plateaux and forests of Vercors, you will spend time with your team of huskies with their fascinating light-coloured eyes and thick coats that everyone wants to stroke.
A range of packages are available, from taster sessions to full-day adventures and even a two-day wilderness experience with a night in a remote refuge.
Vercors is made up of seven village resorts, several of which offer dog sledding experiences, including Autrans-Méaudre en Vercors and Villard de Lans/Corrençon en Vercors. With its gentle terrain and village vibe, Vercors is perfect for families and is also a paradise for nordic skiing, offering tracks for all abilities.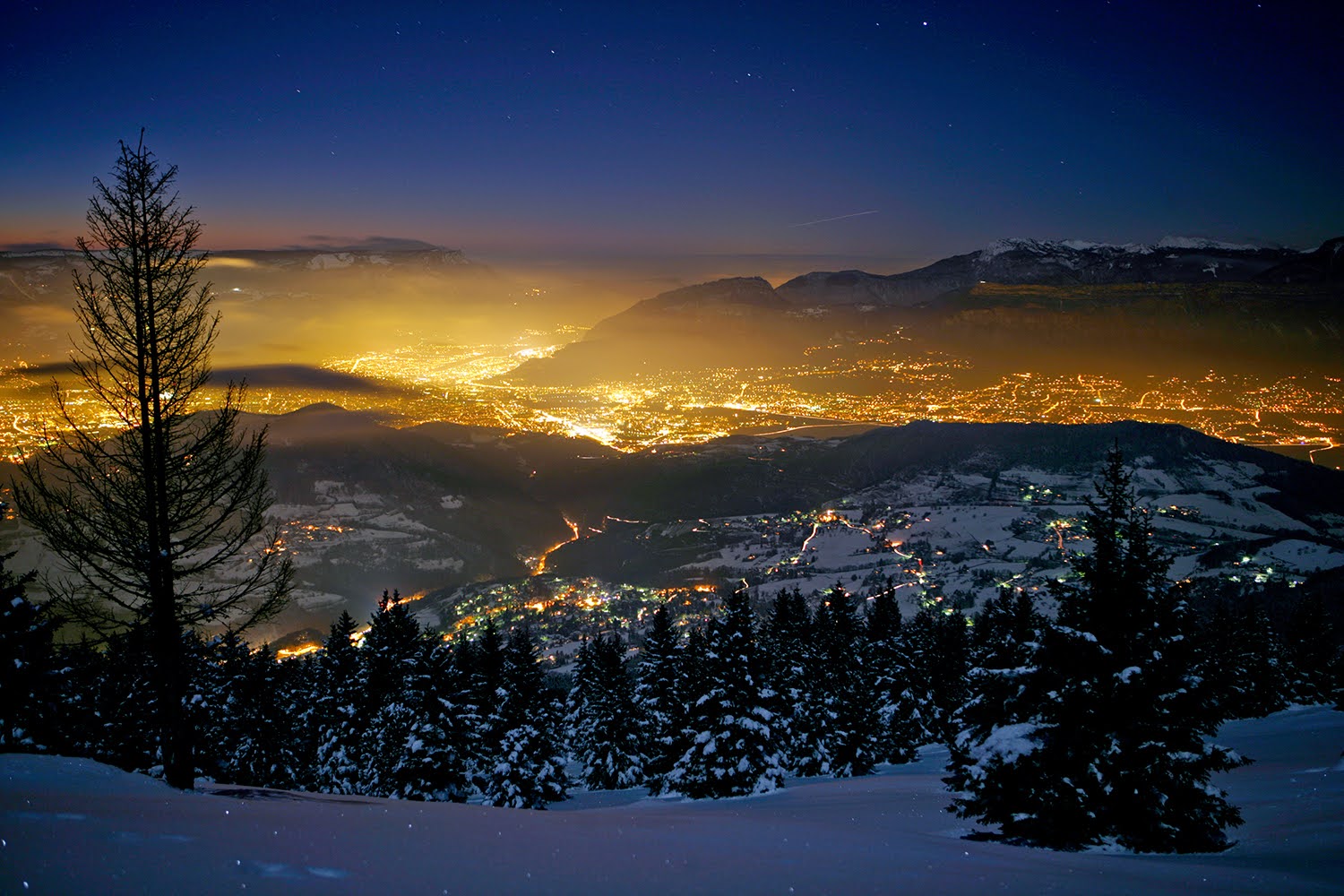 Go sunset skiing in Chamrousse
Come and ski at dusk with a breath-taking view over the Olympic city of Grenoble.
Chamrousse hosted the alpine skiing events during the 1968 Olympic Games, where Jean-Claude Killy made his name aged just 24, by winning three gold medals: downhill, slalom and giant.
Four slopes, served by two lifts, will stay open until 6pm to provide a special skiing experience as you watch the sun sink beneath the mountains. There is something intimate about skiing at dusk with the lights of Grenoble twinkling below – and so romantic.
Chamrousse is a family ski centre close to Grenoble with two bases offering sheltered slopes and doorstep skiing. Beginners will love the gentler slopes around Chamrousse 1750, while some surprisingly steep and technical reds and blacks lurk above Chamrousse 1650 – including the men's and women's Olympic tracks.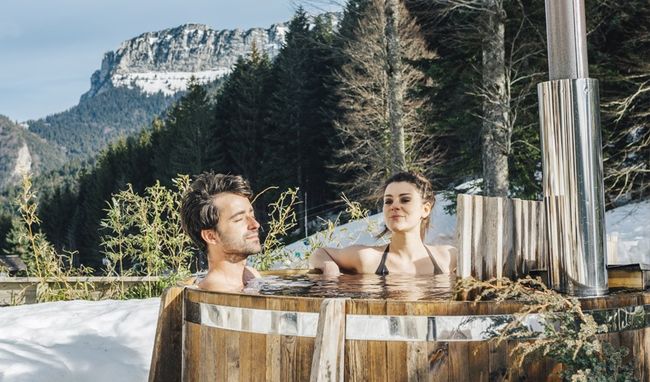 Sample the Nordic hot tub effect
At the end of the day, after the effort of the slopes, treat yourself to a delicious experience with your loved one at the Atelier du Cucheron, with the Chartreuse forests in the background. Immerse yourself in a Nordic tub – or Storvatt – an outdoor tub heated to 40°C with fire wood – and then jump out and enjoy the feeling of rolling around in the snow!
This hot-cold cycle can be repeated as many times as desired, but it's best to leave at least 10 minutes between two cycles, so that the heart rate returns to normal. You have to try it at least once in your life! Rooms at the Atelier cost from €89 a night for two people.
The nine village resorts and sites of Chartreuse provide the perfect destination for a weekend break or a longer family holiday. Some 65 alpine ski runs and 255 km of cross-country tracks and snowshoe trails provide plenty variety. And there's the hot-tub experience, of course.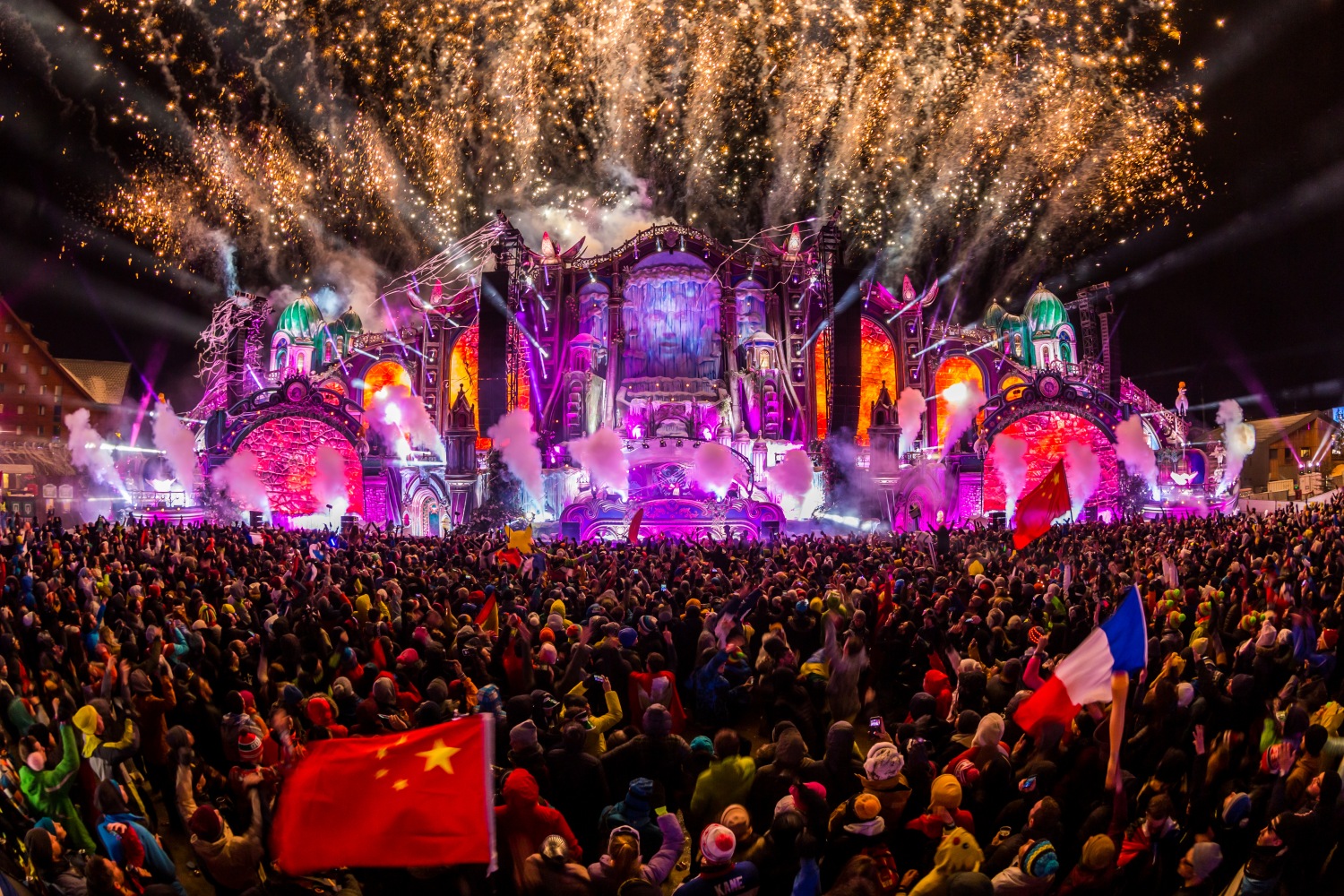 Visit Tomorrowland – an Alpine legend
Take your après-ski to a whole new level. Tomorrowland, the famous festival of electronic music returns 18-25 March 2023, for its much-loved winter edition in the French Alps. Around 30,000 'Tomorrow People' from all over the world will flock to sunny Alpe d'Huez to enjoy the slopes and the music.
Discover a side of the resort that only the visitors of Tomorrowland will have access to. Packages, including accommodation, are already sold out, but festival passes are still available.
You can stay in Alpe d'Huez itself, or in one of the surrounding villages, such as Auris-en-Oisans, Villard Reculas, Oz-en-Oisans and Vaujany. With your ski pass, you can easily reach Alpe d'Huez and the festival. If the lifts are closed, free shuttle buses will bring you back to your lodging.
Plus, access couldn't be easier
With its international - but human-sized - airport, as well as road and rail links to major European cities, the Grenoble Alpes Isère airport is ideally located as the perfect gateway to Isère. Transfer times are short - just two hours to the main resorts, but as little as 30 minutes to many smaller ones. There are direct flights to Grenoble from many UK regional airports.
And if you'd rather ride the rails to resort, Isère is one of the easiest ski regions to reach by train - it only takes three hours to get to Grenoble from Paris.
To learn more about this region, go to alpes-isere.com