© images-et-reves.fr
The Auberge Nemoz: The Belledonne Mountains
Best for: Traditional hospitality
Deep in the secret and untamed valley of Haut Bréda, a path leads to the Auberge Nemoz, a former mountain grange that is now a magnificent family-run stone and wood chalet.
There are 5 charming guest rooms, all with a 3 and 4 "épis" ratings from the Gîtes de France website for a cosy and comfortable place to stay.
The dining room is warm and welcoming, with a feature fireplace where you'll see all the fabulous raclettes and other traditional mountain dishes being made. You'll also be treated to vegetable terrines, fresh goat's cheese, foie gras and the season's meats are served with a wide range of vegetables and a gratin dauphinois for a local touch… Here, the food is home-made from carefully selected local ingredients for wonderful authenticity.
For fans of wellness, there is a storwatt (a Norwegian bath tub made of beautiful red cedar wood, with water heated to a toasty 37°C) sheltered from view on an outdoor terrace overlooking a nearby mountain stream. The storwatt is open both in summer and winter, so whether in the sunshine or under the stars, this is a great way to relax after a day's skiing or hiking.
Price: From €110 a room for 2 people, breakfast included.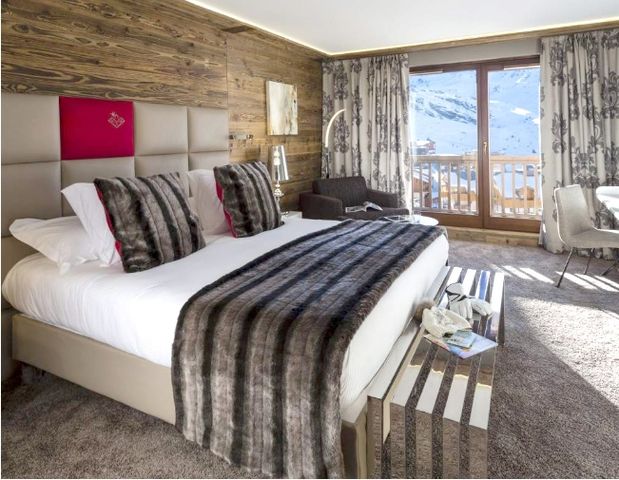 Image © DR
The Daria I Nor Hotel: Alpe d'Huez
Best for: Luxury
The Daria I Nor is a newly opened 5-star hotel, right in the heart of Alpe d'Huez, with direct access to the ski slopes in the Eclose area of this wonderful resort.
The hotel has 46 tastefully decorated luxury rooms and suites, featuring beautiful natural materials such as wood and stone, perfectly adapted to suit the surrounding mountain environment.
Foodies will be especially at home here with two in-house restaurants with two very different styles to enjoy. The gastronomic delight, L'Améthyste, specializes in gourmet food in a stylish, contemporary setting with huge glass windows looking out over the stunning Isère Alps for a dining experience to remember.
For something a little different, the second restaurant, Table de Daria, offers rustic yet modern cuisine focusing on local ingredients and putting twists on traditional recipes, plus a new dinner menu each day based around 5 dishes. The laid-back lounge bar area also invites guests to take it easy and share time around the fireplace or enjoy the live concerts on offer 4 times a week.
Wellness is also a priority here. There is a beautiful 800m2 spa, including two swimming pools, two saunas, a hammam, a jacuzzi, a salt wall, sensory showers, a relaxation area, ice fountain and a solarium for guests to enjoy and unwind after a long day on the slopes.
Price: From €295 for a double room including breakfast.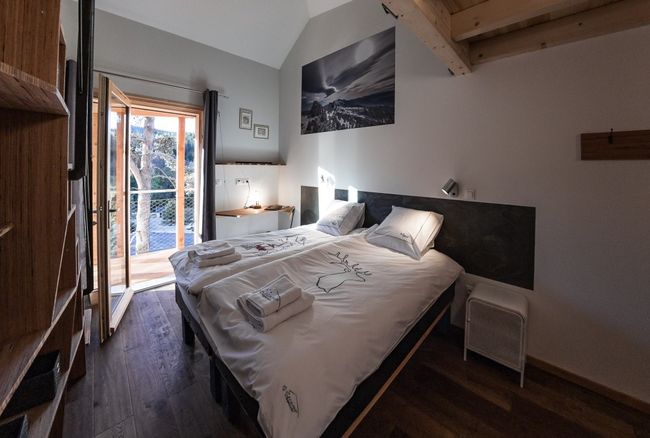 Image © DR
Zecamp: Corrençon-en-Vercors
Best for: Sports enthusiasts
This new and innovative form of accommodation, only having opened this Autumn, has been designed and developed by top athletes, Marie Dorin-Habert, Robin Duvillard and Loïs Habert, three Vercors champions who found fame in the world of French skiing. With a focus on mountain sports, Zecamp provides accommodation for international sports teams, amateur athletes, businesses or holidaymakers who just love the mountains.
The hotel founders have put their top-level experience to work on behalf of their guests, offering optimum comfort and specialized services with everything taken care of to ensure residents make the most out of their stay and are able to improve their skiing or boarding.
Zecamp is located near the start of the Nordic skiing area in the stunning nature reserve of Hauts-Plateaux du Vercors. It can cater for any type of active guest and provides loads of tips and expertise, especially through the courses offered in the Zecamp Academy.
The site is open to everyone all through the year and has 15 rooms, a restaurant and a weights and recovery room, as well as a storage-drying area and equipment-repair room to keep your kit in top condition.
Price: From €85 a room for 2 people.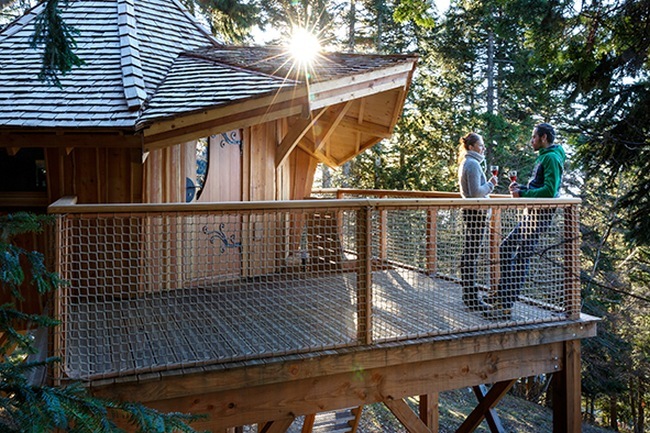 Image © Cabanes Chartreuse insolite
Les Cabanes de Chartreuse: Saint-Pierre-de-Chartreuse
Best for: Nature lovers
To take a break from daily life and get back in touch with nature, there is nothing like a night in a hilltop cabin, close to the stars... These two charming, cosy and comfortable cocoons are a haven for visitors to unwind in, above it all at an altitude of 1350m.
They are right at the heart of the Chartreuse regional nature park, nestled in the sprawling pine and spruce forests. It's an ideal spot for a genuine mountain experience and for exploring all the local riches of the area.
The two delightful cabins are open all the year round and are ideally located at the foot of the ski slopes in winter and at the start of numerous hiking trails in summer. With unique panoramic views over the soaring Chartreuse summits, this is a magical place to spend some time.
Price: From €120 a room for 2 people, breakfast included.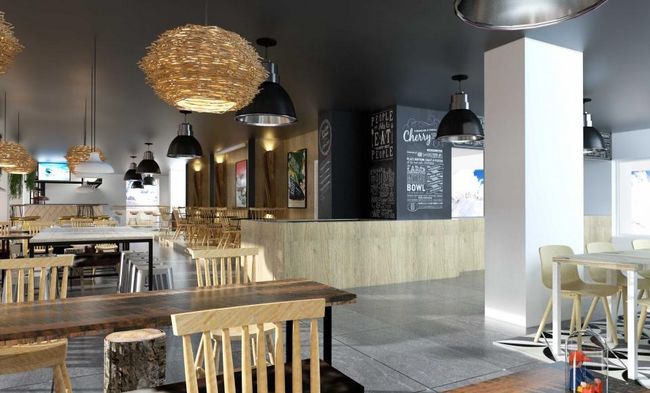 Image © DR
The People Hostel: Les 2 Alpes
Best for: The modern experience
The People Hostel, a new-generation hotel with 364 beds, is a new arrival to Les 2 Alpes, having just opened in December 2018. The People Hostel - Les Deux Alpes belongs to the France Hostels group, which also has a hotel in Lille among other locations, with loads more openings planned in the next few years.
The Hostel has 45 private rooms and 41 shared rooms with 4, 6 and 8 beds. And all from only €19 a night! The hostel also has a public restaurant and bar, a sunny terrace and a chill-out room with a mini-cinema. Plus, they offer equipment hire to make staying and skiing as hassle-free as possible.
All these great features come together to ensure a great stay at a bargain price in an atmosphere perfect for meeting new people and enjoying your time in the mountains.
Price: From €19 a night.