Think skiing and many UK skiers still think France. The French Alps remain the most popular mountain playground for British skiers and snowboarders and, finally, we should be able to return there this winter to indulge our love of French ski resorts.
The combination of frozen lakes, glaciers and legendary summits of Tignes makes it one of the best ski resorts in France, offering world class skiing for winter sports fans. As part of the Tignes - Val d'Isère ski domain, with neighbouring Val d'Isère, this popular resort offers a chance to ski one of the largest ski areas in the Alps, with 300km of runs stretching between 1,550m and 3,450 m.
On top of that there is endless terrain in the Vanoise National Park for ski touring and freeride and countless opportunities to add to your ski holiday enjoyment by having a go at a few more unusual winter activities, such as ice diving or ice-floating in the frozen lake - the ultimate outdoor swimming pool! -or even paragliding. Throw in accommodation covering everything from hostels through luxury catered chalets to five-star hotels, delicious French mountain food and the legendary après ski and you've got everything you could ask for in a ski destination.
Tignes is located in the department of Savoie, part of the Rhône-Alpes region. Together with Val d'Isère, it makes up one of the largest ski areas in Europe, straddling the Tarentaise Valley.
The quickest way to get here is to fly: Chambery is the nearest airport, just 142km and 2hrs away, Geneva and Lyon are both 220km with a transfer time of 2hr 45min-3hrs. Grenoble is about the same distance away but the transfer usually takes about 3.5hrs.
Many visitors like to take the train, via Eurostar and high-speed TGV, arriving into Bourg St Maurice, a 45min drive away.
Here are just some of the things we've missed about skiing in France that you can experience in Tignes this winter: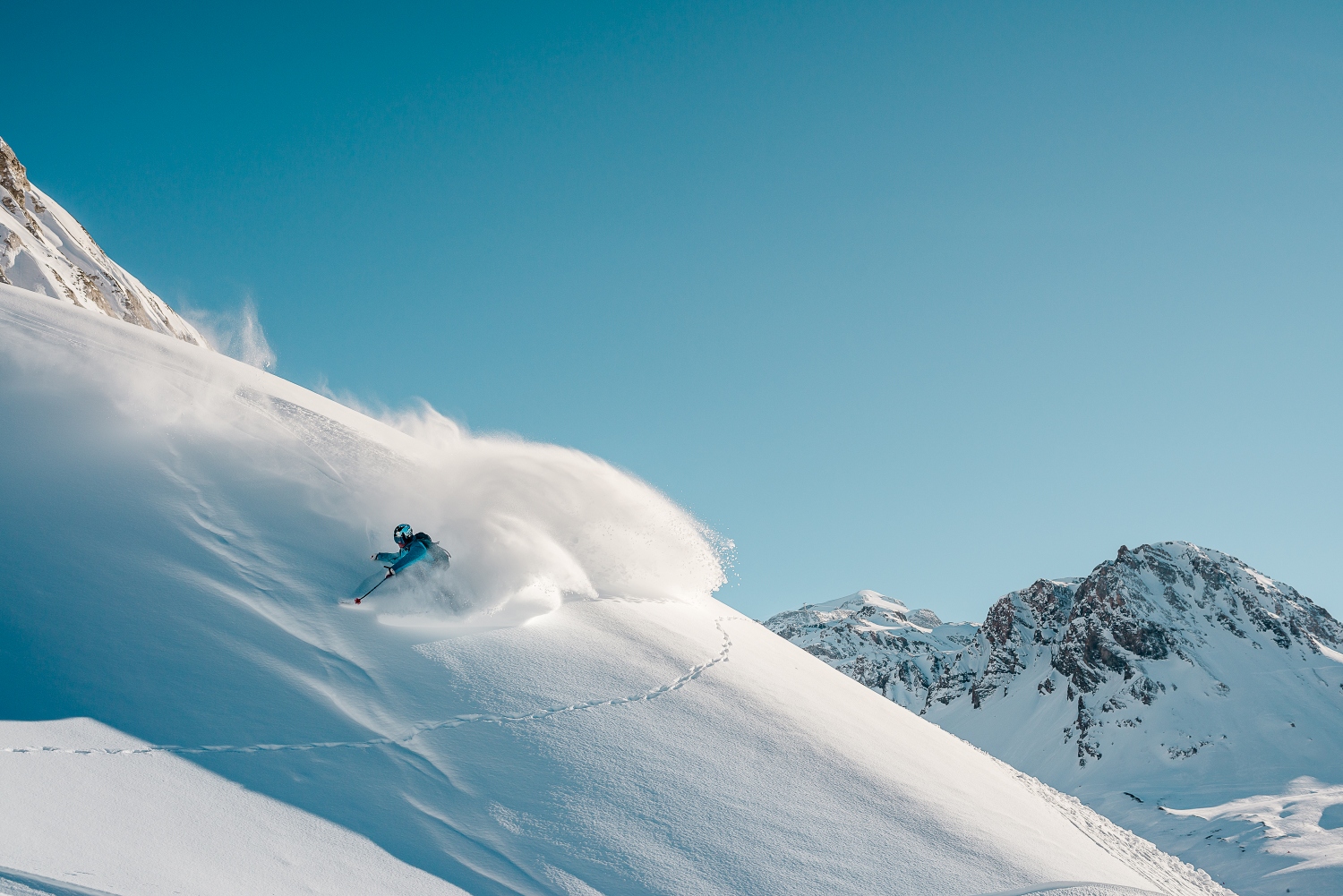 High altitude and snowsure
Is there anything worse than arriving at resort for your ski holiday, only to find there isn't enough snow? As with many resorts in the French Alps, Tignes' high altitude situation, a staggering 2100m at the resort's centre of Tignes Le Lac, offers visitors a guaranteed winter wonderland and longer than usual ski season.
At Tignes, you can start skiing well in advance of many other alpine resorts, thanks to its high-altitude glacier. The Grande Motte glacier is already open for the season, and will remain open long after the lifts have stopped elsewhere.
The rest of the ski area will open gradually, depending on snowfalls, eventually allowing you to ski from 3,456m (at the top of the Grande Motte cable car) down to 1,550m (Tignes les Brévières village).
The numbers game:
300km of ski runs (21 green, 67 blue, 41 red, 29 black)
76 ski lifts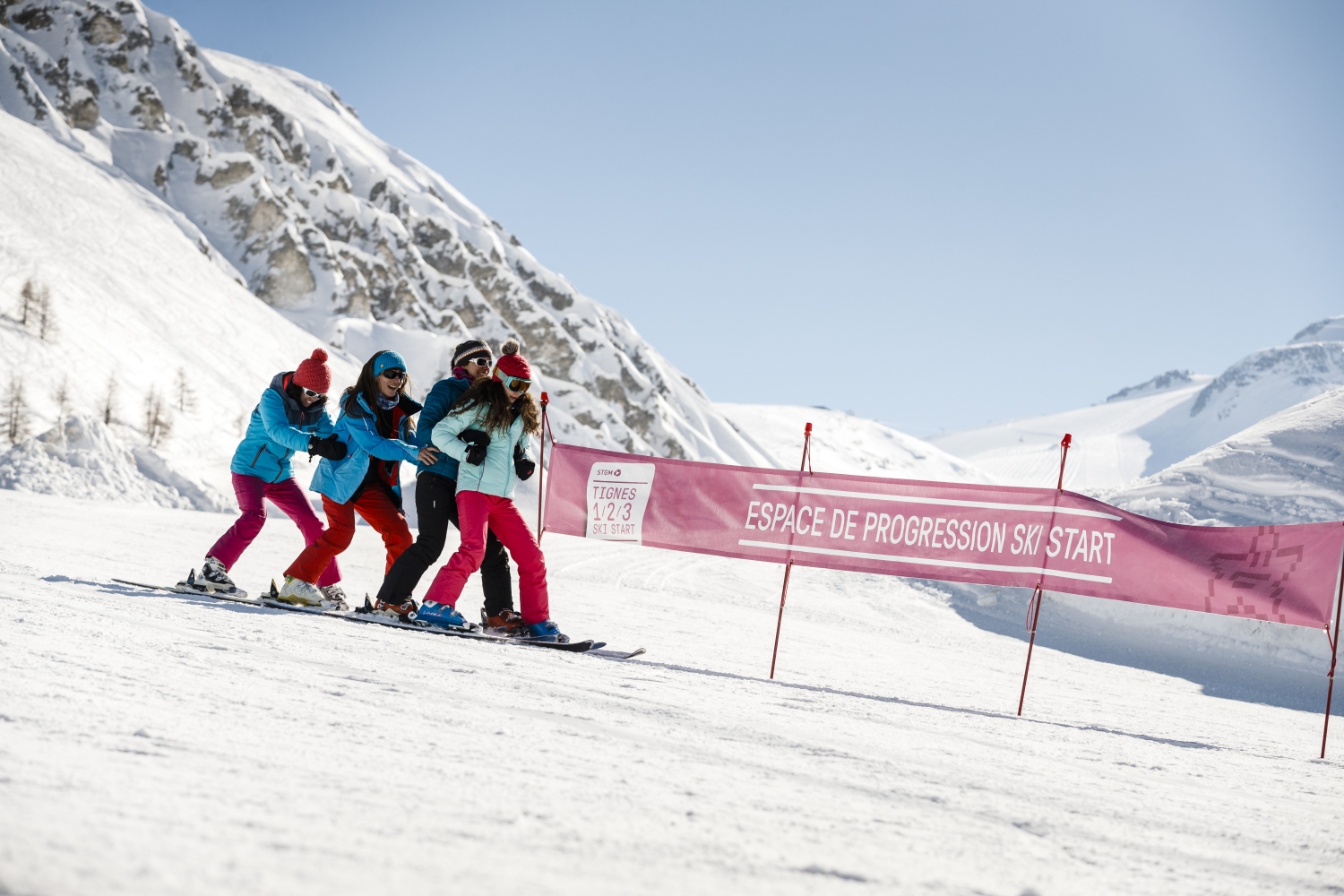 Skiing for everyone from beginner slopes to powder
Tignes rightly has a reputation for attracting expert skiers to its off-piste runs and more challenging terrain, but the resort has plenty to offer all abilities. Moreover, the Oxygene Ski School, newly established in Tignes, is offering free lessons on the 30th of each month!
For beginners: On your own or with an instructor, the Ski Start programme enables beginners and inexperienced skiers to progress safely on gentle pistes in specially adapted areas - and you don't even need a ski pass to get started! The Ski Start progression zones 1 & 2 are free while for the zone 3 you do need a skipass (Tignes 1 day or more...).
The 123 Ski Start areas include: 9 free ski lifts (4 travelators, 2 drag lifts, 3 chairlifts) leading to gentle green runs, and 2 'Turn & Run' fun runs with sloping bends, mini-slalom, tunnel, mini-canyon, bells and even xylophones so that you can have fun while you learn.
For intermediates: The majority of the ski area is a paradise for intermediate skiers, with a great selection of sweeping blue and red pistes. Throw in the full Tignes – Val d'Isère ski area and there's more than enough terrain to satisfy high-mileage skiers.
Among the best-loved blue and red ski slopes in Tignes are Double M and Cirse - both red - running down into Tignes Val Claret. Alternatively, from the Rocher de Bellevarde peak at 2,827m, one of the highest non-glacial spots, you can take the Orange (red) and Diebold (blue) back towards Tignes or all the way down to La Daille at 1,785m.
Anémone is one of several great blue runs on the Aiguille Percee side of the mountain, and intermediates will surely want to tick off the quartet of blues - Corniche, Rhododendron, Melezes and Myrtilles – that run from the top of Aiguille Percee all the way down to Tignes Les Brevieres at 1550m.
For experts: La Sache is a 10km-long challenging black run from Aiguille Percee to Tignes Les Brevieres, and there are several more black runs to try, such as Johan Clarey down from Toviere, but advanced-level thrill-seekers tend to look beyond the piste map and will relish the real potential that this area has to offer, with some of the most extreme and exposed off-piste routes in the Alps, for those that have the ability and the mettle. Hire a guide and get an early start for the best of any day!
Freestyle: As the go-to freestyle resort, Tignes has not only hosted from 2010 to 2013 the unmissable Winter X Games, but also the Tignes Airwaves as well as the Halfpipe World Cup on several occasions.
The DC Park will satisfy the freestyler novice to the top international rider. Divided into two sectors, the easy zone has been specially designed to allow you to discover and perfect your freestyle technique, while the expert snowpark is reserved for experienced riders.
Glacier skiing
The Grande Motte glacier, at 3,653m, is the symbol of Tignes ski resort, even appearing on its logo, as the white 'wave' against a blue sky background.
Accessible in just 7 minutes via the Perce-Neige funicular (3,032m at the top) then the cable car (3,456m at the top), it is an essential destination for those who love big ski days and breath-taking scenery, whatever the season.
All of the red runs on the Grande Motte glacier are worth skiing thanks to the usually brilliant snow conditions and the views are pretty spectacular too. Leisse has some tempting moguls down either side if that's your thing and it is usually reasonably uncrowded in the mornings.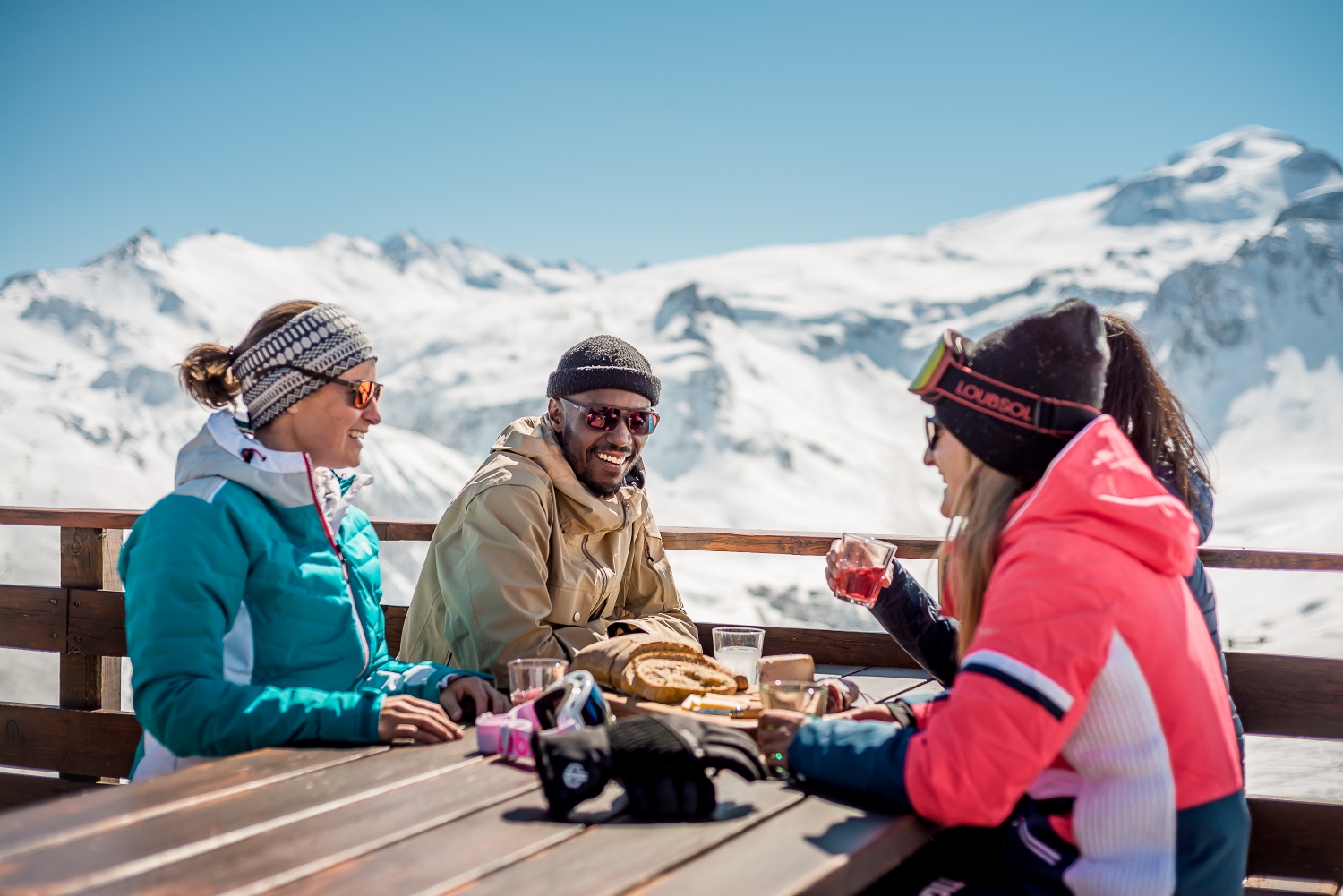 French culture and cuisine
Think of ski holidays in France and most people will picture the off the slopes experience just as much as the fantastic skiing conditions. Warming your hands with a vin chaud, stopping for a mountainside crêpe or tartiflette and soaking in the breath-taking mountain scenery while the murmur of French is spoken around you.
New for 2021, the Table de Panoramic restaurant at the foot of the Grand Motte glacier, becomes the highest Michelin-starred restaurant in the world, following the award of its first star to father-son duo Jean-Michel and Clement Bouvier. Accessible on skis and also by funicular, it's the ideal meeting place for skiers and non-skiers alike with its speciality dishes of wood-fired fish and meats.
Tignes is also a lively resort with 15 mountain restaurants and many après-ski venues to give visitors a taste of the 'Tignaddict attitude'. There is also an extensive range of off-slope, outdoor adventures if you fancy trying something new - such as ice-diving, paragliding, microlight flights, dog-sled rides, mountain-biking on snow, ice climbing and the elastic thrills of the Bun-J-Ride!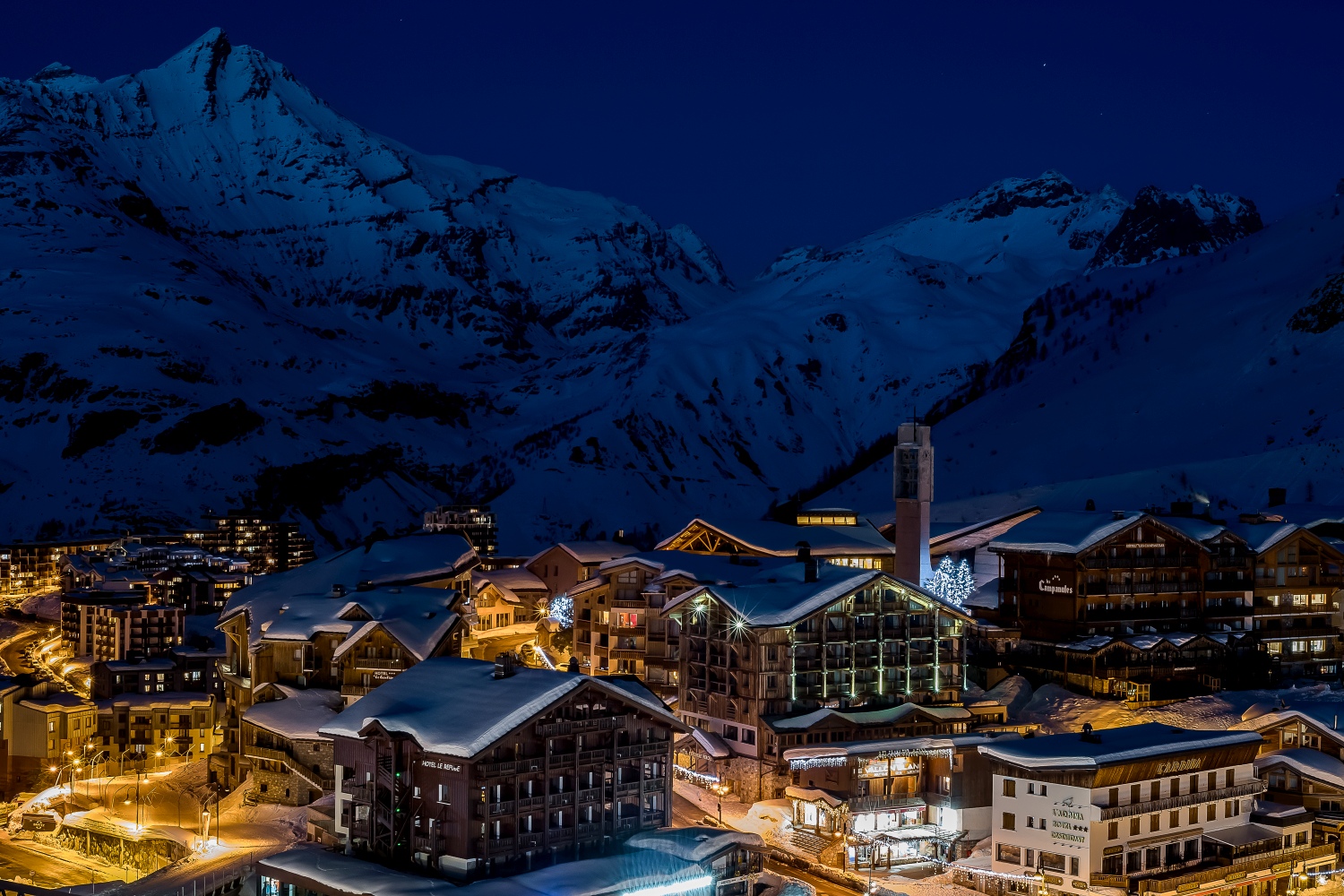 Great accommodation
Tignes has some great places to stay, with some fabulous new hotels opening this season - including the five-star Hotel Diamond Rock, built into the side of a rock face in Tignes Le Lac; the eco-friendly Chalet Hotel Yeti in the Aimes district of Tignes Le Lac; and the resort's first youth hostel, the Hideout Hostel, offering great value rooms from 35 euros a night.
Meanwhile, the 3-star ski-in, ski-out Hotel Le Levanna, also in Tignes Le Lac, has had a 'green' makeover and also offers 100% electric vehicle transfers to and from Bourg St Maurice or Lyon airport.
Staying safe: be prepared
For the latest information about Covid-19 safety measures in the resort, see en.tignes.net