Alpbach, Austria, is a charming ski resort village with postcard-pretty looks, set amidst picturesque scenery and offering a respectably sizeable ski area, courtesy of its links into the beautiful neighbouring Wildschönau Valley.
Matching up to most people's imagined image of what an idyllic Austrian ski resort village should look like, this historic settlement radiates Tyrolean charm and is dotted with fabulously romantic old buildings, yet it also offers all the modern amenities and facilities that should be expected of a top-class Alpine resort. Alpbach is good resort choice for skiing and snowboarding beginners, and perfect for intermediates.
Alpbach - Ski Map & Pistes:
Alpbach's ski area is linked with that of Auffach in the neighbouring Wildschönau region to form an extensive ski domain, inaugurated in 2012 and christened the Ski Juwel region, covering 145 km of pistes on one lift pass, further boosting Alpbach's standing amongst regular devotees and first-time visitors alike.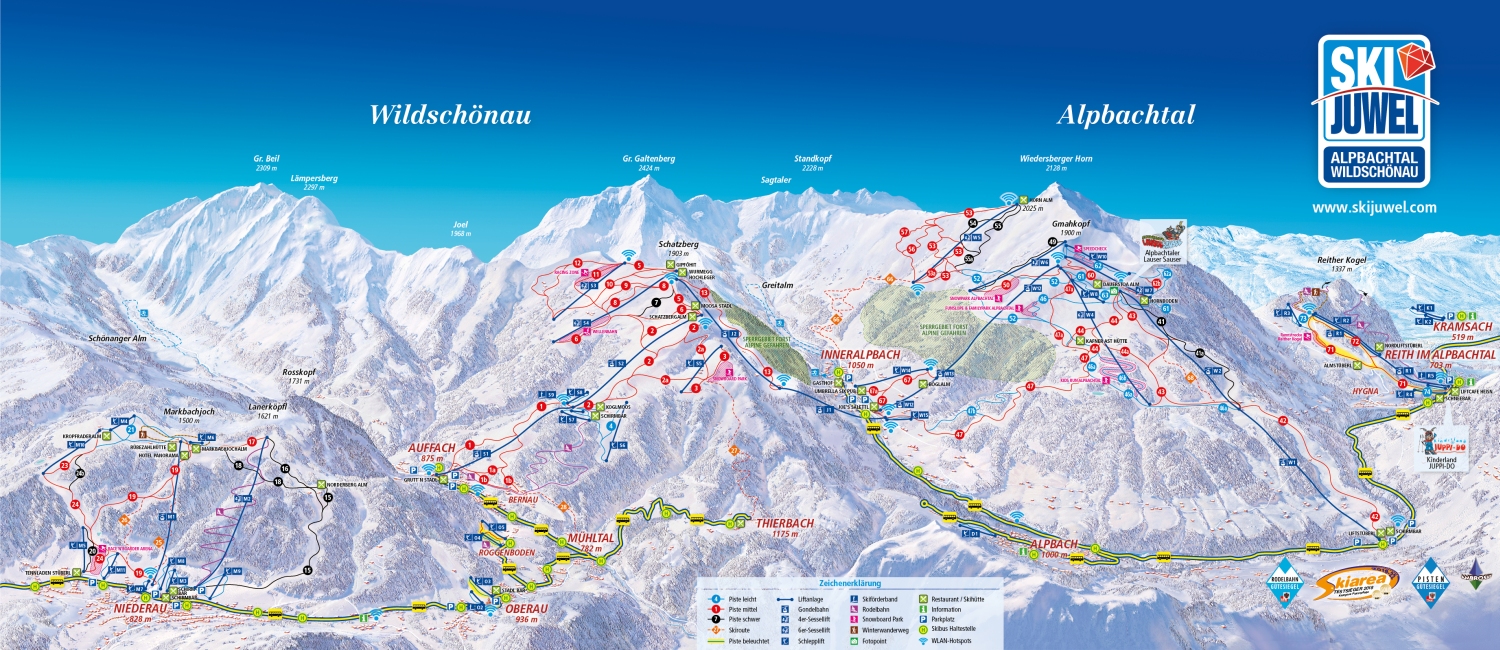 It should be noted however that the only village-level slopes at Alpbach itself are nursery slopes, exclusively for use by absolute beginners; perfect for those new to snowsports, but perhaps the resort's only slight imperfection in the opinion of intermediate and advanced-level skiers and snowboarders, for whom a final home-run at the end of the day is a desirable and satisfying feature. The short [free] ski bus journey to/from the slopes is all part of the experience though, and there are certainly sufficient slope-side bars and restaurants at the foot of the pistes around the main base area in nearby Inneralpbach to provide for that beer-o'clock ski-to-bar feeling.
The local Alpbach ski area is focused on the Wiedersbergerhorn above Inneralpbach, the uppermost reaches of which give splendid vistas over the surrounding peaks of the Alpbachtal, the Rofan Range and the Ziller Valley. Facing this, on the opposite side of Inneralpbach, are the slopes of the Schatzberg, linking into the Auffach-Wildschönau ski area.
Both sectors offer a good selection of intermediate pistes, plenty of which are on attractive tree-clad slopes; while some advanced skiers/riders may consider the runs a little tame and lacking in scale, intermediates and confident novices will find the area more than adequate. Experts also have the option of hiring a guide to explore the considerable off-piste potential on the other non-lift-served flanks of the Wiedersbergerhorn.
The Ski Jewel Alpbachtal Wildschönau pass also covers the non-linked resorts of Oberau and Niederau (Wildschönau region) plus Reith im Alpbachtal, the latter of which offers regular floodlit night skiing.
Alpbach - Off-Piste, Backcountry & Ski Touring:
Alpbach is not top of the list for most off-piste skiers and riders but that's good news for those who do come here. You won't find everything tracked out by noon on a powder day, and there is ample gentle terrain close to the pistes to build confidence.
For confident freeriders, a run from the top of the Wiedersbergerhorn is a must-do, and there are also long descents from the Schatzberg going all the way to Auffach in the Wildschönau valley. So while Alpbach skiing might not be bucket-list stuff for hardcore freeriders, you can definitely find enough to keep yourself entertained.
Alpbach - Restaurants, Bars & The Town:
Alpbach, as the locals are proud of reminding visitors, has been voted Austria's most beautiful village. Stroll around even for 10 minutes, and it's not hard to see why - chocolate box pretty chalets aligned in picturesque rows along winding streets. It's everything you want from an alpine village and more.
In terms of attractions, an ice rink and an indoor swimming pool are the principal off-slope activities, but there are some lovely, cleared and way-marked, walking routes surrounded by simply stunning scenery; horse-drawn sleigh rides are also available.
Après ski is typically Tyrolean, with plenty of mid-afternoon to early-evening jolly-natured beer guzzling, shot slamming, and dancing with ski boots on; the slope-side Joe's Salettl, the Umbrella bar next to the Galtenberg lift bottom station in Inneralpbach are prime ski-to venues. The atmosphere is more laid-back after dinner in Alpbach village itself, although a couple of venues do offer live music.
Alpbach - Ski Hire:
There are plenty of ski hire shops in Alpbach to choose from, including Conny's Rentals in Inneralpbach and Alpbach and Ski & Sportshop Alpbachtal.
Alpbach - Ski School:
Again, plenty of choice when it comes to ski schools in Alpbach. The Alpbachtal Ski School is something of a one-stop shop as it also does ski rental. Also highly recommended is the Alpbach-Inneralpbach Ski School. Sepp Margreiter who runs the ski school is himself a mono skier and offers individual lessons.
// HIGHLIGHTS //
Airport
Innsbruck (52 mins)
Train station
Brixlegg (12 mins)
beginner
intermediate
expert
// USEFUL LINKS //
Tourism and Ski Area