That's what's in store at Cabane de Mont Fort at 2,457m. Staying here is a supercool experience far removed from the luxury hotels and chalets in Verbier itself – this is authentic mountain hut accommodation without frills or cushions but more comfortable than most.

The Cabane is open from December to mid-May and late June to September. In winter you have to be a competent skier to access it via the red run from Col des Gentianes at the top of 3 Jumbo cable car – or trek up to it from La Chaux. If you want to be taken to or from it by skidoo you will have to negotiate with the Cabane as skidoos are only allowed outside slope opening times.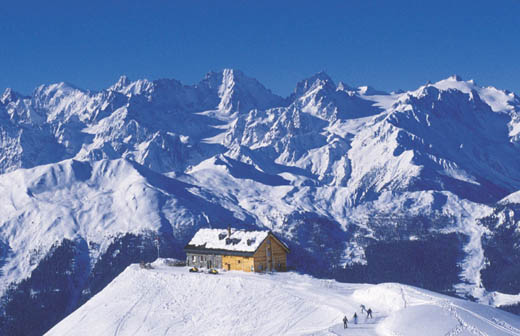 This popular hut was modernised and extended 11 years ago to provide a dormitory area, ski and boot room, showers and toilets. Most of its 15 rooms sleep four on two bunk beds and there is one double room. The showers are strong but you need to buy a CHF2 token for four minutes of hot water. The ski room can get pretty wet, but cratefuls of Crocs are on hand to save socks getting damp, a good thing as there is nowhere to dry anything in the rooms. Sheets, duvets and pillows are provided and towels on request (beware, these are small!). We had arrived with overnight necessities in rucksacks.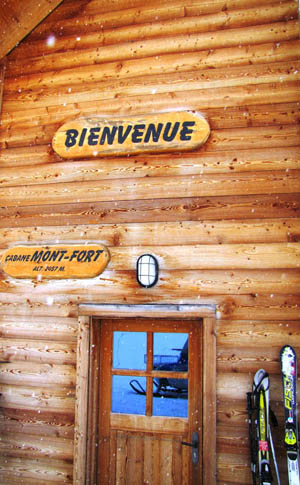 I was hoping for a cosy corner and a roaring fire but found sensible tiled floors, long wooden benches and tables where we socialised, met with other guests, dined and breakfasted.

Daniel Bruchez, the caretaker and qualified mountain guide, has been here 30 years (as he says, 'crazy, huh?') but he obviously loves his job and is a very genial host – he made us a brilliant fondue to his own recipe which he refused to divulge and treated us to a plate of speck, cheese, salamis and walnuts. No dessert but we asked for some of the afternoon fare of chocolate brownies and cookies. Other specialities of the Cabane include Pot-au-Feu and Tartiflette, along with a good selection of regional wines.

Other visitors when Snow was there were a group of Norwegian ex national security agents and a family group with four or five children with them. Reservations must be confirmed three days in advance and it should be noted that if the weather is bad, the Cabane can be closed. Cost per night: £65 per person

The reason for staying there became evident at first light. The air was still, the views spectacular and the silence welcome. It was a wonderful moment.

www.cabanemontfort.ch