A feat of modern mountain architecture, Camp Zero's exterior is both reminiscent of, and contrasting to the peaks that rise behind it. With a pine clad exterior of sharply jutting lines this 5-star active luxury resort sets itself apart from the more traditional style of architecture found in ski resorts all over the Alps. Inside, an edgy entrance hall welcomes guests with comfy armchairs, a suspended feature fireplace, a library and photo-sharing screens, all built using a mix of modern and traditional materials and methods to create a stunning visual experience. Far from being just a treat for the eyes, Camp Zero's ethos is firmly rooted in enjoying beautiful surroundings both inside and out, with the Boulder Bar epitomising this approach. Serving wine, cocktails, hot drinks and snacks, the Boulder Bar overlooks the resort's indoor climbing wall and with 35 routes for 6 difficulty levels has a challenge for everyone.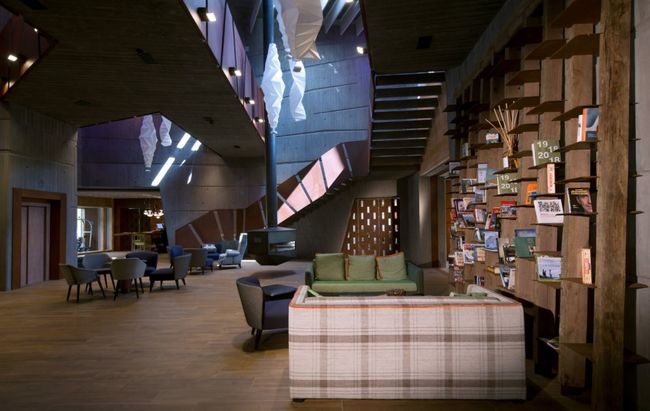 This is one of two climbing walls at the Camp Zero resort with the other being an outdoor ice wall catering for every level with instructors on hand for assistance.
Well-heeled guests can access an in-house helipad, and there are weekly complimentary freeride day trips as well as a massive 180km of pistes in the surrounding area. If all the climbing and snow sports leave your limbs aching, unwind in the 25m indoor pool with panoramic views and then head to the wellness area with its sauna, steam room, treatments, massages and beauty services.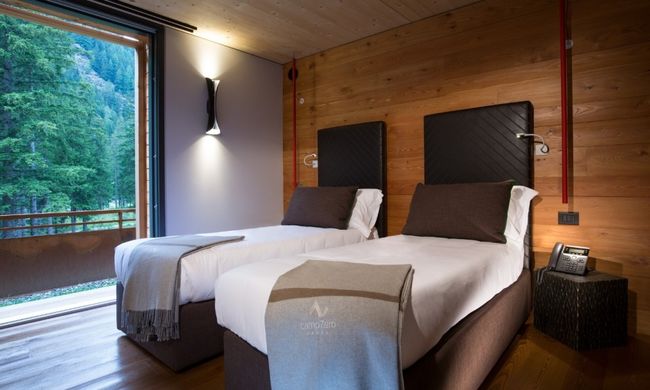 Guests have a choice of 30 bi-level suites sleeping 2, 3 and 4 guests. All rooms have smart TVs, fast Wi-Fi and forest or mountain views.
An environmentally conscious resort, the property has been built with sustainable materials and offers Tesla charging. To keep food miles minimal, Camp Zero grows its own herbs and vegetables for its restaurants. Summit Restaurant has a formal, fine-dining scene while Cliffhanger's Grill is more relaxed with an a la carte menu.
BOOK THE TRIP Sno.co.uk offer a 7-night B&B package with London flights and transfers starting at just £882pp.
MORE INFORMATION campzero.com