Reading the promotional blurb of many ski resorts around the world you'd think the laws of nature no longer apply.

"We have the best sunshine record in Europe, almost every day is sunny," says one, "With 90% of our slopes covered by snowmaking, perfect conditions are guaranteed!" claims another.

It is of course what you want to read before making your holiday booking, but if it's always sunny then when does it snow?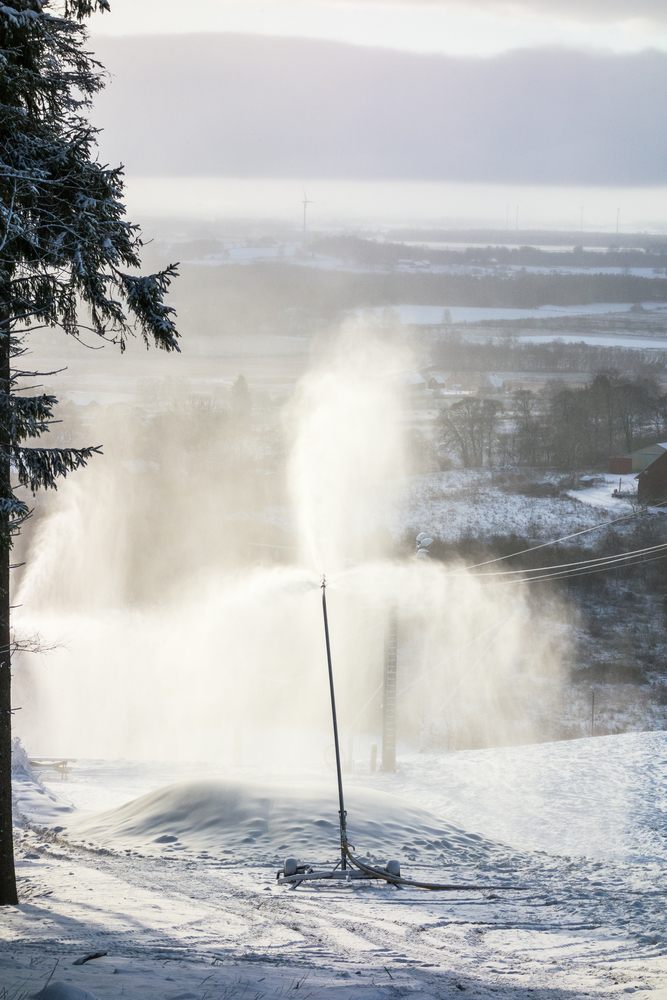 While snowmaking is increasingly important to build up bases in busy areas, if it doesn't get cold enough the omnipresent hissing machines down the flanks of most resorts slopes simply won't work. There have been autumns recently, and indeed some winters too, when the billions of Euros of snowmaking hardware that lie around Europe's ski slopes have lain idle due to the mild temperatures while the snow around them melts away.

In fact, despite the laudable efforts of ski resorts to guarantee snow, the old rules remain the same as they always have been – if you want guaranteed snow cover, aim high, ideally to a resort with glacier skiing. This is always good advice at the beginning and end of the ski season, but as our climate continues to throw up surprises, is becoming increasingly wise at any time of the winter.


So where in France is recommended for glacier skiing?
France is always a good bet if you go for one of the 'third generation' high altitude resorts built since the 1960s. This will give you the best chance of getting top-to-bottom skiing all season long.
There are around 10 ski resorts with glacier skiing that are so snow sure they offer summer skiing – two of them in the Espace Killy – Tignes and Val d'Isere. Tignes was once open 365 days a year, they have now slightly scaled back their offering to a still impressive nine months of the year with the longest winter (October to May) and summer ski season (July to August) of any French area. Val d'Isere is also open in June/July thanks to its Pissaillas glacier.
Paradiski's two main resorts – Les Arcs and la Plagne- each offer glacier skiing on the Aiguille Rouge and Bellecote glaciers respectively. Both have what the marketing department term as 'eternal snow' and have been open in the summer months in the past.
The world's largest ski area, the 3 Valleys, is home to Europe's highest major ski resort - Val Thorens which is so sure of its snowsure'ness on the glacier that it offers a money back guarantee if its slopes aren't open. The guarantee doesn't cover your flights or transfers so is more a statement of confidence than an insurance policy!
Other, lower resorts in the area benefit from this guaranteed skiing above thanks to the excellent lift connections in the 3 Valleys. You can often find great deals to the lower resorts if you're willing to risk a daily commute up to the white stuff.
The
Chamonix
Valley is another good choice for guaranteed snow cover. Chamonix town itself sits at a relatively low elevation (1035m) but the lifts climb up nearly 2,850 vertical metres above the town (the world's biggest lift-served vertical in fact) to a land of eternal snow and ice on the famous Bossons and Mer de Glace glaciers. From the top station you can challenge yourself on the world's longest lift-served off piste run, the Vallee Blanche.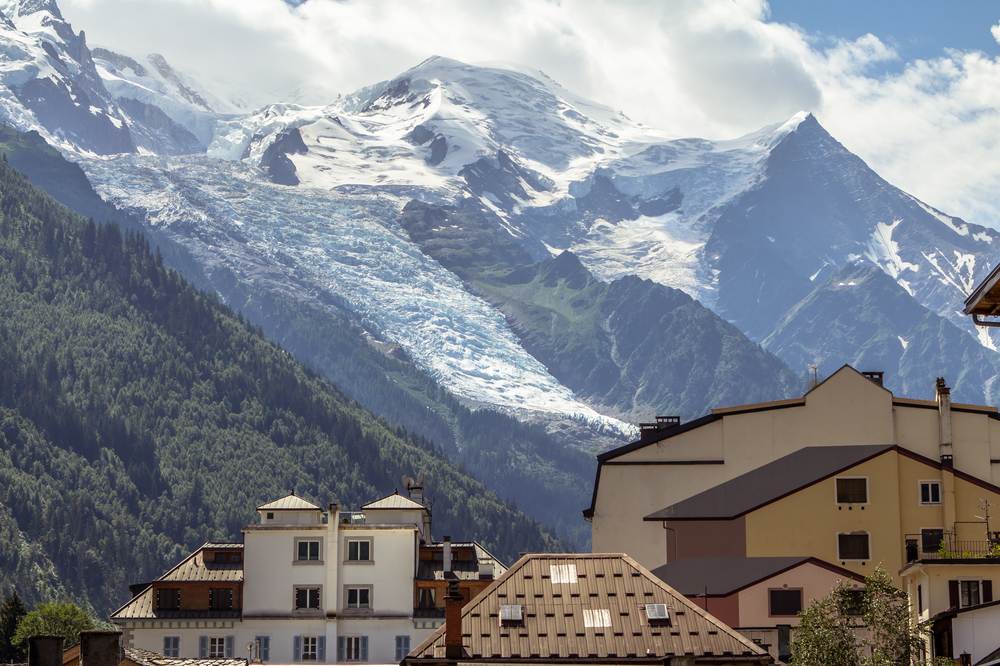 The glaciers looming above Chamonix in summer
Chamonix's slopes have a reputation for being snowsure all winter long, in late spring once the lifts have stopped running local die-hards are still hiking up to enjoy spring touring, a big part of the reason why, for many, Chamonix is regarded as the world's greatest ski resort.
To book a trip to one of these resorts contact
Alpine Elements