Gasless, reusable avalanche airbags…
Arc'teryx Voltair Avalanche Airbag, £1,018
Unlike traditional compressed air cylinder airbag systems that need to be refilled with a workshop compressor after just one deployment, the Voltair can be deployed multiple times – even on one charge. This is because the system is powered by a heavy-duty 22.2V Lithium-Ion Polymer rechargeable battery, which can also be charged with portable devices such as solar panels on the mountain.
That rechargeable battery uses a centrifugal blower to inflate a 150 litre balloon with more initial pressure than any other battery powered avi bag available. Once fully inflated it continues to pump air in, ensuring that you'll still get the best possible 'flotation' despite any small nicks or punctures in the bag. For easier flight transportation you can simply unhook the battery and pack it separately – which is a further advantage over compressed air cyclinger alternatives.
Coming in 20L and 30L volume options, the fully seam-sealed Voltair is made with waterproof N400r-AC² nylon 6 ripstop body fabric, with WaterTight™ zippers for top and side access to the two main compartments. Both sizes have dedicated compartments for additional snow safety equipment like shovels and probes. For carrying your skis or board there are front lash ladders and straps diagonally as well as an ice/mountaineering tool loops.
6 OF THE BEST DAYPACKS 2016-17
Recreational freeride skis…
Rossignol Sky 7 HD, £385, rossignol.com
Rossignol's brand new Sky 7 HD Freeride is ski is a veritable sign of the times. What better than a freeride ski aimed at recreational skiers to illustrate the ever-more mainstream hunger for backcountry adventure? And why shouldn't an intermediate skier be able to enjoy the whole mountain – with professional guidance, of course, asks our head ski tester Rob Stewart? (Spoiler Alert!) That's why he's chosen the Sky 7 HD as our ski of the year. With its wood and Carbon Alloy Matrix fibre weave, air filled tips and 98mm underfoot width, this is the ski to take you there in 2017.
ROSSIGNOL SKY 7 HD 2016-17 REVIEW
Ski boots are made for walking…
Salomon QST Pro 120 Ski Boots 2017, from £340, Salomon.com
Ski boots comfortable enough to walk in? Whatever next! Brand new for 2017, Salomon's QST Pro boot aims to be the Jack of all trades and master of every one, by borrowing the latest technology from three different sports that Salomon excels at: running, ski touring and alpine skiing. It does this with cutting edge comfort, support and light weight via a fully mouldable shell and cuff, a thermoformable ankle insert, plus shell stiffness and weight only where it's needed to keep weight to a minimum (1,596g for a size 26.5). Need to hike the backcountry or back to hotel? Swap the alpine soles for tech soles, activate the walk mode with its 40 degrees of ankle flex and off you go.
'Real' virtual reality mountain mapping
Fatmap 3D mapping, from free
Now with offline mapping of more than 40 mountain ranges worldwide, unlike most traditional 2D maps which illustrate contours and features with symbols, the Fatmap 3D mapping app is built with high quality imagery which shows you the mountain on your phone as you can actually see it with your own eyes. On top of these zoomable 3D images are layered vast amounts of content from individual lines recorded by the Fatmap community – on and off piste, to piste-side cafes, live avalanche safety analysis tools, area and resort information, as well as your own recorded and tracked runs, which you can relive with 3D flythroughs.
A drone for your backpack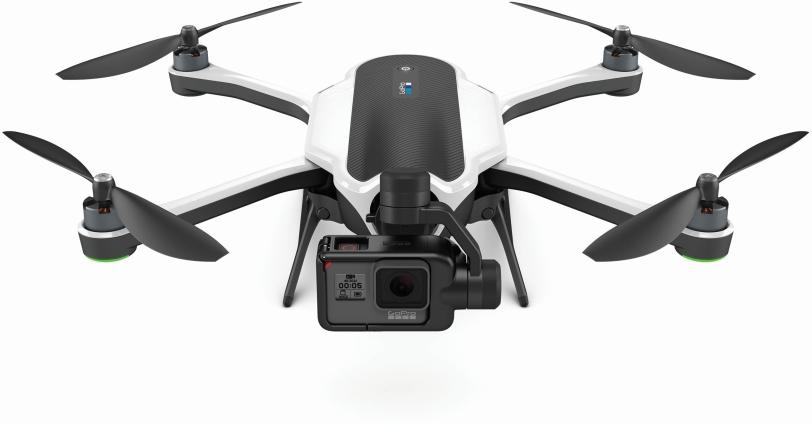 GoPro Karma drone, £720, gopro.com
Leaving the minefield of third party liability issues of drone flying aside… being able to capture your or your friends' carving exploits with your own personal 'eye in the sky' camera drone just got closer with POV video camera giant GoPro launching their first drone in October 2016. For transport the Karma folds down to 36x22x90cm, weighs just over 1kg and can be carried in its own backpack transport case. Included is a compact controller with a fold-out 13cm screen and a stabilizing mount which can be plugged into a hand-held controller grip for steady footage no matter how hard you're shredding.
Film, talk, track share (and stay safe) while you carve
Forcite Alpine helmet, c. £800, forcite.com.au
Those who head to the slopes to escape the all-pervasive long hand of technology should look away now… Developed in Australia with the help of runaway success Kickstarter funding, the Forcite helmet is protection for your head that is rammed with wearable comms and media hardware. Equipment built into the helmet includes a four-processor computer which can run apps and manage loads of data simultaneously, a 4K POV video camera, and earbuds, so that you can stream music, take hands-free calls without removing your gloves, video your descents and track your skiing with any number of sensors – even automatically post on social media. All while giving your head the on-slope protection it deserves.