Sponsored content
A winter holiday in Colorado is something that every skier or snowboarder should experience at least once in their life. The fantastic snow conditions coupled with the choice of authentic ski towns alongside modern mega-resorts provides something for every kind of winter sports lover.  
We all have our favourite spots on the mountain and know that an bucket list ski run isn't just about difficulty. Sure, if you're an advanced skier or boarder you will relish any challenge that's steeper or deeper than the last run. But even if you're not in that self-selecting band of brothers and sisters, you'll want to tick off ski slopes that are longer, faster or just have the best views.
The Colorado ski resorts have all these and more. So, in no particular order, here are some of the best ski runs in Colorado – with both piste and backcountry skiing. We'd love to hear your favourites, too…
Long Shot, Snowmass
Snowmass is part of the Aspen-Snowmass ski area - undoubtedly one of the best and most popular ski resorts in Colorado and the entire US – and Snowmass is the largest of the four mountain resorts, with more than 3,300 acres of skiable terrain.
At 8.5km (5.3miles), Long Shot, as its name suggests, is the longest run at Snowmass. It's also the longest run in the state. And with 1,343m (4,406ft) of vertical it also has the longest vertical descent in the country.
It takes a short hike from the Elk Camp chairlift to get to the start, but once you drop in, you ski a very wide and long glade before narrowing down to what is a perfect tree-lined blue run. And at the bottom you'll find a couple of restaurants where you can recharge before going again...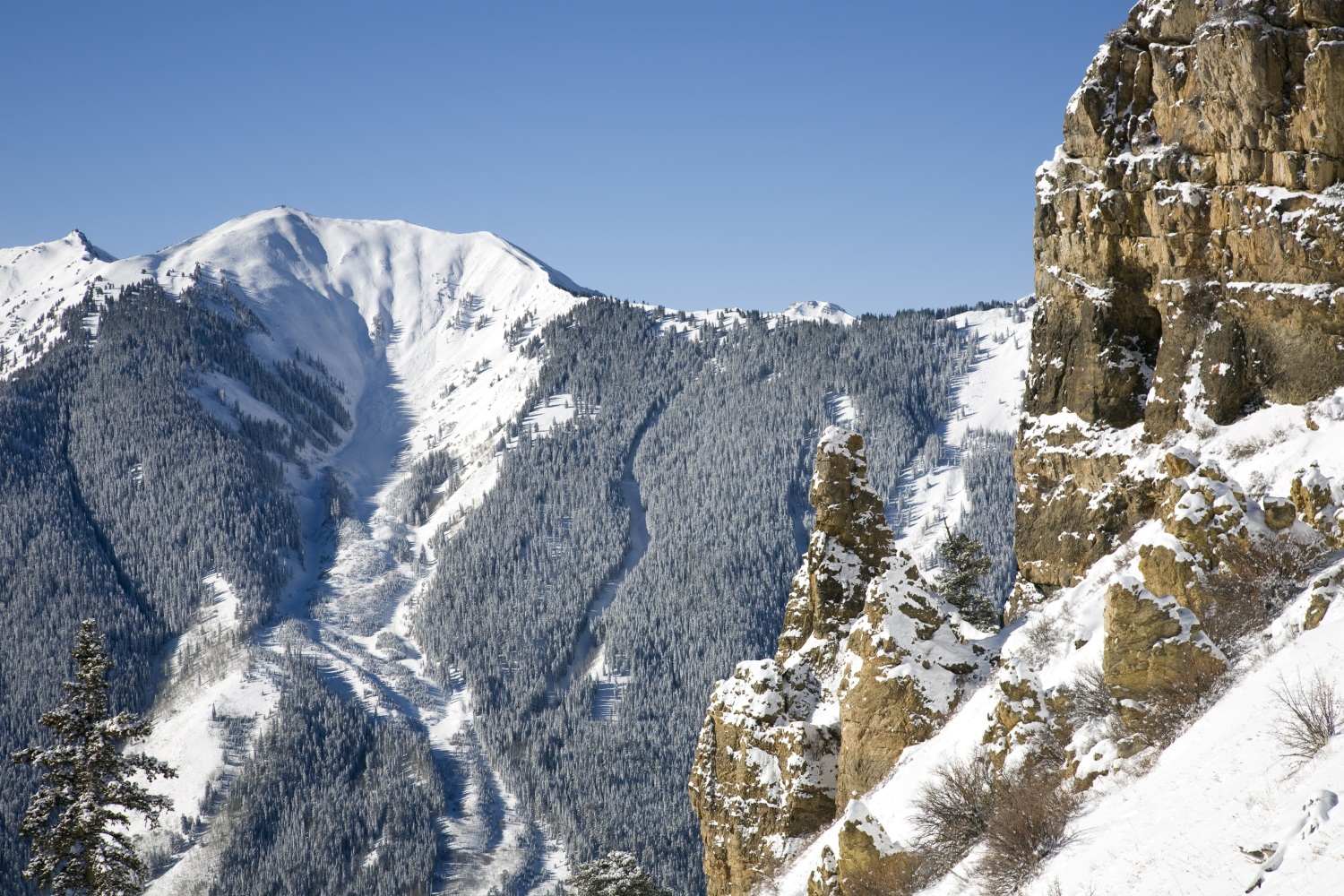 Highland Bowl, Aspen Highlands
Wild but welcoming, Aspen Highlands is an understated resort that feels like a well-kept secret. It's a place to explore your limits on acres of expert terrain, epitomised by the Highland Bowl.
Ranked among the most iconic in Colorado, this double black diamond terrain takes more than a little effort to reach – it's a hard 45-minute hike up from the Loge Peak area. Once you arrive though, it offers some of the steepest and deepest skiing to be found in the state.
The imposing bowl offers more than 20 runs averaging 40 degrees in gradient, so you get to choose the line that suits you – and you get to come back again and again and up the challenge. The panoramic views from the summit are stunning, and the bottom run-out leads to a cat track where you can find your way back to the Deep Temerity chair.
White Out, Steamboat
Home of the trademarked Champagne Powder™ snow, Steamboat ski resort boasts terrain for both beginner and expert, including steeps, deeps, wide open cruising runs, and is also world-renowned for its tree skiing through glades of evergreens and aspens.
Head for Pioneer Ridge, Sunshine and Storm Peak if tree-skiing is your thing and you will happily ski all day long through some of the finest glades in the whole of Colorado, gliding over the fresh snow. On the other hand, if you like bumps, White Out is for you. A hard left off the top of the Burgess Creek chair it's a knee-shaking, thigh-burning black diamond workout.
Palmyra Peak, Telluride
Telluride, in the San Juan mountains of south-west Colorado, is an unpretentious, but remote, old gold and silver-mining town, filled with history, and is perhaps the most picturesque of Colorado's ski resorts with its stunning mountain backdrop. It offers a good mix of beginner, intermediate and advanced/expert runs with a total of 148 ski trails served by 19 lifts on more than 2,000 acres of terrain.
Palmyra Peak is one of those double black diamond areas that are only for super-fit advanced skiers and riders who are happy whizzing down the side of 13,000-foot summits after a long hike to get started.
With some incredible views and even more amazing powder, Palmyra Peak is all gain but with plenty of pain. Don't underestimate the trek here – the hike takes up to 90 minutes from the Prospect Express lift, past the Black Iron Bowl. But the Peak has well over 200 acres and 2,000 vertical feet on the north side of the 13,320-foot Palmyra Peak. Senior's Run and Rob Roy are two standout routes from the Peak
Bonus run: Oh, and while we're here, Telluride also has one of the best blue runs in Colorado, the aptly named See Forever. With far-reaching views, this run is well suited to intermediate skiers, while experts will have a blast on the sections with steep terrain. 
4 O'clock, Breckenridge
Breckenridge ski resort, affectionately known as 'Breck', teams big mountain views with vintage cool mountain town charm. With plenty of ski-to-town trails and the BreckConnect Gondola, the connection between mountain and town is seamless.
4 O'clock is the longest ski run in Breckenridge, but for our purposes here, we're calling it one of the best home runs in the state. It's graded as a single black diamond, which is designated for expert skiers, but confident intermediates need not be deterred. Navigate your way down the steeper top section and the middle part of the run eases out to become a blue, and it totally mellows out into a green all the way to downtown Breckenridge.
Ironically, given its name, the best time to ski this run isn't at 4 o'clock – it's early in the day when the snow is at its best, but it's still a great run to end any ski day.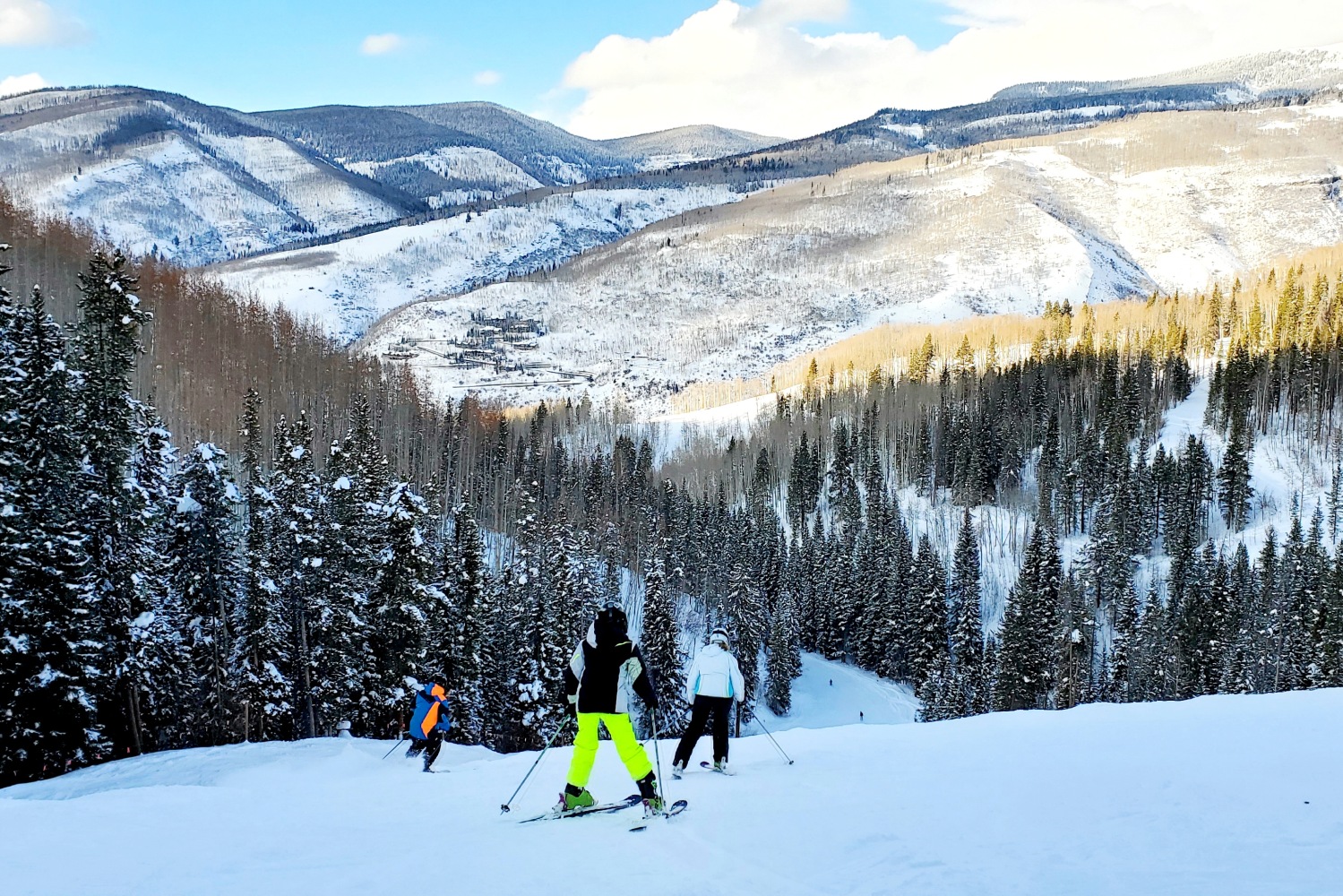 Riva Ridge, Vail
The purpose-built resort of Vail has more terrain than any other mountain in Colorado and is one of the largest resorts in the world. With an average annual snowfall of just under nine metres across its 5,317 acres and 195 trails, it has enough skiable acres to satisfy the hungriest skier.
Riva Ridge is one of the original Vail trails, and, at 4 miles long, it's also the longest on the mountain. If you need more of a recommendation, it is also said to be Lindsey Vonn's all-time favourite ski run. A steep trail, it shuttles you through blue and black diamond sections, on your way down to the base of Gondola One, with the steepest section being the aptly named Tourist Trap. When groomed to perfection, this is one run where any confident intermediate can feel like an Olympic downhill star.
For more information about skiing in Colorado, go to colorado.com