1. The Ice Bar, Mayrhofen, Austria
The Ice Bar claims to serve more Grolsch beer than any other bar in Europe, especially impressive as it closes at ten pm. Most people start at one of the bars at the top of the Penkenbahn gondola and then rush to catch the last bubble down, often in the dark, to the adjacent Ice bar. The place is totally rocking: with go-go girls dancing on the bar in hot pants, and a glass collector dressed as a snow wolf: it's totally and utterly nuts, and will fulfil even the most hardy of partier's needs.
www.hotelstrass.com
2. Tott Hotel, Åre, Sweden.
It's not cheap - have a hip flask with you - but the bar at the Tott Hotel, Åre, in Sweden, is jumping. The Swedes know how to have a good time and set a fantastic atmosphere. They actually claim to have invented après ski here, and if you're lucky enough to be in town at the same time as Patrik's Combo you're in for a treat. Their rendition of Smoke on the Water played on car horns is something you'll never forget, although you may wish you could.
www.tottare.com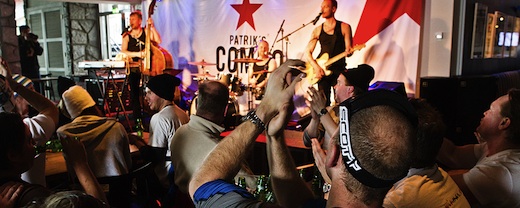 3. The Brits: Tignes, France.
Historically held in Laxx, Switzerland, but for 2013, moving to Tignes. The Brits, now in its 24th year, is a freestyle championships for the top British athletes in both skiing and snowboarding. But it's not just for the pros, anyone can enter and it only cost £5. A package from £279 will gain you accommodation, lift pass and wrist band for all the after event parties. It's always buzzing in any resort when The Brits is on (23-30 March in 2013), and it's always kicking around the course or half pipe itself, with tunes pumping out. This year sees a new rail only comp, along with big air, slopestyle, halfpipe and board cross.
It's a million miles from the mayhem of an Austrian bar but having a drink, in the 'secret resort' of St Foy, is a true pleasure. And whilst over the last decade, the resort has grown year on year things in the Hotel Le Monal are still the same. There has been an auberge on this site since 1888, and while undergoing various rebuilds and renovations, Le Monal still has an old world French charm. You can kick back with a fine glass of wine from the extensive cellar, whilst the local mountain guides, ski instructors, carpenters and plumbers are bantering away at the end of their working day: there is something just very authentic and reassuring about the whole scene.
www.le-monal.com
5. Dicks Tea Bar, Val d'Isere, France.
It's a cattle market, and anyone who's had a few too many whilst being in Val d'Isere will have ended their night here. First opened in 1979, Dicks is an institution, and now back in the hands of independent ownership, it's getting back to its original party central vibe. Vodka shots and champagne from the improved table service is a new twist, as is the new layout, allowing a late night seated drink for those who don't fancy the club area. In all fairness though, whoever has owned Dicks, it's been thumping it out for over thirty years.
www.dicksteabar.com

6. Top of the Mountain Concerts: Ischgl, Austria.
Seen by many as the true opening of the European après ski season, this mountain top gig in Ischgl is a must. 2012 sees The Scorpions, a very dodge German glam rock band, headlining, whereas last year Roxette had the honour. Things improve slightly for the season ending mountain top gig, with Kylie Minogue, Elton John and Mariah Carey being the main acts in previous years. The gigs are free to anyone with a lift pass, but quite frankly if you're mad enough to hike up hill for multiple hours to see The Scorpions I'm sure they'll let you in, pass or not! It's obviously not who's playing that's the main pull, it's the fact that it's a right good old knees up to welcome and close the European season.
www.ischgl.com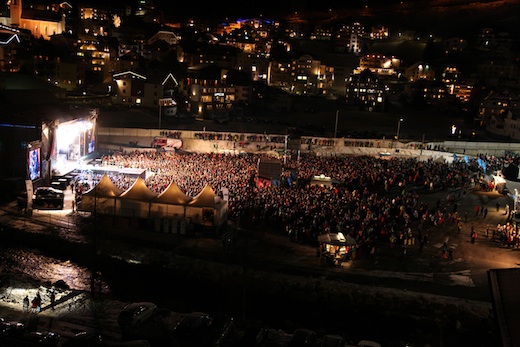 7. Snowbombing: Mayrhofen, Austria.
This week of hard partying starts with a hog roast just south of London, where a convoy of revellers meet up for a road trip to Austria. Once in resort there are venues all over the place - from deep in the Eristoff Forest, to the Arctic Disco high up on the slopes. There's a road block/party in the street and loads of town based venues such as Rompa's Reggae Shack, as well as a day time Pro-Rider party in the terrain park. The organisers offer packages and will set up your accommodation, from bling to bunk, as well as airport transfers/UK coach travel if you don't fancy the road trip. You get a wrist band for all event entry - 2013 dates, 1st-6th April.
www.snowbombing.com
8. Rafters bar: Red Mountain Resort, BC, Canada.
Red Mountain Resort has some of the best tree skiing anywhere in the world, and the adjacent town of Rossland is always quoted in North Americas best ski town lists - but the bar that's up in the rafters of the old day lodge, is the best place to head post skiing (it shuts at 9.00pm). The day lodge has recently been renovated, but in a brilliantly sympathetic way. Rafters bar, set amongst the roof timbers (some of which you have climb over or through to get to the bar), is where overnight guests used to doss down before any condos where built. They often have local musicians playing, and there is a good range of local beers and food to choose from. It's never really thumping here, but like the mountain itself, it's just the vibe that's so cool about the place. Red is opening up a massive new 1,000 acres of terrain in the 2012/13 season, so the bar is only set to get busier, which - for the party animal - can only be a good thing.
www.redresort.com
9. Gyu+Bar: Hirafu, Nisako, Japan.
AKA The Fridge, the Gyu+Bar is entered via an old fridge door surrounded by a huge pile of snow, and is by far the best place to sink a few in Nisako. The Gyu+Bar has old school turn tables, with the whisky and sake flowing freely as the vinyl spins. It's not a European 'swill beer and party place', it's more of a laid back cool, sup a cocktail kind of vibe, which befits skiing and traveling in Japan. The area sees on average almost 15 metres of snow a season, so the skiing is just great too.
www.gyubar.com
10. The Minturn Saloon: Vail, Colorado.
At the end of the Minturn Mile off piste run (see top ten secret spots), is the Minturn Saloon, where tequila and large jugs of margarita are the staple fare. They have an amazing tequila selection, and the tex-mex food is great too. The saloon dates back to 1880, although a fire in 1898 meant the one you now drink in dates from 1901. The back bar used to be a private, men only, gambling room, and is straight out of a western. With the spicy food and jugs of margaritas on the go, the place is lively by US standards.
www.minturnsaloon.com

That's our top ten but new for the 2012/13 season is the Folie Douce in Meribel. We're pretty sure that it's going to be kicking here next season, so we've sneaked in an 11th!


11. Folie Douce: Meribel, France.
For a party in the Les 3 Vallees, Meribel has to be the spot. It all starts with a piste side drink up at the Rond Point, often to live music, then ski down to the main village for a few in Le Pub, before the cattle market that is Dicks Tea Bar. This traditional route is set to change though once the new Folie Douce opens in the 2012/13 season, built just below the mid station of the all new Saulire Express gondola. A sister establishment to those already in both Val d'Isere and Val Thoren, with their thumping house tunes, live saxophonists and scantily clad dancers - think Ibiza on the slopes
www.lafoliedouce.com