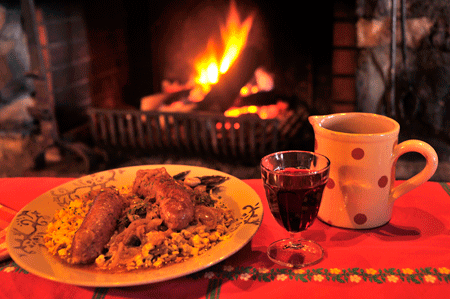 La Plagne, France
Perhaps not the first place that springs to mind for gourmet treats, this intermediate's paradise has plenty of tasty mountain restaurants to try, if you know where to look. And the added bonus is they're well priced. Generally tucked away near the villages that lie on the outskirts of the main La Plagne bowl, Le Sauget (or Chez Pat to its friends, pictured above) just above Montchavin (look out for the small sign on your left towards the bottom of the Pierres Blanches piste) serves hearty takes on traditional dishes, the Forperet above Montchavin does a particularly tasty tartiflette, Chalet de la Roche below Plagne 1800 is a welcoming suntrap serving great pasta, and Les Borseliers above Champagny has a reliable dish of the day. Resort restaurants don't quite live up to those on the mountain, but the Matafan in Belle Plagne is worth trying and the Chalet des Verdons Sud, on the slopes above Champagny, is open in the evenings for a five-course feast accessed by snowcat.
Getting there: Chambery airport is closest, at 75 miles away, Lyon is 120 miles and Geneva is 125 miles. Trains stop at Aime and Bourg St Maurice in the valley, with bus services running up the resort.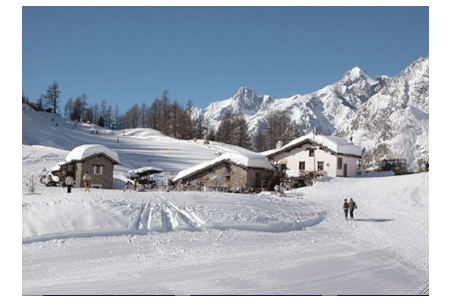 Courmayeur, Italy
Not only is Courmayeur in the foodie heaven that is the Aosta Valley – a fertile market place full of delicious local meats, cheeses and wines – it's home to possibly the friendliest cosiest mountain restaurant yet to grace the Alps, Maison Vielle, a refugio beloved of international celebrities, sporting heroes and locals alike (pictured above). The trademark dish is a trio of homemade pasta dishes, but try and save a little space in your stomach, there are 26 other mountain restaurants to sample across the 100km of slopes.
Getting there: Geneva is 60 miles away, Turin 95.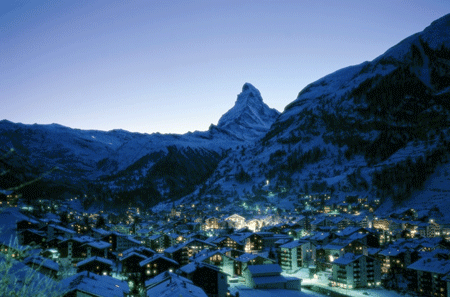 Zermatt, Switzerland
No list of foodie destinations in the Alps is complete without Zermatt. It must be something about its stunning location in the shadow of the Matterhorn that inspires its chefs to such greatness, as there are over 100 restaurants to choose from and you'd struggle to have a bad meal at any of them (though there is a McDonald's, so perhaps that's not 100% true). Regardless, the standard is high across the board and options range from the delightfully picturesque but expensive Chez Vrony on the slopes below Sunnegga to the chic modern Ice Pizzeria at Trockener Steg. In town there's a great mix of cuisines from Asian to African to Mexican, plus of course local specialities. For a contemporary take on local specialities, head to the hotel Cervo.
Getting there: Geneva airport is 150 miles away, Zurich 165 miles and Sion just 50 miles. There's a train station in resort making transfers on Swiss rail very convenient.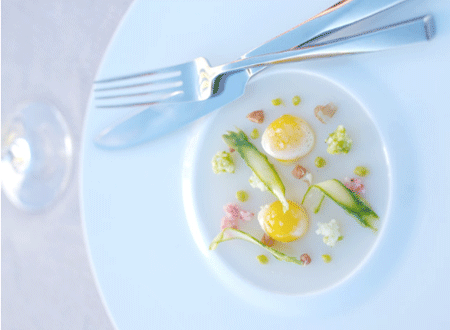 Val Thorens, France
For a Michelin-starred meal with altitude, book into Val Thorens' L'Oxalys, the highest two-star table in Europe, where chef Jean Suplice creates dreamy dishes from local meat and fish, forgotten vegetables and wild plants (pictured above). Further down the valley in St Marcel is another two-star place, the Bouitte, and spread further out over the whole Three Valleys a further 12 stars are scattered across the resorts for you to devour.
Getting there: The closest airport to Val Thorens is Chambery, 75 miles away, while Lyon and Geneva are both 125 miles. Moutiers train station is 23 miles away.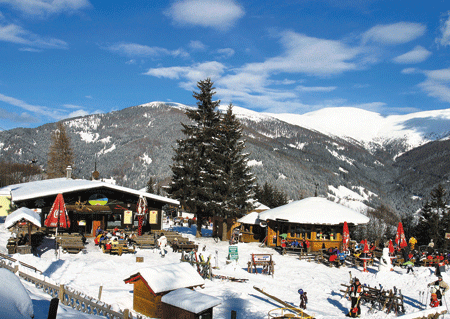 Bad Kleinkirchheim, Austria
The hearty food passed down through the generations of farmers that call this sprawling spa village home will appeal to food fans – it's unpretentious, good quality and good value cooking, and there are 23 mountain restaurants spread over the 103km of slopes in which to sample it. Ski racing aficionados should make a beeline for local hero Franz Klammer's restaurant at the top of the Kaiserburg (adorned with his trophies, he often pops in), and wherever you eat, look out for specialities such as karntner kasnudeln (large ravioli filled with crumbly cream cheese, herbs and mint) or kaiserschmarm (broken up bits of pancakes with apple sauce).
Getting there: Klagenfurt airport is 35 miles away, and Ljubljana 66 miles away.
Bad Kleinkirchheim resort guide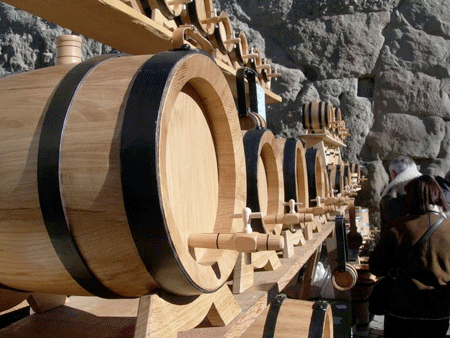 Aosta, Italy
OK, perhaps not strictly a ski resort – the pistes are a 20 minute gondola ride away in Pila – Aosta is a old Roman valley town with a main street full of shops selling local specialities. A thriving food market comes to town every Tuesday and the Fiera di Sant'Orso, a six-day festival, is held towards the end of every January to celebrate friendship, where grolla dell'amicizia – a mixture of wine and espresso with a dash of grappa – is passed round in wooden cups with several spouts as a sign of conviviality. Look for local produce stamped with the Saveurs du Val d'Aoste label – it's a surefire way you'll be sampling the highest quality local wines, cheeses, meats, honey and grappa.
Getting there: Turin airport is 70 miles away, Geneva is 95 miles away.
Pila resort guide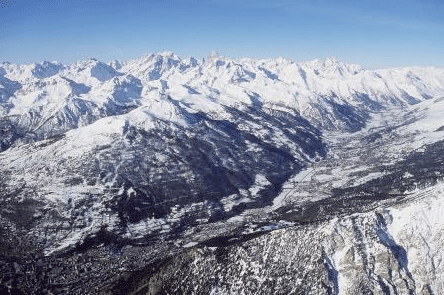 Serre Chevalier, France
While it may be difficult to pinpoint one stand out mountain restaurant in Serre Chevalier, that's not necessarily a bad thing. It just means there are very few bland uninspiring self-service restaurants, instead there are cosy chalets and large sun terraces brimming with character. For one of the finest examples of the former head to the tiny Peyra Juana above Monetier and plump for their dish of the day – most likely rabbit stew, beef bourgignon or tartiflette expertly cooked; for a sun terrace matched with simple food and stunning views, try the Chalet de Serre Blanc above Briancon with views stretching down the Durance valley. And stop by the weekly Wednesday market in Briancon to take home some local produce.
Getting there: Turin is 75 miles away, Grenoble is 95, and there's a train station in Briancon.
Serre Chevalier resort guide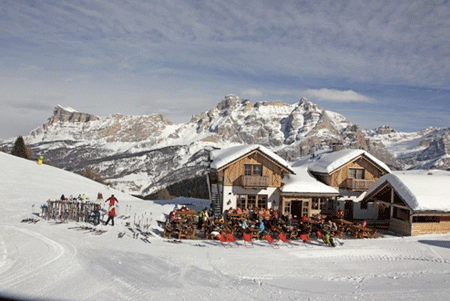 Alta Badia, Italy
This small pocket of Italy, close to the Austrian border, is a foodie's paradise. Surrounded by the craggy beauty of the pink-tinged Dolomites mountains, the area's villages – including San Cassiano, Corvara and Colfosco – are synonymous with exquisite cooking, excellent quality local produce and inventive chefs. Three local restaurants hold four Michelin stars between them, but for a more affordable way to sample their fare stop off at one of their partner restaurants on the mountain, where for example at Utia Bioch the two-Michelin starred chef from the St Hubertus in the Rosa Alpina hotel in San Cassiano has created a special lunchtime dish to be paired with a local South Tyrol wine. Ten restaurants and top chefs in total are involved in the tourist office's A Taste for Skiing initiative, which makes lunch a far cry from a sloppy spag bol or overpriced packet soup.
Getting there: Innsbruck airport is 80 miles away, Venice is 125 miles.
Alta Badia resort guide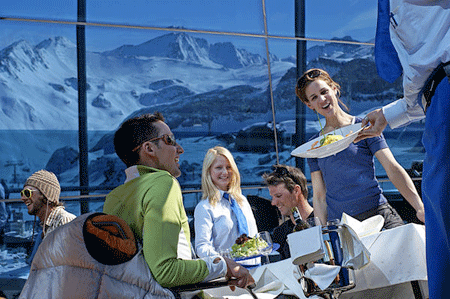 Ischgl, Austria
If you like your mountain dining to be as modern as the skis or snowboard on your feet, Ischgl is long on good quality contemporary offerings, short on rustic huts. It makes for a refreshing change to the Alpine norm, and prices aren't astronomical either. The Alpenhaus is all concrete, exposed stone and glass serving fine Tyrolean food; Paznauner Taja has both self-service and table service dishing up imaginative meals10 ski to a backdrop of live bands or disco music.
Getting there: Innsbruck airport is 60 miles away, Zurich is 150.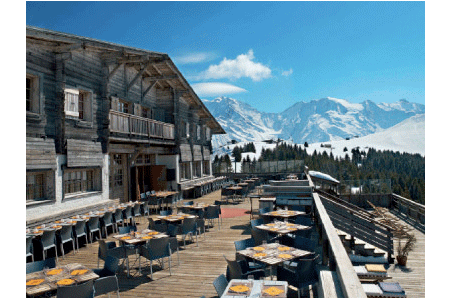 Megeve, France
If it's classic French cuisine that gets your taste buds going then head to Megeve. Across the slopes are 34 mountain restaurants, mainly of the rustic but consummate variety – you won't find much mass-prepared self-service food here. Have a gourmet blow out at the super smart Idéal at the top of the Princesse gondola with views to Mont Blanc, or come back down to earth at Chez Ernestine with its short but sweet great value menu (above the Croix de Christ bowl).
Getting there: Geneva airport is 55 miles away, Lyon 110 miles. Trains stop at Sallanches, 7 miles away.