This can't be right. I've come to a dead end in a field in the middle of nowhere, where there's supposed to be transfer bus to my next resort. Baffled, I check my map again. But it definitely says that the resorts are connected! I'm standing around like a lemon when I hear a series of high-pitched hoots. Suddenly into view comes a tractor towing two carriages. Inside are people clutching skis, boards, woolly hats and gloves. I've heard of cat-skiing, heli-skiing, even horse-drawn skiing. But never a common or garden tractor!
I'd started out at 8.30am under crystal clear skies and a brisk -17°c, with the aim of completing a 60km-in-a-day challenge to explore the Salzburger Sportswelt area of Austria's Ski Amade region. Wanting to cram in the miles in my weekend I'd worked out that I could get from Alpendorf at one end of the Sportwelt to Zauchensee at the other and back again in time for tea – nobody said anything about a tractor!
Bobbing across what I presume is a farmer's field underneath the snow, I reflect on a cracking morning so far. The wide 4.5km Autobahn piste down to Wagrain was a particular highlight and if time allows I shall sneak in another go on my return leg.
I reach Zauchensee just after mid-day and after a quick lunch I head back. Zauchensee is the highest resort in the region, sitting at 1,350m and is located in a very tranquil spot. It also has some of the steepest runs in the Salzburger Sportswelt area of Ski Amade offset with plenty of blues to keep the less-confident in the game. I finally arrive back in Alpendorf at 3.30pm and reward myself with a Steigl beer and a sit down.
To a lot of Brits, skiing in Austria means the Tirol. But maybe we are missing a trick and should also be considering Salzburgerland. Having visited this region before it was an easy pick for my weekend. In fact, you could come here for any number of weekends: the amount of skiing in this region is immense, with Ski Amade made up of five different regions with 860km of pistes. Salzburger Sportwelt is the larger of these areas and includes Alpendorf/St Johann im Pongau, Wagrain, Flauchau and Zauchensee.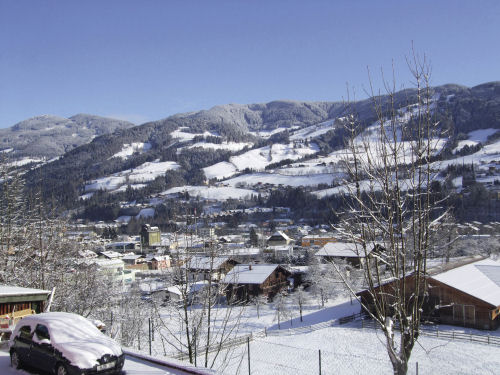 Getting here was stress-free with daily flights from the UK to Salzburg on British Airways. Easyjet don't do weekend-friendly flights but they do offer weekend-to-weekend flights from Gatwick for those that want to go for a week…and why would you not want to!? The rail transfer from airport to St Johann was speedy and inexpensive. From landing to getting into town took just over an hour and cost only €18. A quick, free bus up to Alpendorf and I was on a gondola up the mountain all within two hours of touching down on Austrian soil – perfect for a long weekend.
Another nearby area which is a 20-minute bus ride from St Johann and Alpendorf is Grossarltal which comprises the resorts of Grossarl and Dorfgastein. I spent my last day on the slopes here and had a fabulous time. Although not as big in area as Salzburger Sportwelt, it offers a few more black runs while not neglecting to provide plenty of runs for intermediates. The pistes down to
Bad Hofgastein are particularly worth a visit and tend to be a little quieter, although crowds were not a problem during my stay.
I love the charm and feel of the Ski Amade. All the resorts I visited seemed ideal for a holiday or a long weekend and also seemed great for families. St Johann itself is a proper town and is the most directly connected to Salzburg. As you would expect, there are plenty of accommodation options, bars, shops and restaurants. Alpendorf is a newish village which sits above St Johann and is where the main lift up to the ski area is situated. Wagrain and Zauchensee are more 'villagey' and both sit in lovely alpine valleys, and Grossarl is also definitely worth a visit. Honourable mention too for Flauchau (home of the Herminator) as it's also a great choice in the Salzburger Sportswelt area.
As a destination for a long weekend goes, I rate the Ski Amade as refreshingly good value, with great skiing pretty much guaranteed. It'll even throw in a tractor ride…
Snow Where
Where to: St Johann im Pongau, Salzburgerland, Austria

Where from: Gatwick to Salzburg return on British Airways (£220 return Fri-Mon).

How long in the air: 1 hr 50 mins

How long a transfer: 1 hr 15 mins (£30 2nd Class train return)

Where I stayed: Gasthof Silbergasser, (£156 half board for 3 nights for 1 person or £273 for 2 people).

With who: the internet!

How much: £461, inc three-day Ski Amade lift pass.