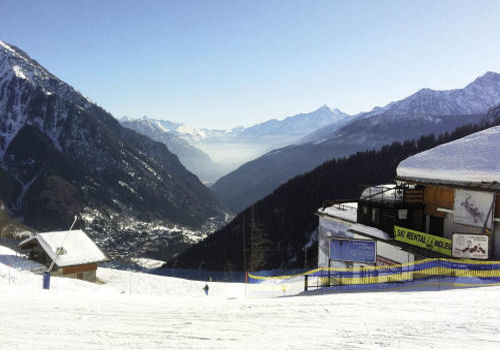 'Stop!'
My companion Dave and I were just two minutes into our first run of the day when he hollered at me, with fear in his voice.
'Jim, I think we're lost,' he added.
'We can't be,' I replied, 'we're on the piste.'
'Well, where the hell is everyone then?'
He had a point. We cruised on down a series of tree-lined blue and red runs all the way to the bottom lift and didn't see a single soul.
This was
Courmayeur
, Italy, in late January. A hastily arranged weekender with Ski Solutions to catch the back-end of the best snowfall in 20 years across the Alps would leave us feeling like we'd done a Vladimir Putin and booked out the whole resort. Open blue and red cruisers with hardly anyone for company, coupled with clear blue skies and decent snow conditions – reached in less time than it takes to get from London to Wales. It took a few hours to sink in.
Courmayeur sits 90 minutes' transfer from Geneva airport, at the Italian end of the Mont Blanc tunnel in the Valle d'Aosta. Known for its weekend visits from the beautiful and wealthy of Milan, it's most definitely not a Meribel-esque British resort, having more wine bars and five star hotels than 'Le Pub' type places.
We were based at the well-appointed Hotel Pilier d'Angle, named after one of the peaks of Mont Blanc Mountain which was climbed by the owner who built the hotel 40 years ago from an old cowshed. Steady development has seen the addition of a superb spa and massage area, plenty of extra rooms and two restaurants, one of which has a well-deserved Michelin star.
Situated about two miles from Courmayeur in the quite village of Entrèves, there is little in the way of vibrant après-ski close by. There are a few smaller restaurants and one nightclub for those looking to dance the night away, but mostly we headed into Courmayeur of an evening, with the hotel kindly giving us a lift to the town. Getting back was not so easy. You can book a taxi, but it'll cost you 30 euros for the five-minute one-way trip.
Courmayeur is a working town, with access to the ski area via gondola only. So it's not ski-in, ski-out, but that's not an issue, unless you miss the last cabin down. Make it on time, though, and the hotel will pick you up from the gondola station to save an end-of-day leg burning walk.
The skiing is on 87km of pistes, most of which are perfect confidence builders for improving intermediates. Mont Blanc provides the stunning backdrop and lunching at one of the excellent piste-side restaurants was a joy. They take their food and wine seriously in Italy and it shows! Prices compared very favourably to French and Swiss resorts too.
Unfortunately warm temperatures by day and freezing conditions at night had turned the powder packed and sticky, so off-piste was not on the agenda. Luckily, the pistes were in pristine condition and the lift system allowed access to varying terrain with tree-lined runs, open reds and blues and some stunning views.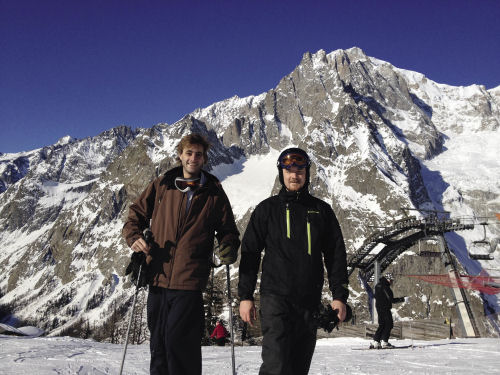 One gripe: Courmayeur has without doubt the most confusing piste map I've ever used! Dave and I like to think we're fairly intelligent human beings, and have skied around the world for decades between us. We got lost every single day. The most extreme case was on our first afternoon when, luckily, we'd given ourselves plenty of time to catch the last lift down the mountain. We took three routes, each of which ended in the same place – the wrong place! Beware of this as the information on how to get down to the town if you miss that last lift is non-existent. On asking in our hotel bar what would happen if you missed it, the bar manager simply replied 'Don't know'. Luckily we were good enough to turn on the afterburners and raced back with a minute to spare. Beginners would not have been so lucky.
The best thing about Courmayeur is its location. This really is a perfect weekend destination if you're looking to get the maximum slope time possible. We stayed for four nights and got a full four days on the slopes. There is an evening flight back from Geneva that allows you to take a 5pm transfer back to the airport, meaning you really do get the most out of your time there.
For those wanting to stay for a full week, Courmayeur itself may not satisfy the more experienced skier so hire a car or take a bus to La Thuile or
Chamonix
which are easily reached within half an hour. This fact, combined with the good skiing, great restaurants and decent ski area of its own, puts Courmayeur high on the list of resorts I would recommend
to others.
Snow Where
Where to: Courmayer, Italy
Where from: London, Heathrow to Geneva, with Swiss (free carriage of board bag). Excellent, no queues.
How long in the air: 1hr 25mins
How long a transfer: 1hr 15min
Where we stayed: Hotel Pilier d'Angle, Entrèves, Courmayeur.
With who: Ski Solutions, Britain's largest specialist ski travel agency and tailor-made tour operator (020 7471 7700;
www.skisolutions.com
).
How much: A 4-night break at the Hotel Pilier d'Aigle, including flights, transfers and accommodation, costs from £595 per person.