High above the modernist masterpiece/Sixties monstrosity of Avoriaz, I turn to my guide Nino, and say "How am I supposed to ski all this in three days???"
I'm looking down into Switzerland, as if the French pistes behind me weren't enough. From the top of the vertiginous Swiss Wall – notorious mogul-fest, and widely regarded as the hardest run in the Alps – we have an uninterrupted view of the jagged ridge of the Dents du Midi and Dents Blanches; the crowning glory of the varied and picturesque Portes du Soleil.
Clearly I couldn't ski all of this vast area in three days, but it was a rare treat to have the chance. I've long wondered why short ski breaks are so hard to come by, unless you own your own chalet and can afford to keep it empty all season. So I was pleasantly surprised, and more than a little intrigued, to come across iGO Ski, who specialise in quick hits of 3, 4, or 5 nights.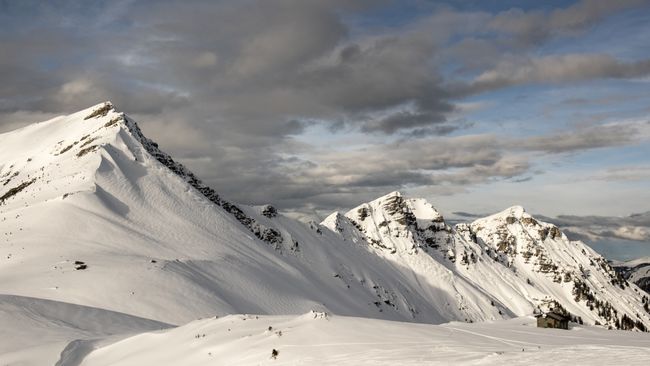 With copious amounts of snow being flung out of the sky all over the Alps, a weekend seemed a much more justifiable last-minute treat than taking a whole week off at short notice. And Morzine seemed an ideal location for it; being a relatively quick transfer from the well-served airport at Geneva meant we could maximise our slope time.
Good intentions were more difficult in reality after a 2am start for an early flight. We arrived in resort before midday, and really should have dug deep for some energy, but a lazy afternoon of galettes and patisserie-time seemed to get us in an Alpine frame of mind almost as much as the skiing would have done.
Motivation may also have been marginally affected by our rotten luck regarding the record snowfall – we'd managed to time it to coincide with a rise in temperatures and consequently, and substantial rainfall over the preceding few days. Not that you'd know it on the pistes; on our first full day we hit the Morzine side, accessible on a local pass (much cheaper than the full area pass) and found mile after mile of fast, pristine groomers basking in crisp January sunshine.
As if that wasn't enough, the mountain was empty. We barely queued, we made speeding GS turns to both edges of the pistes, and never came close to a collision! It also meant we found a table at Chez Nannon at the top of the Troncs Express lift, and given there is only room for about half a dozen tables, it seemed quite a coup.
Chez Nannon is one of the quietly burgeoning selection of converted farm buildings on the French pistes; according to Ilja, daughter-in-law of the farmer who used to sleep here with his cows as a youth, the French aren't keen on this kind of rustic restaurant and prefer the massive self-service places. So the clientele here – the lucky few - are mostly English and Dutch. The Jambonneau (knuckle of ham with mustard, cooked in a wood fired stove) was superb.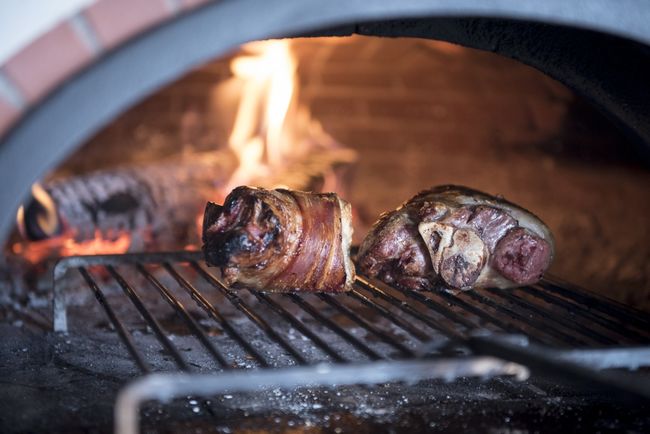 On the subject of food, the iGO staff at Chalet Flo proved more than capable too – I'm perennially impressed by the ability of chalet companies to bring the best out of gap year kids, especially after having been one myself…
The standard chalet-staff-night-off seems more significant when you're only there for 3 nights – something to bear in mind when booking. But for me, sampling the local restaurants is an essential part of any trip, so we took the 15 minute walk into town as an appetiser and discovered La Dez'Alp (the term for bringing in the cattle ahead of winter).
€35.90 gets you three courses of enormous proportion and equal gastronomy; a trilogy of savoury crème brulees was clever and tasty, and the meaty fillet of locally caught trout with ceps and dauphinoise proved too much. We didn't make it to dessert, but we left happy!
To try and squeeze as much as possible out of the area, we took a guide from New Generation – Nino – who, to my immense satisfaction, was able to find little pockets of soft snow off the sides of the pistes for the majority of the day. Incredible, given it had been several days since the last real snowfall, but there is the value of a local guide in a nutshell.
But much more than that, Nino was able to help us scratch well below the surface of this mammoth area. We began on the bare white slopes around Avoriaz town, with dramatic views into the distant cloud in the west.
The landscape and the mood changed over the ridge as we skied deserted pistes towards Chatel, with abundant frosty trees and an enclosing topography creating an altogether cosier feel. From the top of the next ridge we raced into Switzerland and the imposing Dents du Midi gave a glimpse of the inhospitable side of the high mountains.
It was a thorough beasting; we skied relentlessly fast all day, in order to see the best that the Portes du Soleil had to offer. And still there was more left over. We managed to squeeze a full three days from a three-night trip and could have had another half day in addition, thanks to a well-thought-out package. Portes du Soleil may be far too big to fully appreciate in that time, but I can't think of a better way to be overwhelmed.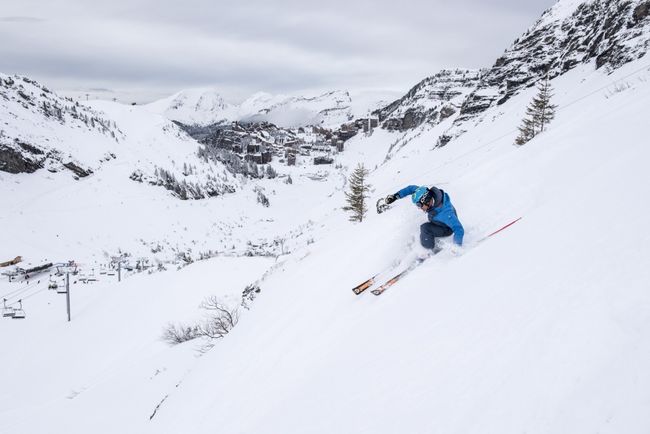 SNOWHOW
Flights
Daniel flew Liverpool – Geneva with Easyjet but iGO also operate flights from many London airports.
Transfers
Transfers are included with iGO bookings.
Ski pass
The immense Portes du Soleil area can be accessed in full for €52 per day, or a local pass for Morzine and Les Gets can be had for €40.
The skiing
The vast area was made all the more accessible by excellent guiding by Nino from New Generation ski school;
Where to stay
Daniel stayed at Chalet Flo, a 20 minute walk from Morzine's main shopping area, and served by regular (free) buses.
Where to eat and drink
For a superb choice of locally sourced specialities beyond the usual cheese-and-potato based fayre, try La Dez'Alp in central Morzine;
On the mountain, try the impossibly quaint Chez Nannon;