The good news is that kids' ski jackets are available in nearly as many flavours as adult ski jackets, allowing personal taste and budget plenty of wiggle room. Many kids' ski jackets try to offset the obvious problem with kids gear in general, being that they grow out of it very quickly, by allowing you to buy a larger size and adjust to fit - a canny trick that can get several seasons out of a good jacket. You'll also want to pick out a pair of the best ski goggles too, as well as a pair of good ski gloves. 
Kids' ski jacket insulation
Just like adult ski jackets, kids' ski jackets need to perform in challenging conditions.  They'll need to protect against external cold, wet, and be breathable enough to release sweat from exertion. Most kids' ski jackets are insulated to keep your little ones warm, but the insulation should be optimised for breathability as well so that all the heat and moisture they produce when skiing can escape. 
Some kids run colder than others, and for those children, you would do well to opt for a more heavily insulated ski jacket like the Muddy Puddles Blizzard, or Polarn O. Pyret jacket. 
Kids' ski jacket waterproofing
Ski jackets for children also need to be fully waterproof, especially as kids are more inclined to want to play and roll around in the snow. All of the jackets in this list are fully waterproof in their main material but other areas prone to letting moisture through are the zips and seams, where the material panels are sewn together. If the zips are exposed, rather than under a storm flap they should ideally be treated with a water resistant coating, this looks like a rubbery coating on the material surrounding the zip itself. 
Similarly, seams need to be sealed to stop water getting through. This is a process whereby a strip of waterproof tape is applied to the inside of the seam at the manufacturing stage. Ski jacket manufacturers will list their seam sealing in the jacket description as either 'critically taped' - which means areas particularly vulnerable such as at the shoulders are taped, and 'fully taped' where all seams are taped.
Best kids' ski jackets
Helly Hansen Legend 2.0 Insulated Ski Jacket, £110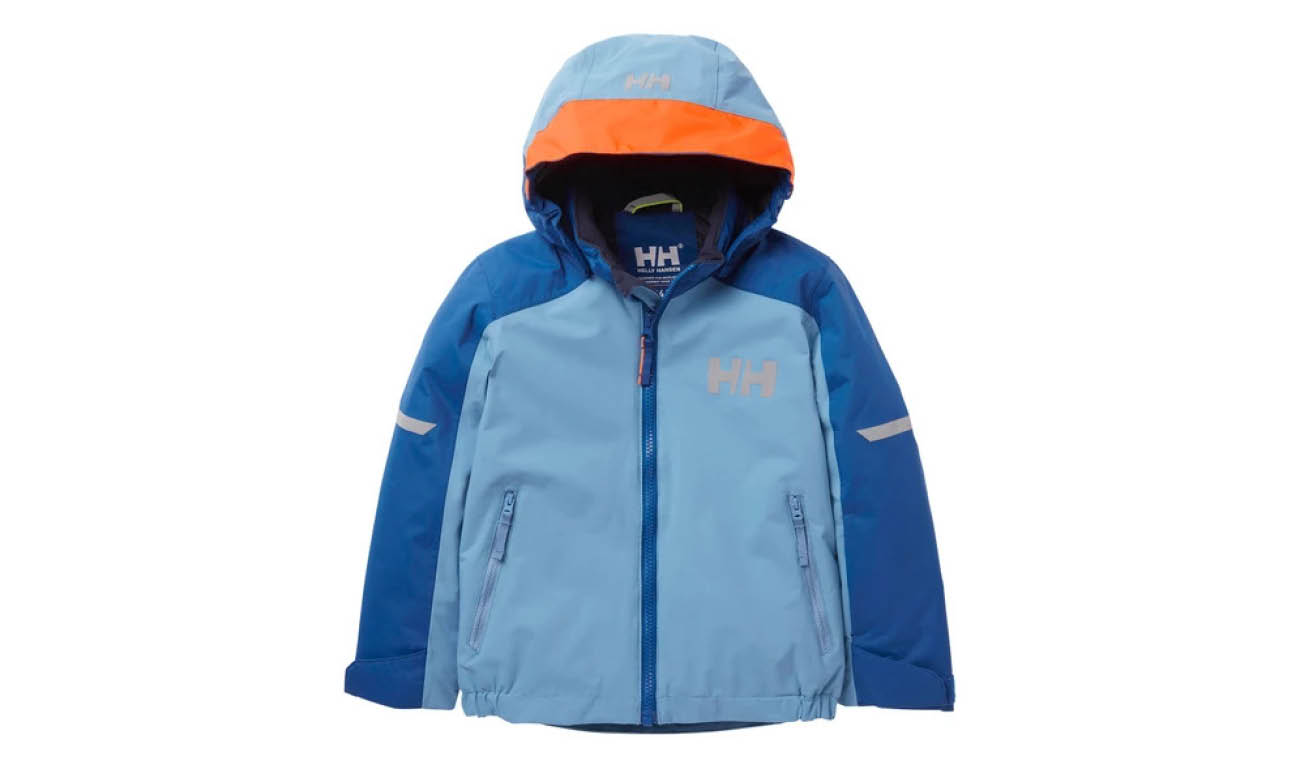 Best kids' ski jacket overall
We have long been fans of Helly Hansen kids' ski gear, having had items that have not only been passed down within one family but into another family too, such is the quality of the gear. Their Legend 2.0 Insulated ski jacket is built to be bomb, or you could say kid-proof. The Legend 2.0 jacket features all of the details you might expect from a decent kids' ski jacket, from cosy insulation to a soft touch outer that's fully waterproof. The insulation is 100% recycled and the DWR treatment to the outer material, which helps water roll off the surface is PFC-free. All of the zips are high quality YKK and feature water resistant backing. There are plenty of pockets including a handy ski specific one for your lift pass. The reflective detailing helps your child stand out at night, and the slim fill of Primaloft Black Eco is optimised for active use but still takes the chill off when your kids are standing still.
Buy Helly Hansen Legend 2.0 Ski Jacket: £100 at Helly Hansen
Polarn O .Pyret Kids Padded Waterproof Coat, £95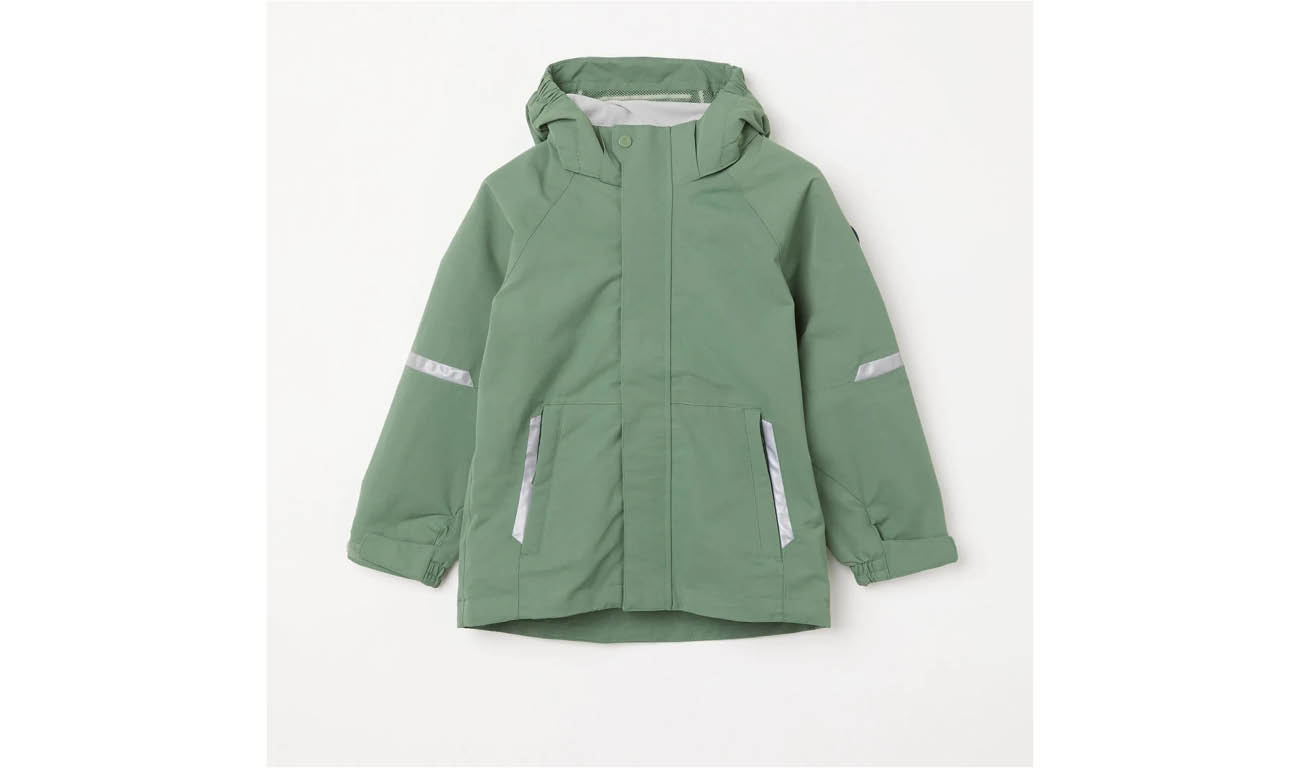 Best kids' ski jacket for durability
My kid absolutely loves this jacket, and that's the best review you can get! Polarn O. Pyret only sell kids' clothing so they know their stuff and it really shows with the Kids Padded Waterproof Jacket. This is one seriously robust ski jacket with a suitably durable outer that's highly abrasion resistant, great for clumsy, or adventurous kids. This ski jacket features top specs, with everything you might see on an expensive adult ski jacket. The membrane features 12k waterproofing, fully taped seams and an eco DWR treatment, making this jacket an impenetrable barrier against rain and snow. A medium fill of Primaloft - a synthetic insulation known for its high performance in sports jackets ensures that your child also stays as snug as a bug in a rug.
Little touches like the 3M Scotchlite reflectors, removable hood and powder skirt really elevate this, not just as a ski jacket but as an everyday jacket for the British winter.
Buy Polarn O Pyret Padded Coat: £57 at Polarn O Pyret
Dare2B Kids Humour II Ski Jacket, £100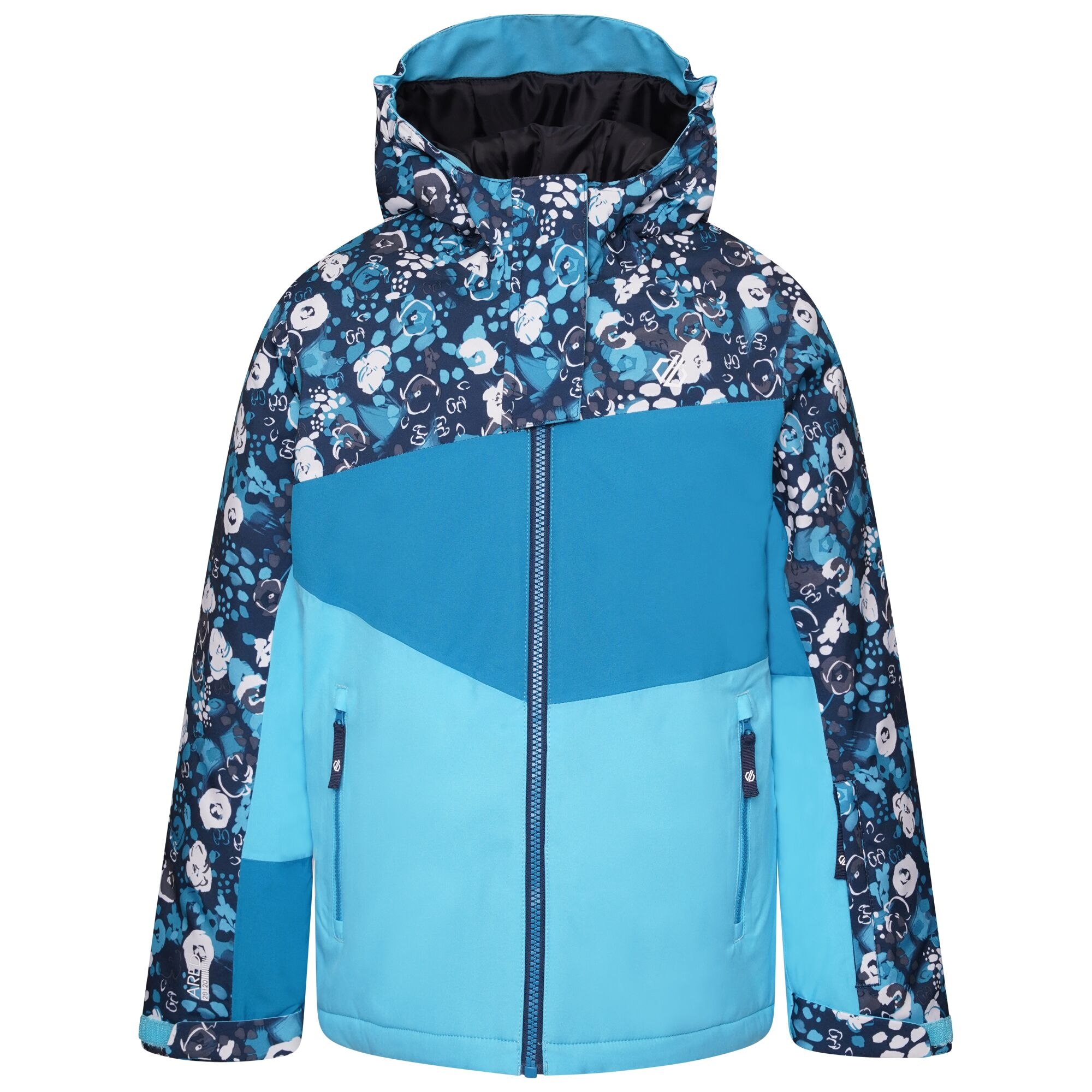 Best kids' ski jacket for hard-charging, sporty kids
This ski jacket is perfect for a seriously active child that loves nothing better than charging around the slopes and the playground. It features Dare2B's recycled waterproof stretch fabric - Ared 20/30 which is their most breathable fabric to date. Unlike lots of ski jackets, this fabric's stretch allows it to move with you and it's really soft to the touch. The thin layer of insulation provides a touch of warmth without too much bulk, keeping the sporty feeling of the jacket alive.
Despite the soft, stretchy feel of the fabric the waterproof rating of the Humour II is very high at 20k and the fabric is completely seam sealed, making this a kids' ski jacket with excellent protection. There are a number of reflective trims as well as ski specific features like a powder skirt and ski pass pocket.
Buy Dare2B Humour II Ski Jacket: £40 at Dare2B
Muddy Puddles Blizzard Ski Jacket, £85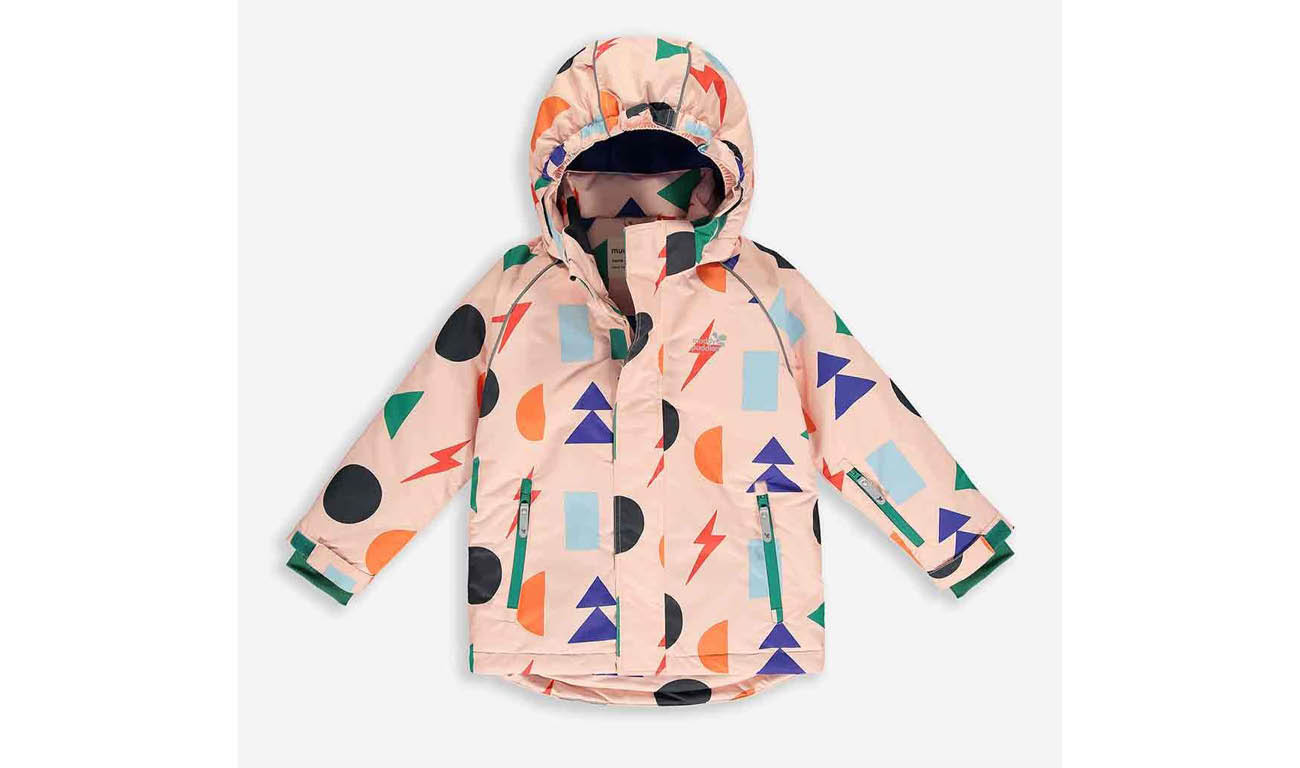 Best kids' ski jacket for warmth
If you want a jacket that's guaranteed to keep your kids warm then the Blizzard from Muddly Puddles is the one to go for. This super cosy waterproof ski jacket has a thick layer of padding plus a soft fleece lining, making it the sort of ski jacket that makes you go ahhhh when you put it on. Of course, all that warmth would be useless without other ski specific performance features and Muddy Puddles have thought of it all. The Blizzard jacket features a zip off snow skirt, perfect for double duty as an everyday waterproof jacket, as well as a highly functional hood, ski pass pocket and device pocket with a headphone slot.
The logos and zip pulls are reflective for high visibility and the adjustable cuffs have internal lycra thumb holes to keep the jacket in place.
Buy Muddy Puddles Blizzard Ski Jacket: £51 at Muddy Puddles
Decathlon Kids Warm and Waterproof Ski Jacket 550, £55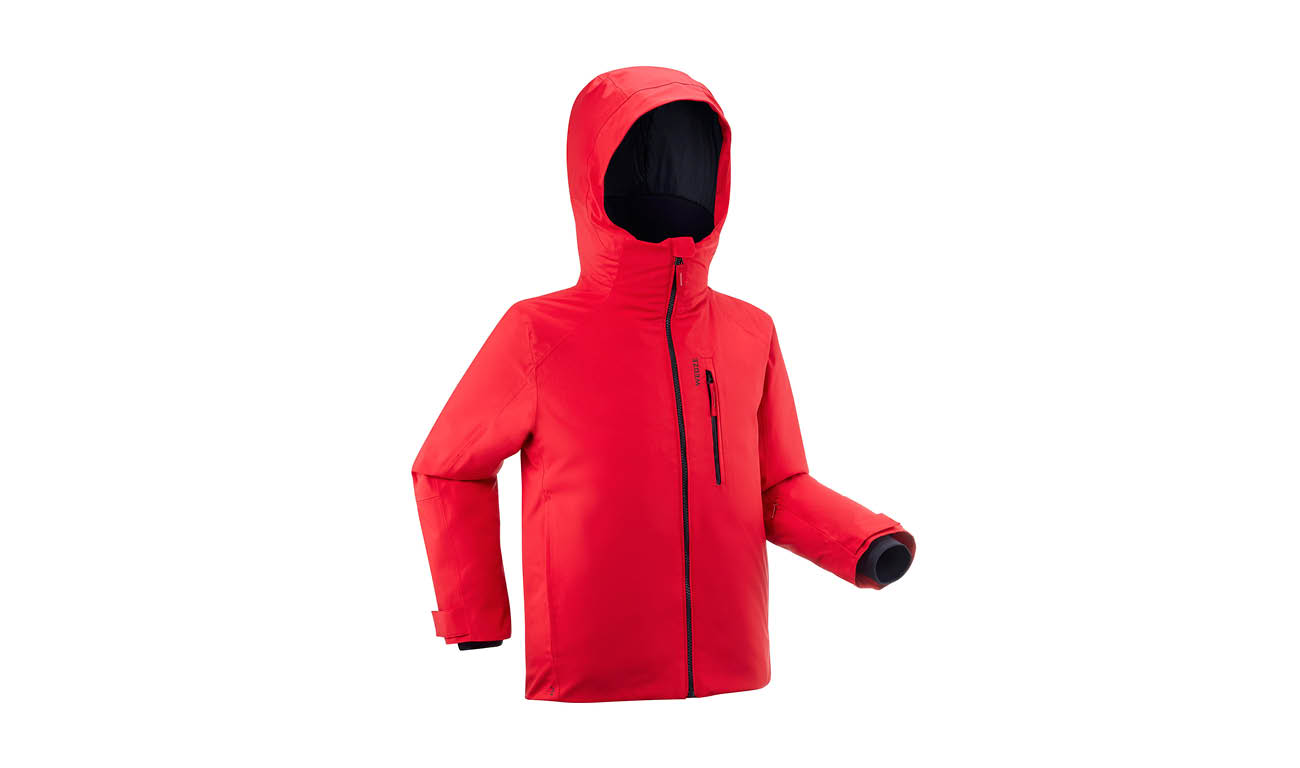 Best value kids' ski jacket
We couldn't run a feature of the best kids' ski jackets without including Decathlon. They consistently produce ski gear that's perfect for fast growing kids. This is gear that does the job well and at a keen price. Their Warm and Waterproof Ski Jacket 550 doesn't skimp on features. This warm jacket has 150g of padding keeping your kids warm on the ski slopes. Waterproofing is courtesy of a membrane with a 10k waterproof rating and the jacket features fully taped seams to keep all wetness out. The outer fabric features a DWR treatment, although there's no mention of the eco credentials of this. Having said that, the main fabric is composed of 67% recycled polyester and dope-dyed yarn.
The 550 ski jacket does of course have a selection of ski friendly pockets, including one for your ski pass, one for goggles, an additional secure inner pocket for valuables and two hand warmer pockets.
Buy Kids Warm and Waterproof Ski Jacket 550: £54.99 at Decathlon
Quiksilver Ambition Boys Jacket, £125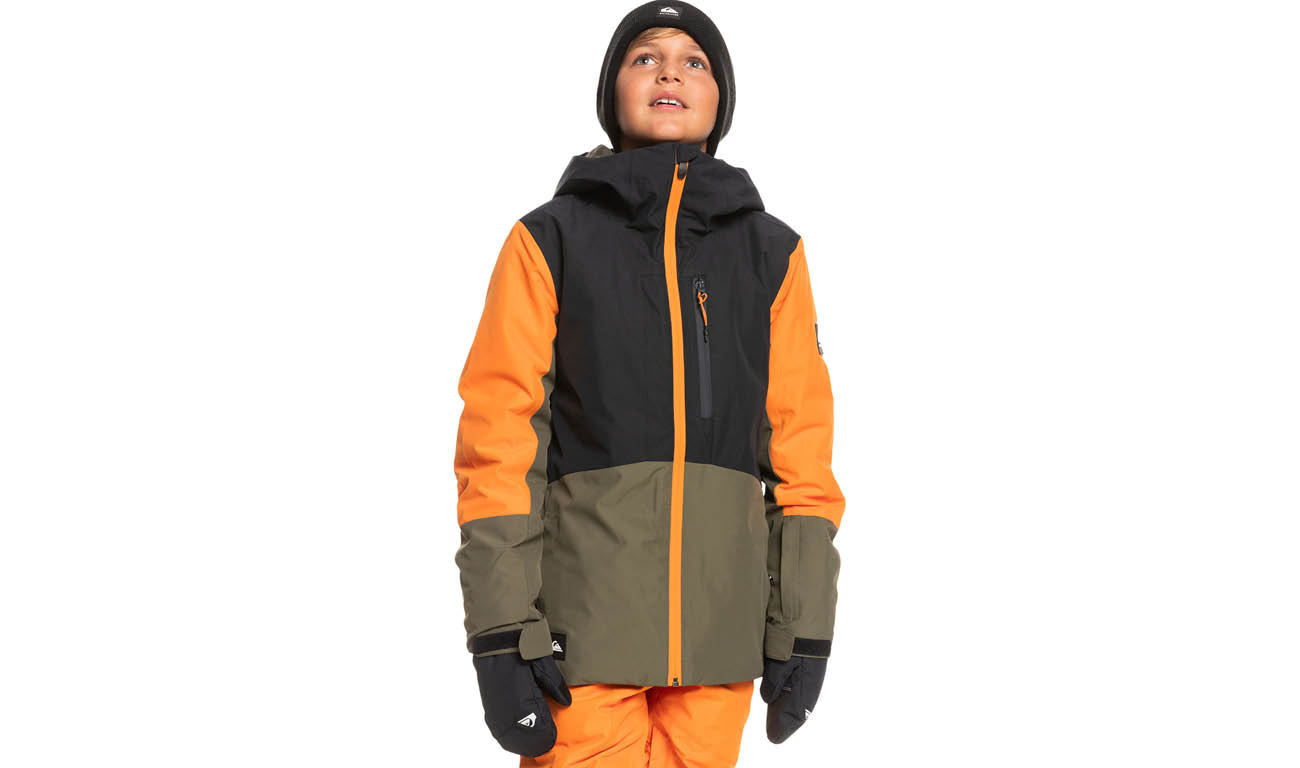 Best kids' ski jacket for budding snowboarders
This jacket aimed at older kids will suit the budding snowboarder who wants to stay warm and dry but look cool at the same time. With an extended fit, the Ambition jacket offers great coverage over the bum and plenty of room inside for layering and freedom of movement. The low bulk insulation takes the edge of chilly weather without being stuffy, and with an excellent 15k waterproof rating the fabric will fend off the worst snow storms. It's worth noting that the Ambition has critically taped seams, which means those over the shoulders, rather than a full complement of seam sealing. This is usually only an issue in extended bad weather. There's a full range of pockets, for goggles, media devices, lift pass, and of course, hands and the powder skirt will stop any snow from getting in should your little one take a tumble.
Buy Quiksilver Ambition Boys Jacket: £149 at Ellis Brigham
Picture Snowy Printed Toddler Jacket, £125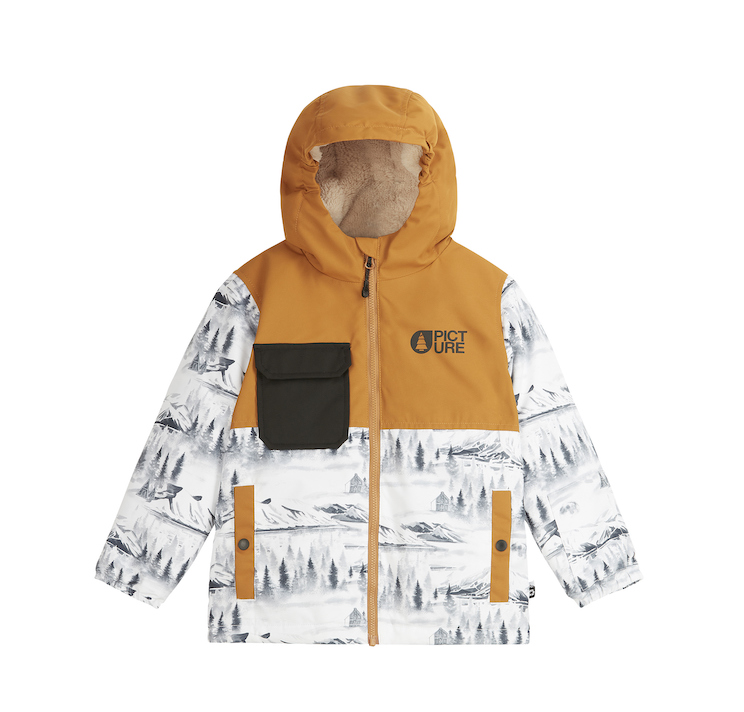 Best kids' ski jacket for standing out on the pistes
The Picture Snowy Printed Toddler jacket immediately grabs the eye with a statement design, but there's more here than simple good looks. The interior is lined with super-cosy Sherpa fleece lining that will keep kids warm and happy in the coldest of climes - augmented by a thick recycled polyester insulation filling. There's a 10K/10K membrane for decent waterproofing performance too. 
A key benefit of this jacket for parents is the Picture I-Fit design, which lets sleeves be gradually extended as the little one grows, squeezing an extra season or two out of the jacket. As usual with Picture, there's a strong eco play here, with recycled materials and a PFC-free durable water repellent treatment.  
Buy the Picture Snowy Printed Toddler Jacket: £125 at Picture Clothing
Helly Hansen Kids' 3-in-1 Kollen Playsuit £200.00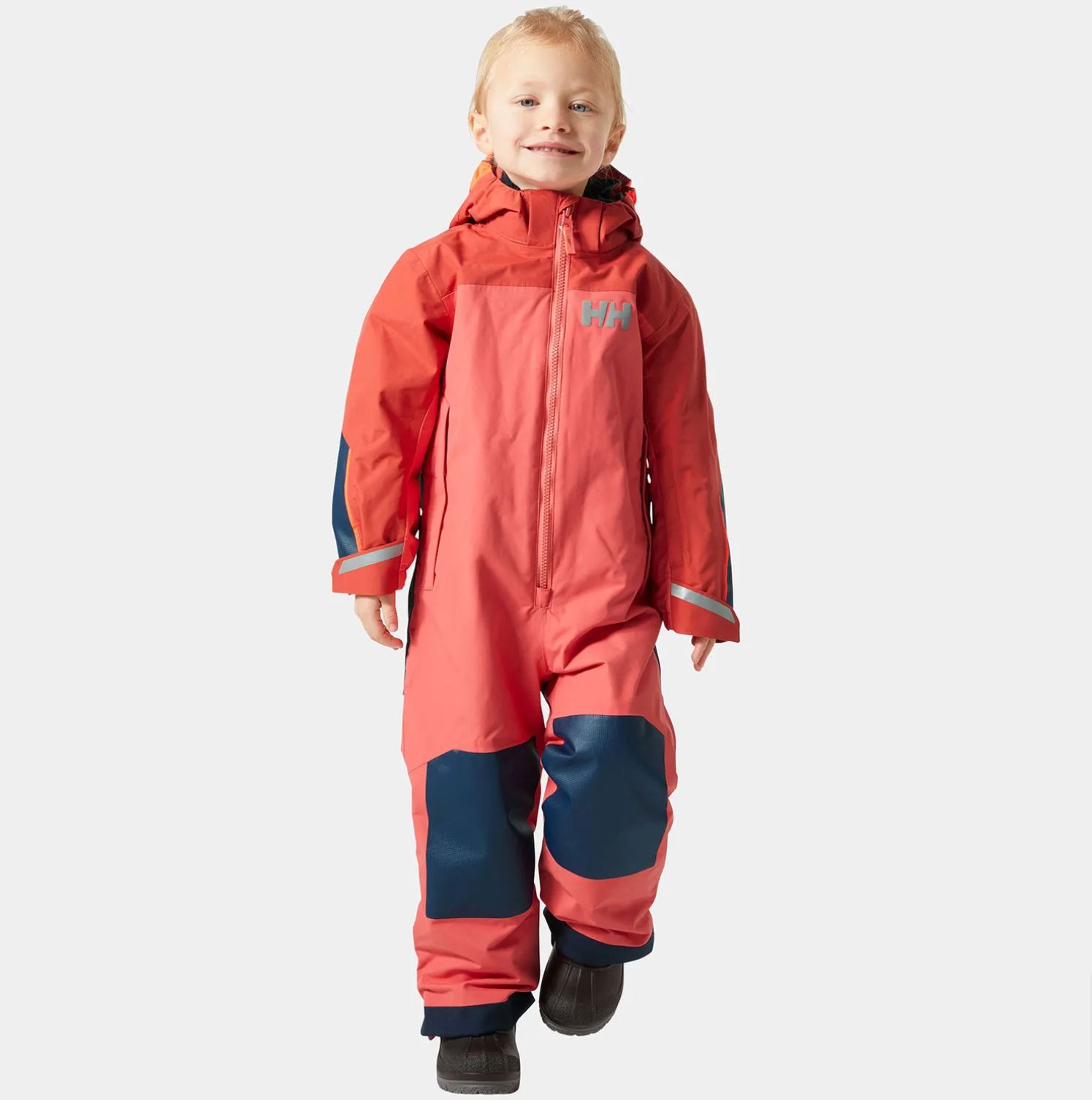 Best kids' ski suit for playing in the snow
Eighties-style onesies are back in fashion for adults, so why shouldn't the kids have some of the fun too? This Helly Hansen Kollen Playsuit ticks off several of the boxes at once, thanks to a removable liner. On its own, the insulated liner can be worn around the cabin or chalet after a long day, and when zipped into the waterproof shell it becomes a robust and warm outdoor playsuit for all snow conditions. Finally, the waterproof shell can be worn separately too on warmer spring days. 
There's an eco-play thanks to the e.dye solution dyed lining, which involves less water waste and more recycled content, and a vast list of features, from adjustable elastic suspenders, reinforcement in the seat to a rubber strap under the foot for a secure fit and button waist adjustment for a perfect fit.
Buy the Helly Hansen Kids' 3-in-1 Kollen Playsuit: £200 at Helly Hansen
The North Face Teens Snowquest X Insulated Jacket £155.00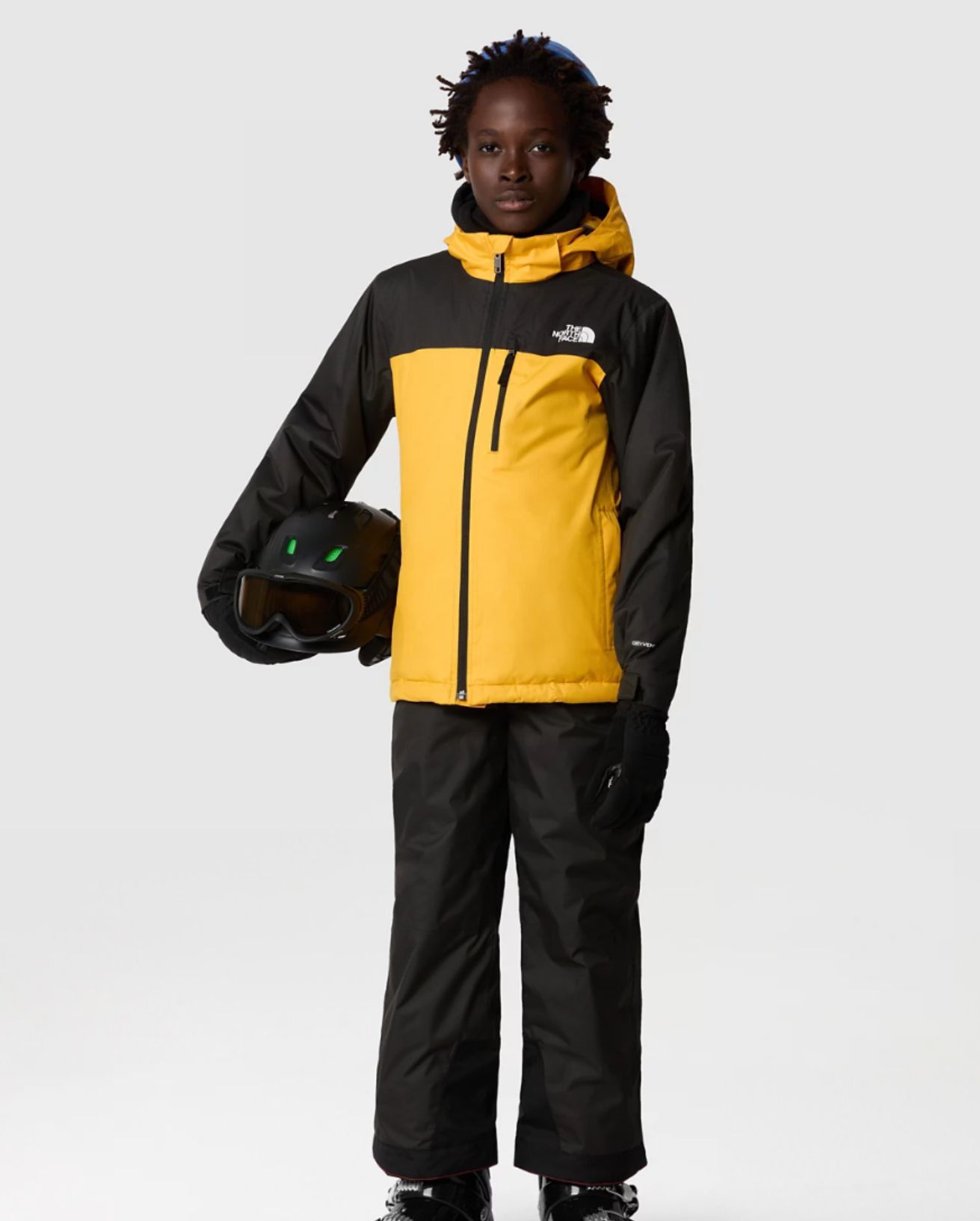 Best kids' ski jacket for staying changeable conditions
The immediate plus of the TNF Snowquest X Insulated Jacket is that it looks the part, especially in the classic TNF Summit Gold and black combo colourway. Meanwhile, there's plenty of proper technology here to keep your teen warm, dry and happy, including a breathable DryVent membrane, Heatseeker Eco insulation (recycled) and a non-PFC DWR finish. The artificial insulation keeps trapping warmth even when wet, ensuring kids can keep going all day without getting cold. 
A removable hood is a handy touch to add flexibility as conditions change, and a hidden ski pass pocket along with chest and hand pockets provide plenty of storage for essentials of all kinds. 
Buy The North Face Teens Snowquest X Insulated Jacket: £155 at Ellis Brigham